Joining a trail race has always been on my bucket list. And so, when the organisers wrote in to me on the challenge, I thought why not just try it since I've always liked night races as well!
After two trail "trainings", I went for the race at the dusky trails of Mandai, Lorong Asrama which was a area that was usually only accessed by military men.
It was a mad rush that day with only an hour to flag off after settling the house items and visiting the furniture sale. Thankful for the hubby who dropped me off via cab before he headed for his dinner appointment.
Not sure what was in stall of me when I arrived at the race site with everyone with torches. Feeling pretty excited actually and I thought, 18km should be rather manageable right?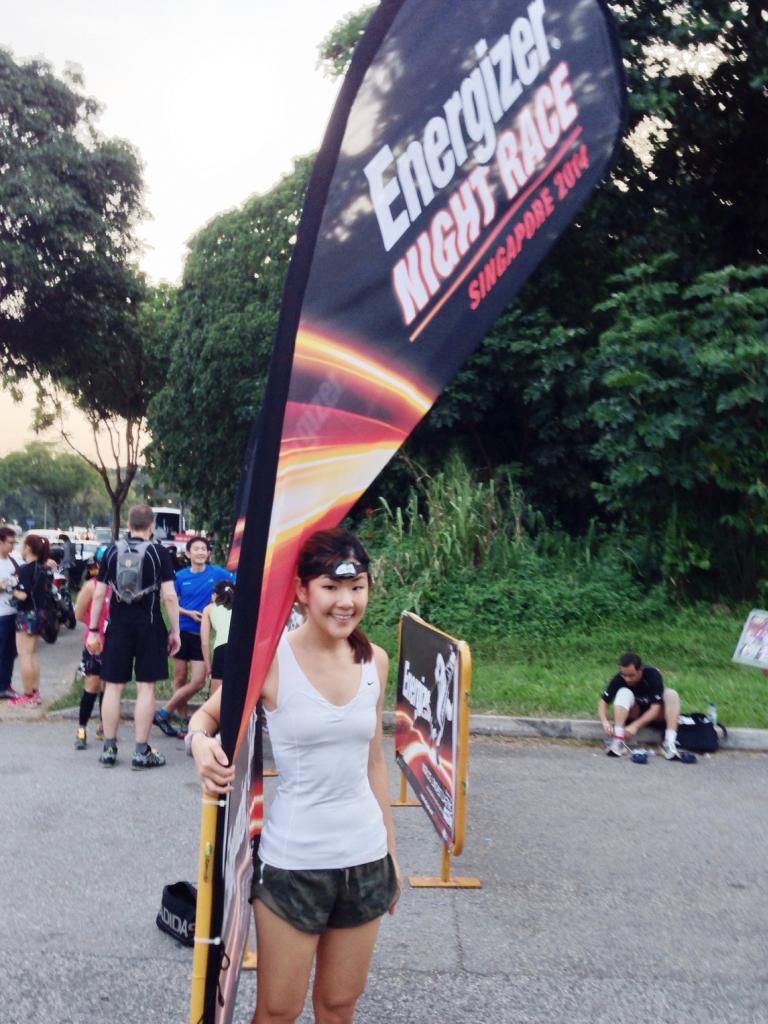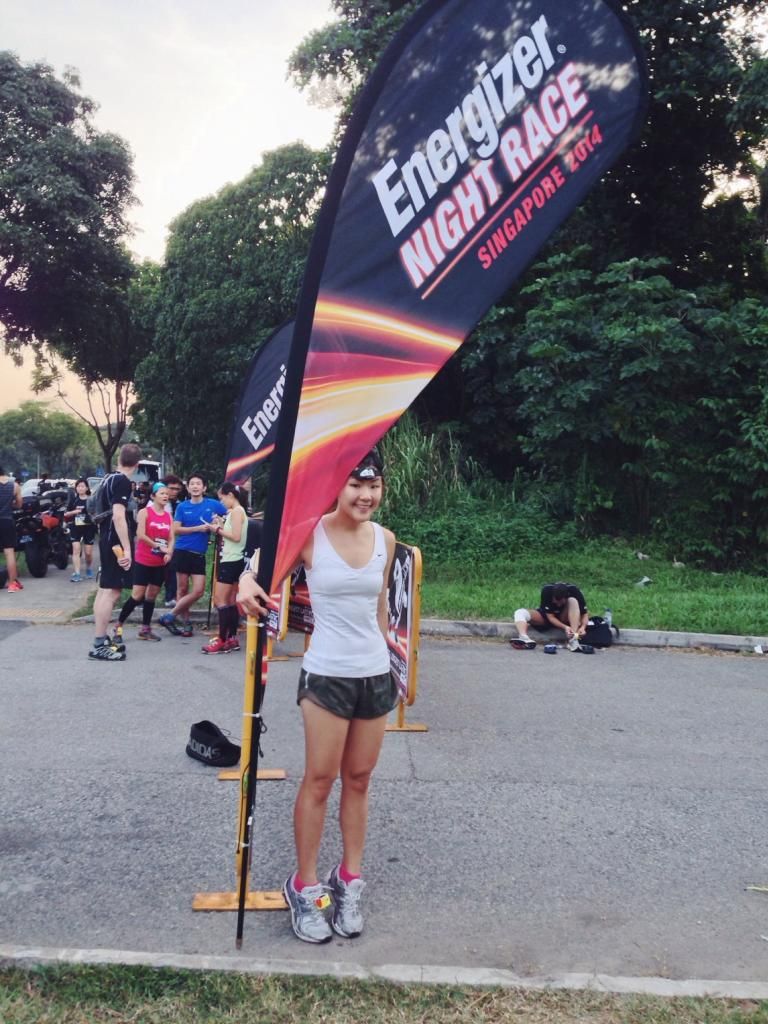 Took pictures before I got quite dirty haha! Another reason for the big smiles was the Energizer Carnival activities that were set up for participants. With all carnival ticket proceeds going to SportCares, runners were treated to the scrumptious spread of food, photo opportunities and generous ice-cream booths prior to their challenge. Thrill seekers could try the Reverse Bungee and Rodeo Ride too!
Headed to the starting line with some of the RD peeps whom I met at the race site. Always happy to see familiar faces before any races. And yes, it's FLAG-OFF and adventure time!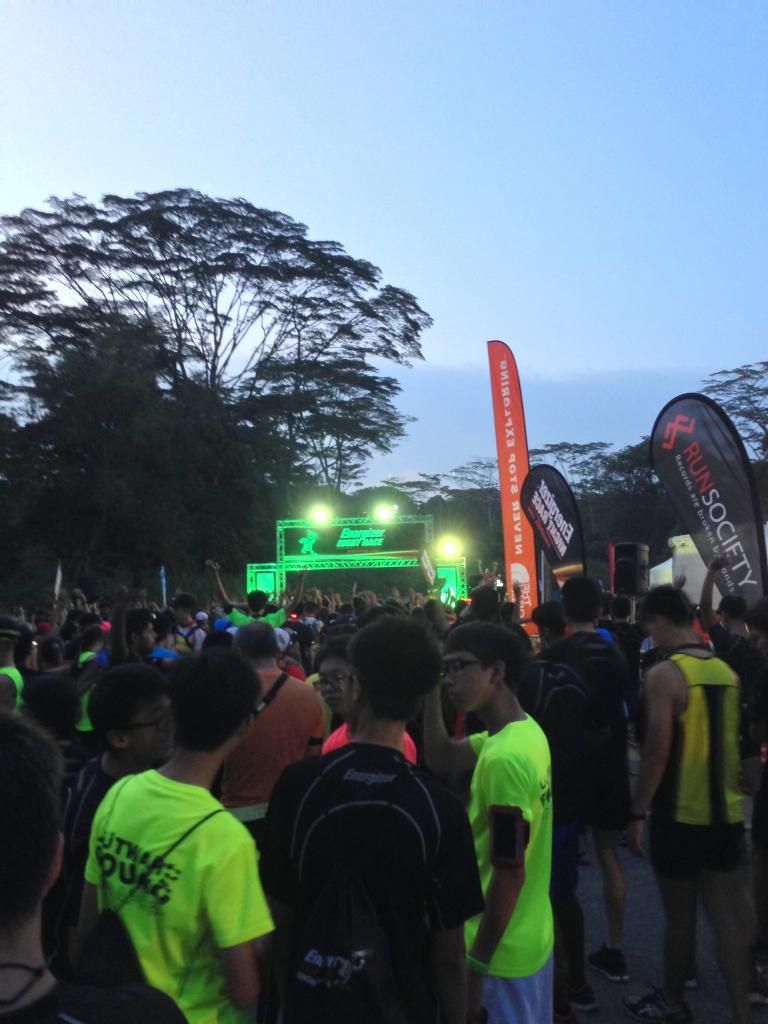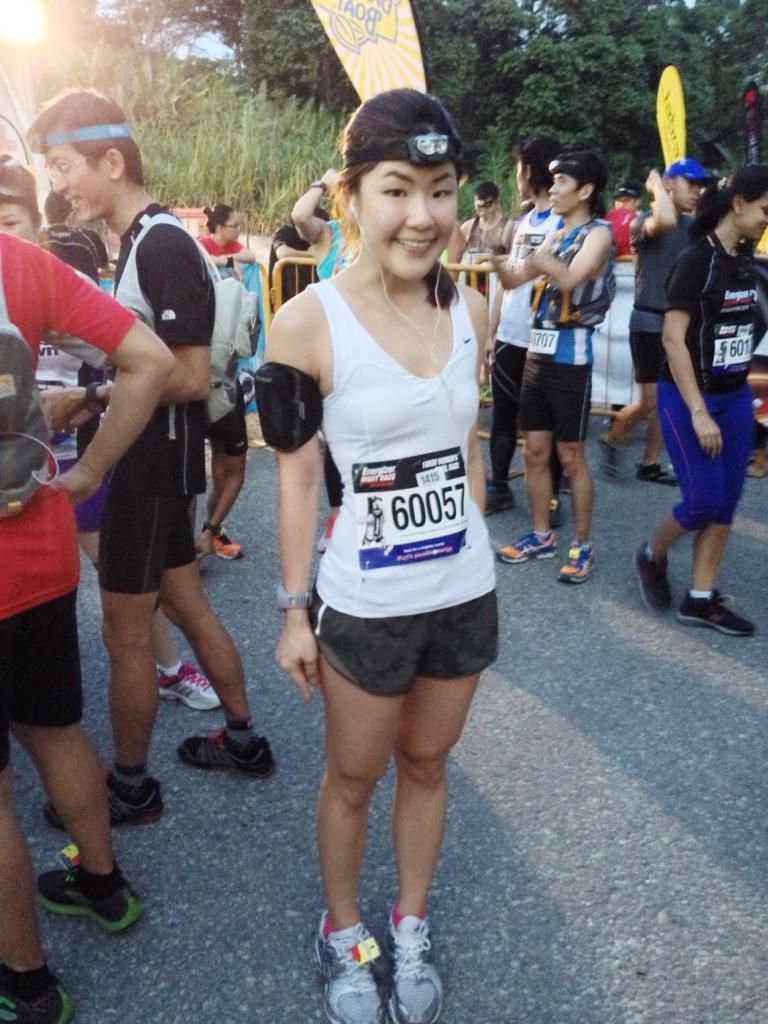 We were all given head-torches in our race-packs which were compulsory gears during the race. And once I flagged off, I knew why because most of the routes were all pitch-dark with no external light sources as well. It was basically our only survival kit to tackle the rocks and stones.
The route was really no joke with endless slopes and uneven rocky surfaces along the way. Dangerous, yes. Boring, no. It required full concentration to ensure my own safety. To be honest, I'm not too used to giving full awareness to my surroundings without any distractions of music or thoughts, but I guess it's definitely good training. While moving a step forward, I had to pay attention to the rocks beneath it while shifting my light down as and when required. Whether it will cause me to slip and if it will be a better idea for me to take a step to my right. It was hard to run at a constant pace or even to run too fast as it will be dangerous especially during downslopes. This made the distance feel almost twice as exhausting but I must say, it's really quite exciting.
There were many instances where I almost slipped or glide backwards but thankfully, my body weight managed to hold me up. Spotted quite abit of accidents along the way and the participants had to wait for the first-aid team to come. The volunteers were a source of motivation as they did a remarkable job in spicing up the night to cheer on the runners. There were plenty of hydration booths around which provided runners with well-stocked water and isotonic drinks at all times.
As safety was of utmost concern, there were clear warning signs before every slope and sufficient distance markers to direct runners for various categories. Despite the different starting timings, there were still bottlenecks towards the second half of the race with the overlapping routes for the 12km and 18km category.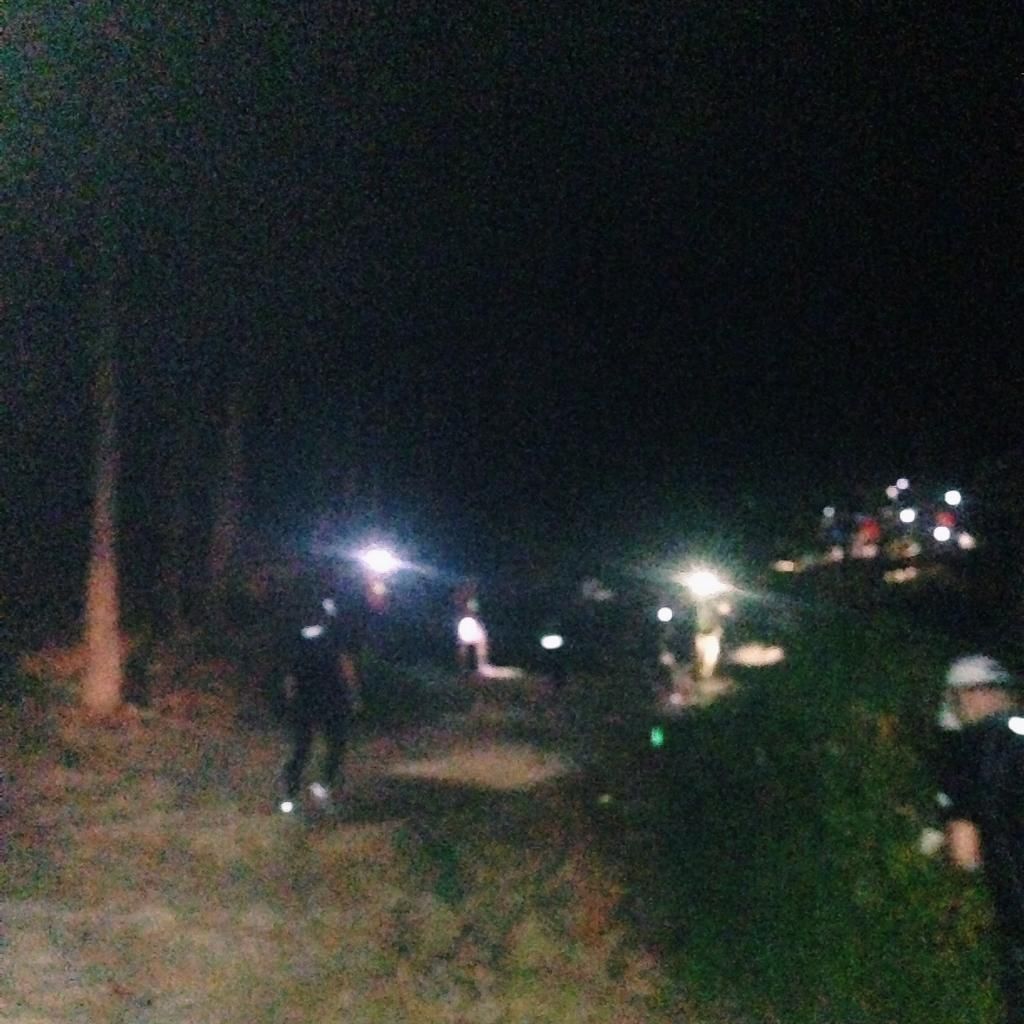 Blur pic but the
INFAMOUS HILL 265
was the ultimate killer at 11km that all runners had to tackle. It was a pathetic sight as everyone had to crawl up with their knees and hands while trying their best not to slip down this steep slope. As a girl, I'm not too used to getting dirty on the floor especially. I ended up climbing up while grabbing on to the nearest rock I can find. It took me 10 minutes or so and I ended up with scraped knees and hands. I'm very thankful at the help the fellow trail runners around me who gave me their hands and lifted me up the hill. Stayed back to assist other runners as well and it was really a heart-warming sight to see everyone helping strangers around them. Another reason why I love the running community so much, ever so gracious and selfless.
"IT HURTS TO CONTINUE, BUT IT'S EVEN MORE PAINFUL TO GIVE UP"
So true. It's lines like that along the way that motivates my mind not to give up to the 18km finishing line. And this was a race that you really could not stop at all as you will only fall backwards and risk rolling down the slopes. There's only one option which is to proceed forward.
AND I DID IT! By running, walking and literally crawling!! :)
By the end of the night, I looked really exhausted coupled with yellow stains on my apparel and black limbs. Still, I'm very very proud of myself for not giving up despite some smses to TC to whine about the route (coz the forest had no 4G connection at all).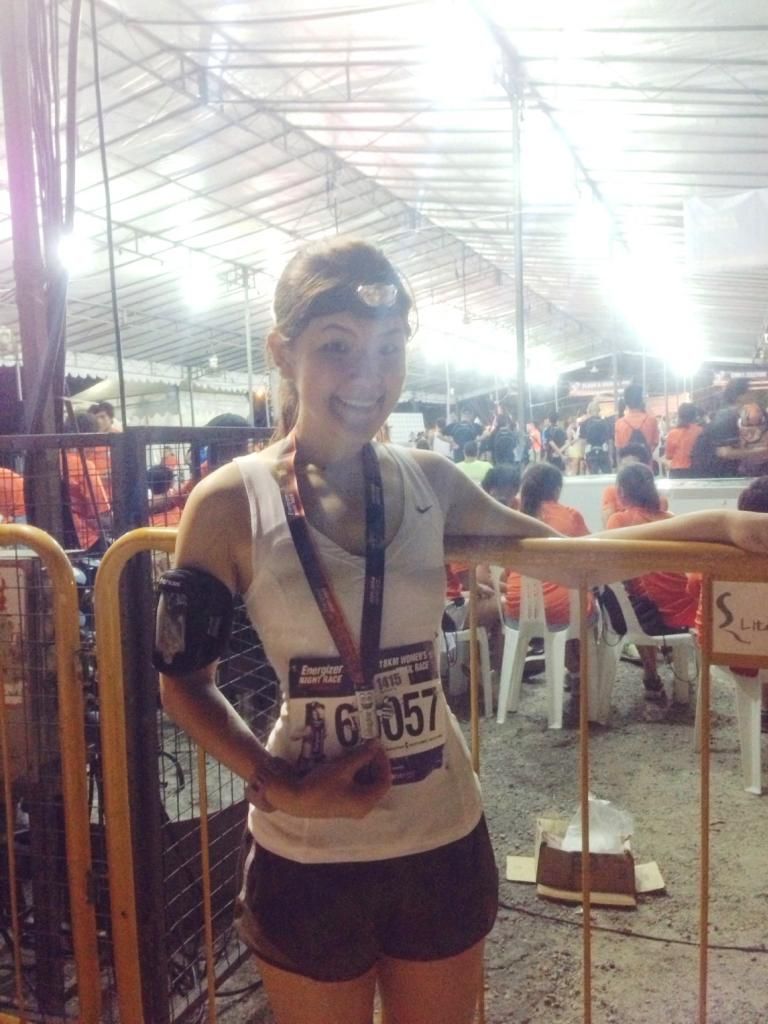 A picture with my awesome friend who did it too!!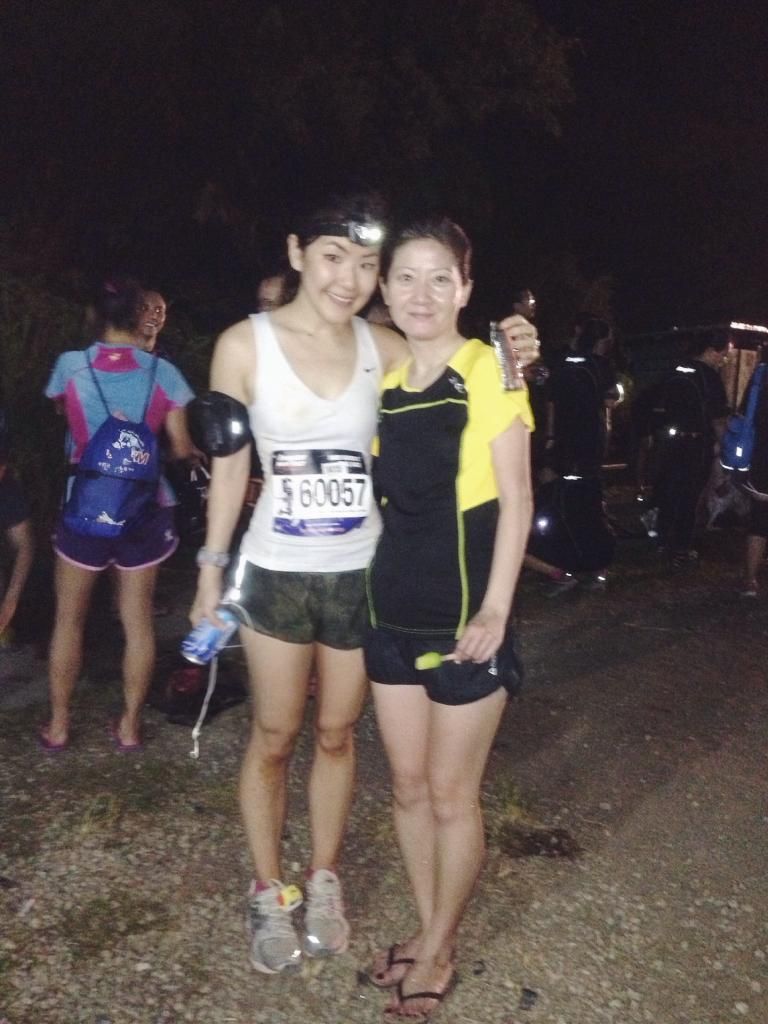 Finished the
18km in 2hrs 19mins
. And I guess for a first timer for trail races, my results are not too bad! :)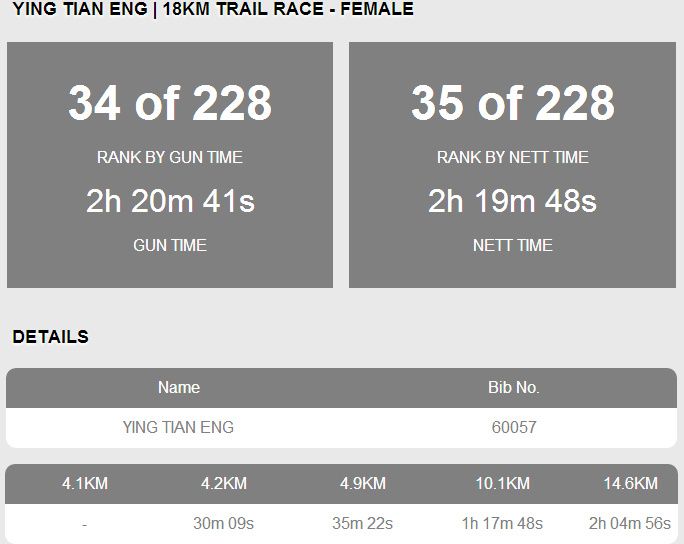 The rocky bits along the way are like life, never smooth sailing and you just gonna watch your back, to move forward and not to give up.
Run when you can, walk when you have to, crawl if you must. Just don't give up!
Wouldn't mind joining next year again after this year's memorable experience ;)
Thanks to
Energizer Singapore Night Trail
for the race slots. Article up on Run Society
here
.