This must be one of the most interesting and fun "challenge" I've ever been to. It doesn't qualify for a race at all since it's so short, but still it was a good sweat done that Sunday. :)
And so, I won the "race" slot to this Tri-Out Challenge (Indoor Triathlon Competition) which was held just 12 hours away from the Energizer Run 18km (in the previous blog post). However, I decided to turn up since I've already signed up and the items sounded really fun! :)
I've always wanted to try doing a triathlon (be it big or small scale), at least once in this lifetime. Something to work towards to, to sign up, train for it and complete it by myself. Last year, I was so close to signing up for one but because the date is just weeks before my Sundown Ultramarathon, I decided to post-phone it. Perhaps a mini one next year? Start small!
My legs were aching like mad that day due to the trail run the night before but still, I headed to the race site at Ngee Ann City for my briefing to collect the goodie-bag. We were handed this blue singlet and allocated to a group of 5 while waiting for our slot (mine was at 2pm).
The first part of the challenge was to wave the heavy ropes 50 times up and down continuously.. It's done to mimic the swimming portion in a tri of using the arms I think. Here's with the other people in my group and we had to squat down and lift the ropes up to our shoulders before lifting it down. I think I did pretty badly at that segment haha!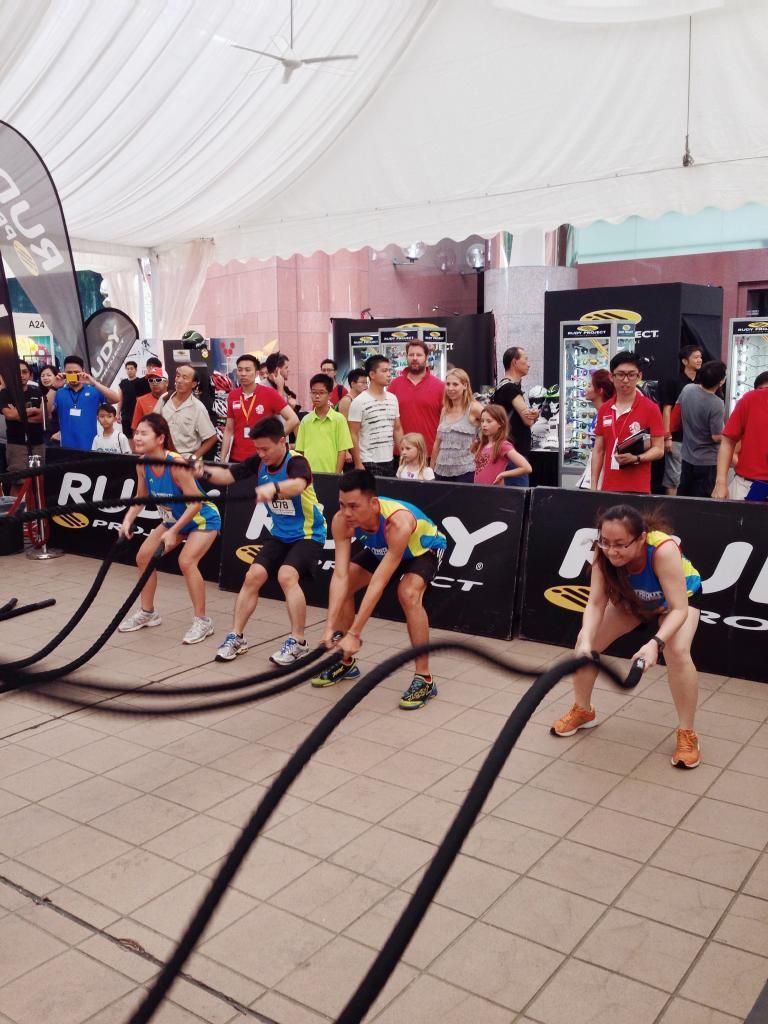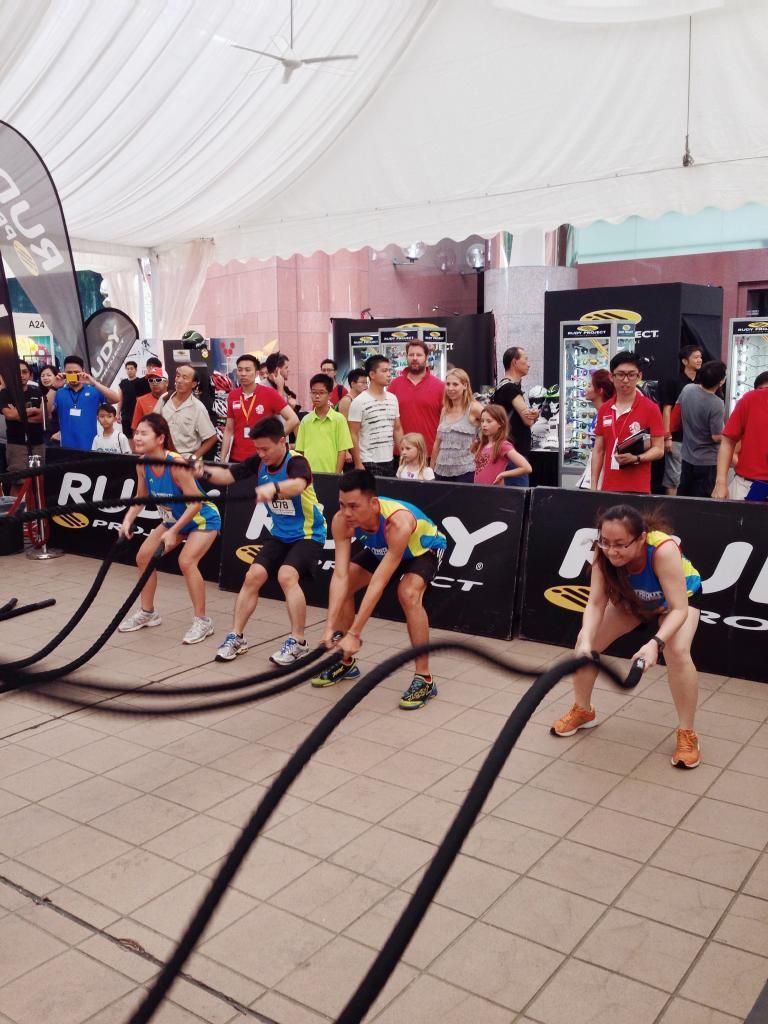 Up next was one of my favourite part- SPINNING! Yay. We had to cycle for 5km and all I remember was trying to go as fast as I can (pretending I was in the gym class). The volunteers were very enthusiastic and cheered us on while we sweated like mad in the tent. Managed to catch up in the segment and proceeded first to the treadmill!
The last part of the challenge was to run on the treadmill for 1.5km. My muscles felt really tight but I could recalled TC waving at me on the stage and signalling me to go as fast as I could. The volunteers were really encouraging, telling me that I was leading so that really motivated me to keep increasing the speed.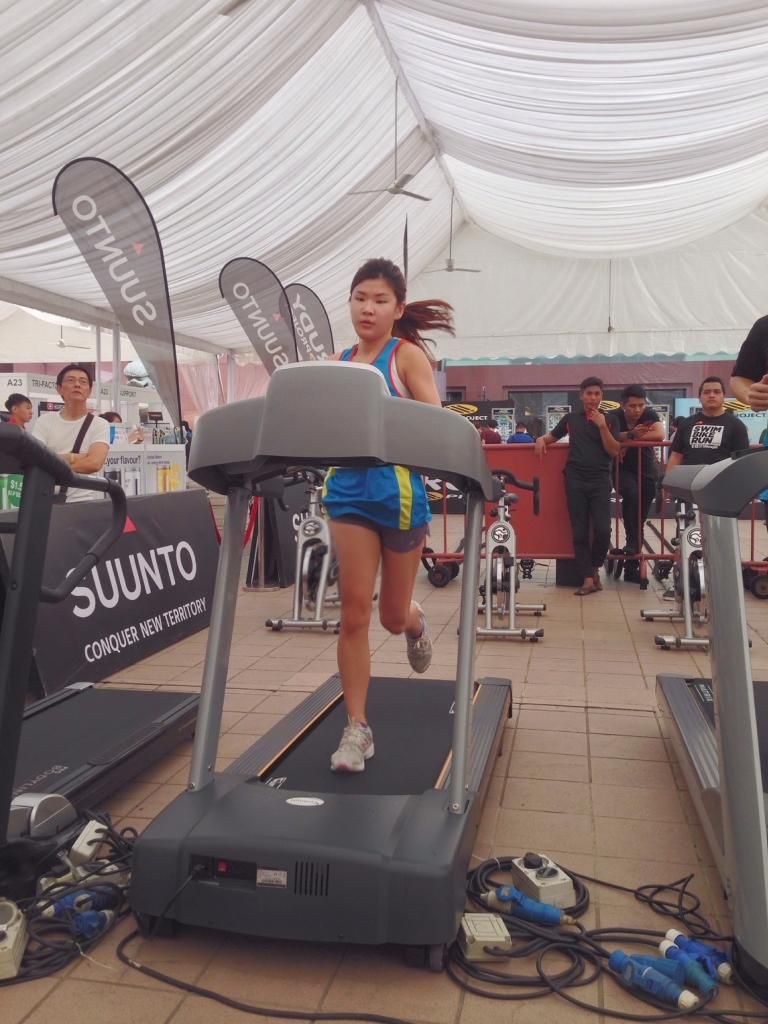 And I'm DONE!!! :)
Managed to top my group to complete it in 15:01 which was a surprise to me, since there are two guys in my group. I'm glad I went for the challenge coz it honestly was one of the most fun and shortest "race" I've ever tried. Nothing compared to a REAL triathlon but at least it gave me a slight idea of the transition from one item to the other. Not easy at all.
That night, I got a call from the organisers to collect my prize as I was 4th place (female) for the entire challenge which took place in a span of two days. It was really unexpected really and thanks to Joy for picking up my prize (socks and a bag). Still, it's a form of encouragement to tick if off my bucket list next year!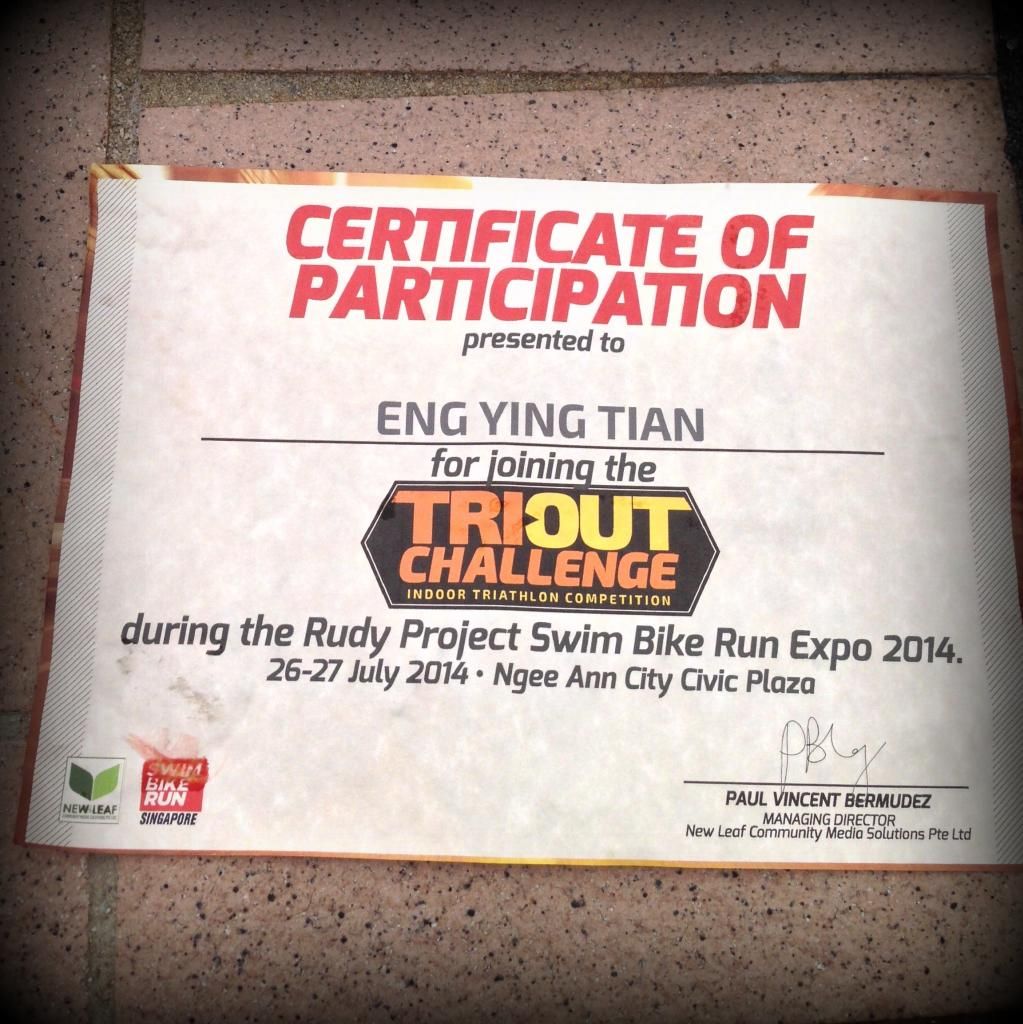 And lastly, thanks
to
SwimBikeRunSG
for the slot & also the hubby for supporting me that day! :)