Overseas runs can be quite addictive once you get started. The best thing is that you just require a pair of sports shoes to explore and sight-see (save money on transport)! Even strolling in the mornings can be really a exhilarating experience.
Personally, I love both holidays (who doesn't?) and running. Thus, a combination of both is perfect and kills two birds (& calories) in one stone! I used to run on the treadmills (Bangkok, HK etc) to try to burn off the excess calories but it got boring after awhile.
During our honeymoon, we jumped at the opportunity of running around Hawaii before we checked in and it then became our bonding activity every morning. We breathed in the morning air, ran hand-in-hand, took wefies around the island and had so much more fun than sitting inside coach buses.
For races, the first experience is definitely going to be an unforgettable one. The recent Skyhawk Nature at Malacca (21km) was my third overseas race, all thanks to RD for organising it. It was a Sunday morning well-spent, running past kampongs, animals which was a refreshing change from the usual city route. The locals and volunteers were extremely friendly and via running, I saw a different side of Malaysia.
Blogs and forums have helped me alot especially for my first overseas race so I thought that I would share some of my newbie experiences (HKSCM, Toyko Marathon). Hope it helps for runners who are keen to try it out!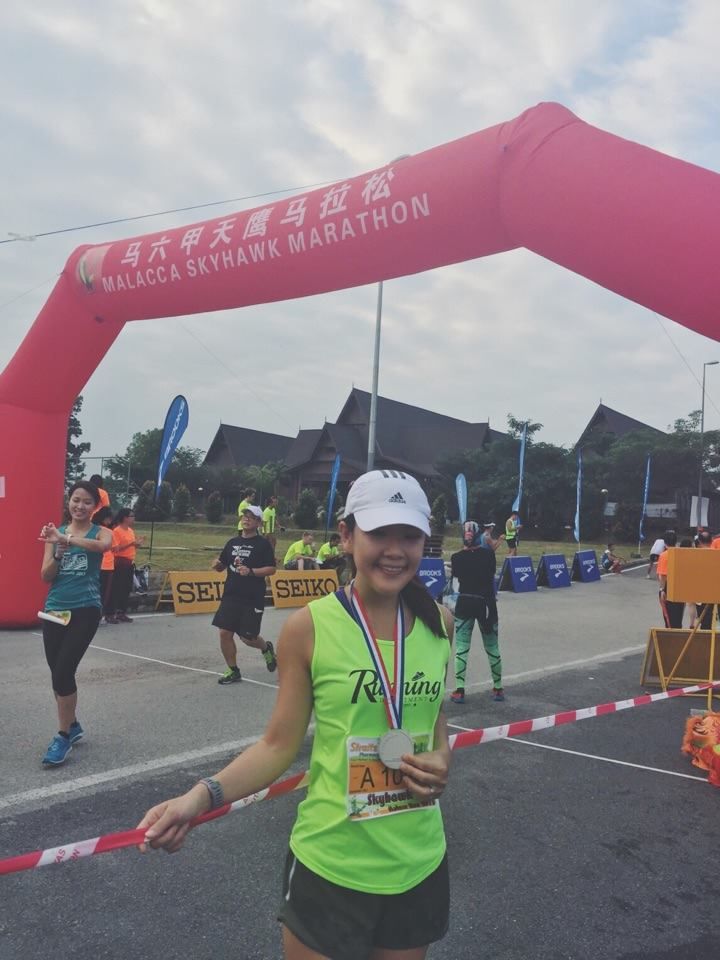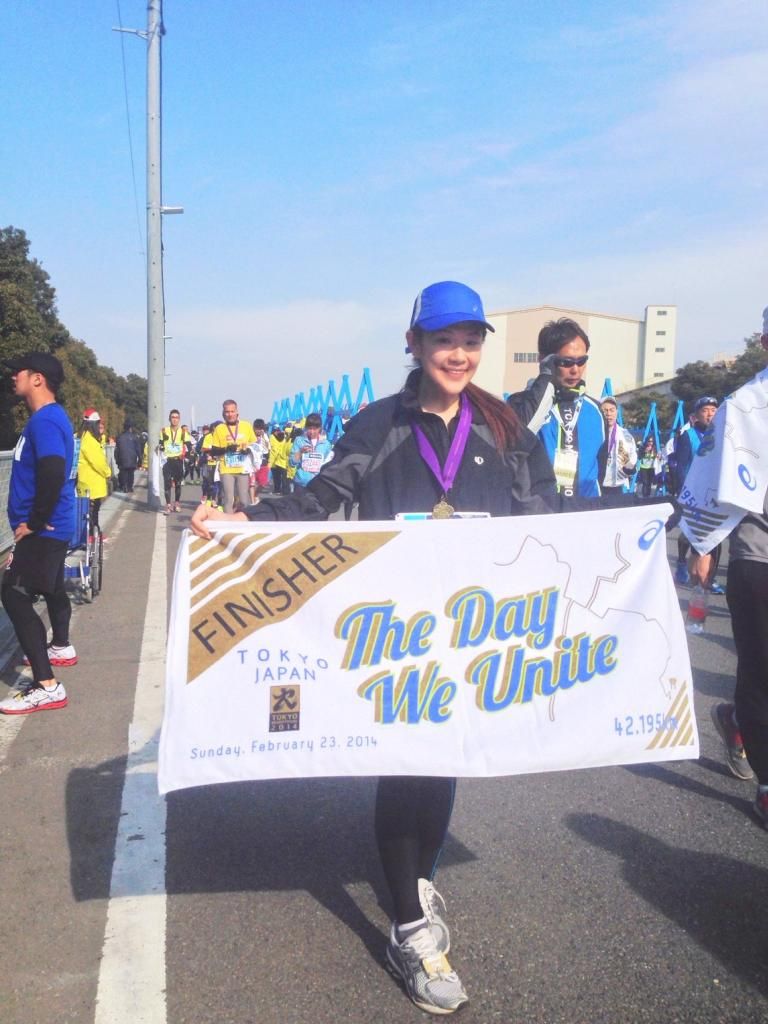 1) REGISTRATION
Registrations are done online so do take note of the registration dates! It pays off to be kiasu and camp in front of the computer as for some countries, slots can sell out really fast. For HKSCM, the full marathon category was sold out within three hours and I could recall tearing my hair out in front of my computer when the website refuses to load due to heavy traffic.
For World Major Marathons (Tokyo, Berlin, Boston, New York etc), registrations are usually done via balloting and it really depends on your luck! It often involves a small fee, like USD11 for New York Marathon which I didn't had luck for last year. For Boston Marathon, it is done via qualifying times and the dream for many runners out there. Slots are not transferable and it is required to present your passport in person during the rack pack collection.
Alternatively, there are travel agencies out there like
Athletes' journey
that offer packages (transport to race site, accomodation, race slot etc). It's more fuss-free but tends to be more expensive as compared to booking everything on your own.
Some races to consider:-
2)
TCS New York Marathon
(11 Nov 15) - Balloting open till 15 Feb. Dream city to be in especially during winter. Crossing my fingers this year again.
3)
Seoul Marathon
(15 Mar 15) - Not a korean fan but to shop/eat after eating might be a good idea. (see article from runsociety
here
)
5)
Tokyo Marathon
- Favourite race so far and I can't wait to be back again this year after 2013 (blogpost
here
)! It's my first time running in such chilly weather at 2-5 degrees but what is most memorable is its flawless logistics, race route and full support (& food) from its locals.
7)
Mount Fuji Marathon
- Held at Yamanashi Prefecture and the race laps both Lake Kawaguchi and Lake Saiko with the most breath-taking views.
Full schedule
here
from adventure-marathon.
Good luck!
2) BOOKING OF AIR TICKETS
The exciting part after that is to CAMP (yes again) for affordable tickets based on the race date. It is recommended to arrive at the country at least two days in advance for the race pack collection and to prep yourself for the weather. Try not to pack too much activities (that involved intensive walking) in your travel itinerary before the race to keep the legs fresh for the run!


3) BOOKING OF ACCOMMODATION
I usually pick my hotel depending on the location of the STARTING POINT of the race to save some time in the morning. Or the ending point if the starting point is at some ulu area. Some prefer to stay at the ENDING POINT (if it's different from the starting point), it depends on the individual. For Tokyo, the starting and ending point are located at different ends.
Again, it is recommended to quickly book your hotel once you have confirmed your flight dates. This year, I tried booking a day after confirming the slots and most hotels that I wanted had no more rooms available.
Besides hotels,
airbnb
is a popular choice especially for big groups. It is usually cheaper and you get to discover amazing places/apartments. Check out reviews (!!!) before booking as photos may not reflect the true picture. I'm trying it out for the first time this year, will review if it's good!
4) PACKING
The most important part is to PACK enough, especially for winter countries! And more is better than less.


I monitored the weather before that for updates besides visiting the related forums/facebook pages. The key thing is the layering:-

1) Cap - I usually wear it to shield against the wind and sun. It can get really cold especially when you are waiting at the starting line for flag-off.

2) Heat-packs - Found in Daiso at just $2 and the BEST THING ever to keep your hands cold! I had two of them inside the pockets of my jackets and they kept me alive.

3) Disposable Jackets - From Daiso as well! Perfect for wearing it and throwing them off during the run when it gets hot (when sun comes up). A better alternative as compared to holding on to jackets throughout the run.

4) Thermal Compression Tights - Available at 2XU / SKINS / Lululemon, to keep your legs warm while compressing the muscles during the run.

5) Heat-tech gears - I wore a heat-tech leggings from Uniqlo under my compression tights as it was way too cold to just wear one layer. And the heat-tech camisole works very well under the bra-tops as well!

6) Light-weight jackets - Final layer above your race singlet/long sleeve gear to protect your arms against the direct wind.

7) Lip-balm - This was in my pockets throughout the races and saved me from having chapped lips. I applied it once every 5km when the lips got too dry.

8) Thick socks - Feet that cannot be neglected as well!

9) Gloves - optional. I wore it throughout the Tokyo Marathon coz my hands were freezing.

And the usual gears during races like Gopros (for those taking pictures), GPS watch, shades, energy gels, race belts etc.

5) ENJOY!

I love the post-race experience as well - mingling at the race site, checking out the booths, photo-taking and fuelling up after the run.

Hope that helps! Do share with me on your experiences/tips as well! :)