It has been close to 3 weeks since we have shifted in and to slowly get used to this new space called home. So now, it's about time to document everything down in this blog before the bits & details slip out of my mind.
Renovation is really HARD WORK and we are just glad to have graduated from the 3 months course!
We are thankful for our loved ones who have helped us, renotalk peeps (silent reader here!) who have shared their knowledge selflessly. Similarly, I hope that this blog would be about to help new home-owners (like ourselves), couples who are waiting for their keys or people who would like to renovate their house. Never rush through the process, perverse, research, keep sourcing and everything will pay off!!
In the process, we have committed small mistakes here and there (which were thankfully rectified/ can be over-looked). Our initial budget was set as $40k for renovation beside a separate $25k for furniture which we thought was quite reasonable for a 5-room flat. During the process of sourcing our IDs, we then decided to "top-up" slightly more for design that appealed to us/quality material since we will be staying here for a rather long time (i hope). The total renovation cost cost us $50k (inclusive of electrical works) and furniture/appliances were about $30k. Even though the entire renovation process deflated our bank accounts significantly (we were determined not to take any bank loans), there were no regret as we really loved the end results.
5 ROOM FLAT LAY-OUT
We balloted for this flat in 2011 after 5 tries. Imagine our delight when we finally got a NUMBER (2 digit) on our 6th attempt. Eventually, we decided to pick this unit due to its unique location of being tucked at a corner and having to enjoy a spacious walk-way.
At 112 sqft, this 5-room flat was perfect for both of us and maybe a kid in the future. Our main door leads to the living room which we loved for its huge size (perfect for big group of friends). However, the rooms were really TINY and disappointment was an understatement when we saw our main bedroom. It's at a right angle degree so the space felt really congested even before placing our main bed and wardrobe.
Prior to collecting keys, we spent a few months trying to source for the right contractor/id to do it for us. We visited expo fairs, flipped through magazines and contacted these five firms below. Of course there were some who didn't reply or show interest so they were excluded from our list to consider. For us, we needed someone who can digest what we are saying and give us what we want with open communication. Something that fits our lifestyles and not just propose because it's trending or looks nice in magazines. Of course, signing on that dotted line should not burst our budget too much as well.
These are the general ideas that we conveyed to all the firms via emails:-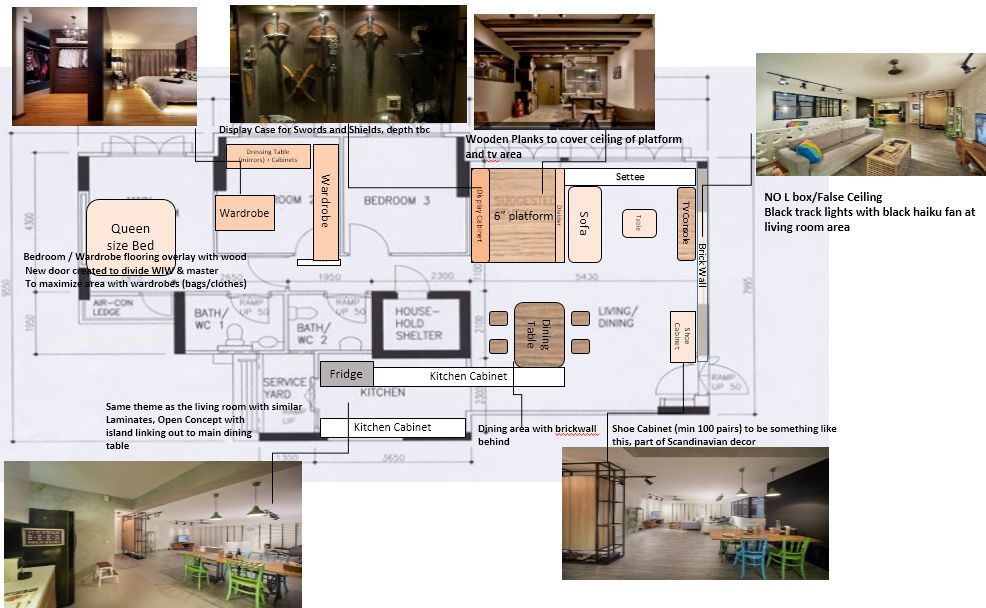 1) Style
- Scandinavian theme
- Clean lines, modern, complemented with rustic wood laminates
2) Living Room
- With an elevated platform and if possible, a separate cosy corner to chill. Possible for a Settee?
- Brick Wall across one side of our living room
- No L Box nor False Ceiling
- Black track lights with black haiku fan at living room area
- Dining Table has been purchased - about 1.8m with 4 chairs + 1 bench
- Sofa has been purchased - looking at about 3-3.2m if possible
3) Shoe & Sword Cabinet
- Need a huge shoe cabinet (minimum 100 pairs) to merge with living area
- Display case for swords, shields (depth and length TBC)
4) Kitchen
- Okay with open concept but how to solve the smell issue?
- Island top linking to main dining room
- Wood carpentry for the cabinets to complement the living room
- We do mainly light cooking
- To cover all the green tiles
5) Toilets
- Over-lay wall and tiles of MBR to make it as cosy as possible.
- Replace all toilet bowls and sinks
- Basic capentry
- First toilet keep it minimal
6) Bedroom / WIW
- Overlay the entire area's flooring with wood
- Hack one room to combine both into one
- New door needed to divide both rooms
- To maximise WIW as much as possible to fit in more clothes
- One separate bag corner required
- Queen size bed purchased
That was the best we could express in our own words from a noob perspective. The feedback I got from the firms were that the sword & shoe cabinets were a pretty challenging one. We were pretty clear of what we wanted since we started the process many months back but there were so many things we didn't thought of. Now looking back, we are just glad the house layout didn't turned out exactly the same as our initial power point layout plan!

Initially, we were open to contractors as we heard that it would save us some bucks which could be spent on furniture. However, most of those that we hunted down said they didn't had confidence in delivering what we want. The initial quotes received were very close to what we got from the ID firms as well. Cost-savings, it really depends I guess. Since it was not significant, we decided to opt for an ID who could manage the whole renovation as both of us were up to our necks with our jobs. Another consideration was our lack of experience in this aspect and thus, an ID felt like a safer choice to save us some time. In the event if anything was to crop up, he/she would be liable and not us. However, we ended up realising that is not necessary the case - you can never throw everything to your ID. It is important for home-owners to supervise the project and to read up diligently as well!

We could probably hunt for say 10 ids/contractors before making our choice. However, the whole process was pretty tedious - having to email, whataps, scrutinize every item, 1st meet-up, waiting revised quote, 2nd meet up again. There can never be the perfect one that fits your bill entirely and thus, we decided to follow our hearts after 2-3 months to make the final call.
These are the top FIVE firms we have short-listed:-
1) Atelier Concept ($30k)
We met them at a expo fair and exchanged contacts. Elaine was friendly and followed up via smses/emails in the next few days. Afterwhich, we went to their office at Ubi for a meeting with Elaine & Glen. They were polite and sounded rather sincere. Glen then shared with us their proposed layout accordingly to what we shared via email previously.
As their quote was the only one that was below our budget, we proceeded to follow-up for a second meeting after discussing what to include/exclude. In the end, we didn't pick them as honestly, the proposed ideas didn't excite us a single bit even though they address our basic needs. Rapport level was so-so as well.
2) Orange Cube ($65k)
One of the highest quotes that we got from this firm we met at Expo. After googling, we realised they are pretty well-known but doesn't come cheap.
We met them again during the second meeting and Kayson showed us all the proposed materials for our house. As we concluded that this is way over our budget and that we could not relate to some of the designs, we decided to pass on this firm.
3) DE Style Interior ($60k)
Another firm that we met at Expo. We were not very interested but decided to follow up with Esther after she contacted us a few times. She was sincere but slightly too pushy for our likings.
Eventually, we met her for two times at her firm. Their ideas didn't really relate to us and I recalled her persuading us to opt for the brick wallpaper to save some cost just to match our budget. We were not very convinced even though she was very friendly to us.
4) I-Chapter Pte Ltd ($48k) *chosen*
(Ivan can be contacted at 9003 8283.)
After two months of endless discussions, we were almost going to settle for 1) out of laziness since it seemed like the better (& convenient) options out there.
However, one of my friends introduced me her ID, Ivan who was the Managing Director of I-Chapter. We decided to just meet him to hear what he had to say. Surprisingly, he proposed some really good ideas that settled some of our issues (where to place the WIW door in our MBR, kitchen layout, TV placement in our living room). After hearing us out, he made some changes to the items and met us for a second time to clear our doubts.
What we liked about him was his confidence, cheerfulness and our instant rapport (very important). Thus, we decided to award the project to Ivan on our third meeting.
(I will not be forwarding any private quotations to be fair to our ID as the pricing greatly depends on the measurement/material/scope of works for individual flats)
5) Space Sense
A popular firm that we found online with a forte for industrial themes especially. We were keen to explore with them. Unfortunately, we didn't get any replies after two emails + a phone-call and decided to move on. Perhaps it was due to the busy season with all the new flat-owners collecting their keys!
---


HOUSE-INSPECTION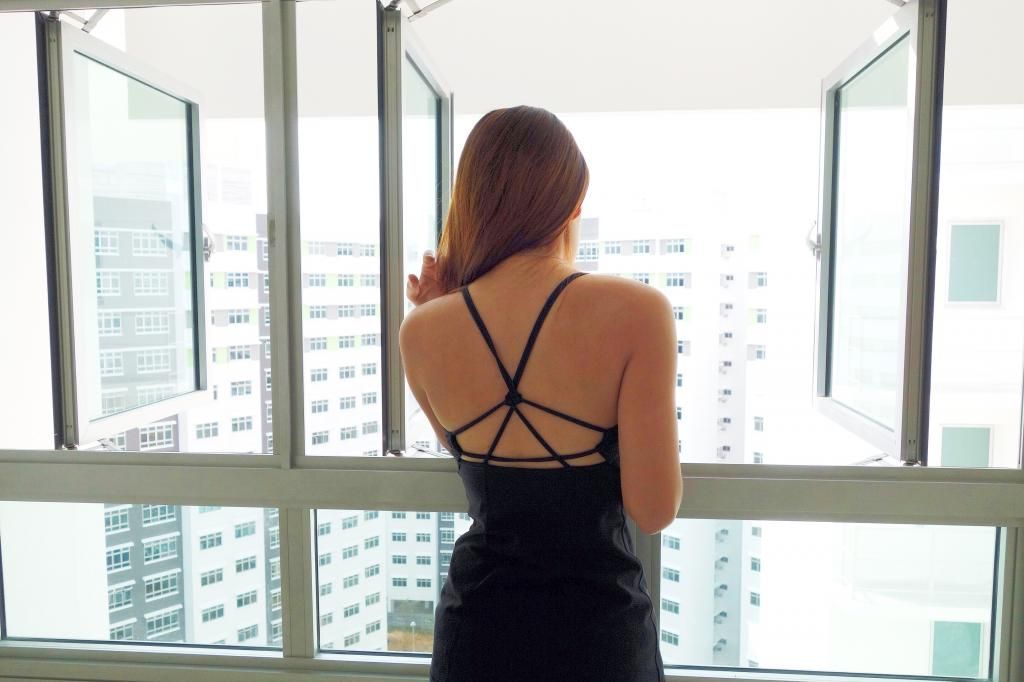 We were lucky that there were minimal defects (most can be over-looked) so that we can proceed with renovations works immediately. Phew.
1) Check-list of Items to bring on Open Door Day
- Roll pineapple - for wealth and prosperity (We made a mistake of leaving it TOO long inside till there were disgusting mould spouting eeks)
- Some throw mixed rice, sale, green beans, tea leaves - it depends on you)
- Boil water in new kettle on stove.
- Bring a screwdriver to open water supply
- Bring padlocks and a bicycle chain to lock the doors so that your contractor/id can access w/o a key
- Rags / Tissues
2) List of things to check
- Make sure that all the keys are working
- Switch on all the lights
- Flush the toilets and take note of signs of cracks/rust
- Use a hamper to check for hollow tiles, walls.
- Look out for any water seepage or damage on your ceiling and check the paint
- Open and close your door and windows to check if they are working, as well as window rubbing linings
- Test all electrical points with your phone charger
- Measuring tape to measure prior to purchase furniture (we made this mistake!)
- Check all sinks and drainages to make sure that the water is clear without any fishy smell
DESIGN
Subsequently, we spent close to 3 weeks with I-Chapter pouring over drawings, materials, capentry designs (lots of it). I must say it's one of my favourite part of the process because you get to decide every single thing. Like playing a cyber-world house game, just that this time round it's a real house which exists!
These were the final ideas proposed by our ID:-
Kitchen
- Divided into wet (stove, sink, hood etc) & dry (island counter, fridge, dry food etc)
- Black coloured glass backing on wall behind stove
- Black aluminium door in between to divide both
- Island top (kompacplus) - 6 fts
- We didn't quite like granite for its bulkiness and thus, our ID introduced us the
Kompacplus
material which was fuss-free, water-proof, flame-resistant and resilient. Brownie points for the sleekness especially when placed on table-tops. We selected 10.60 for the entire kitchen table-top which will extend all the way to the island.
Living Room-
- Shoe wardrobe - full height laminated with colour polygen for interior (8 ft)
- Left: Whole stretch of white brick wall (160 sqft) from Craftsbrick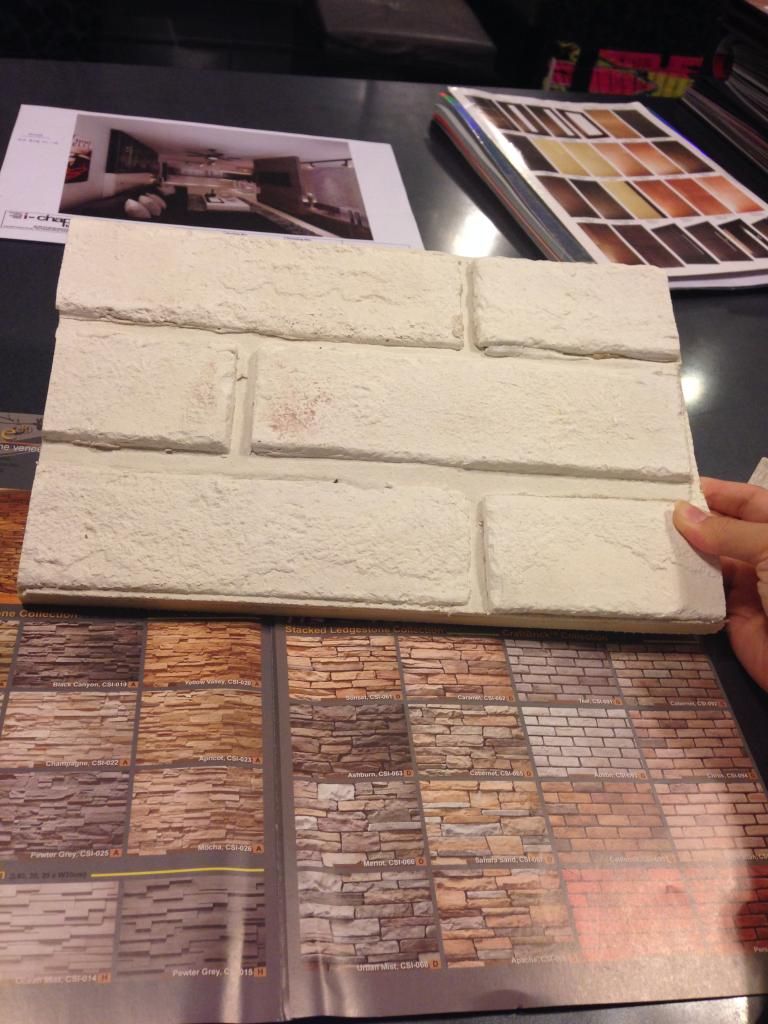 - Right: Sword display showcase on the right with laminated display + glass shelving + colour polygen for interior (10 ft)
- Middle: TV with laminated feature wall (360 degrees rotating mechanism)
- Low height TV console in laminated finish below TV
- Tea-tinted mirror finishing along dry kitchen area to complement the shoe wardrobe
- Pearl white for all the walls in our living room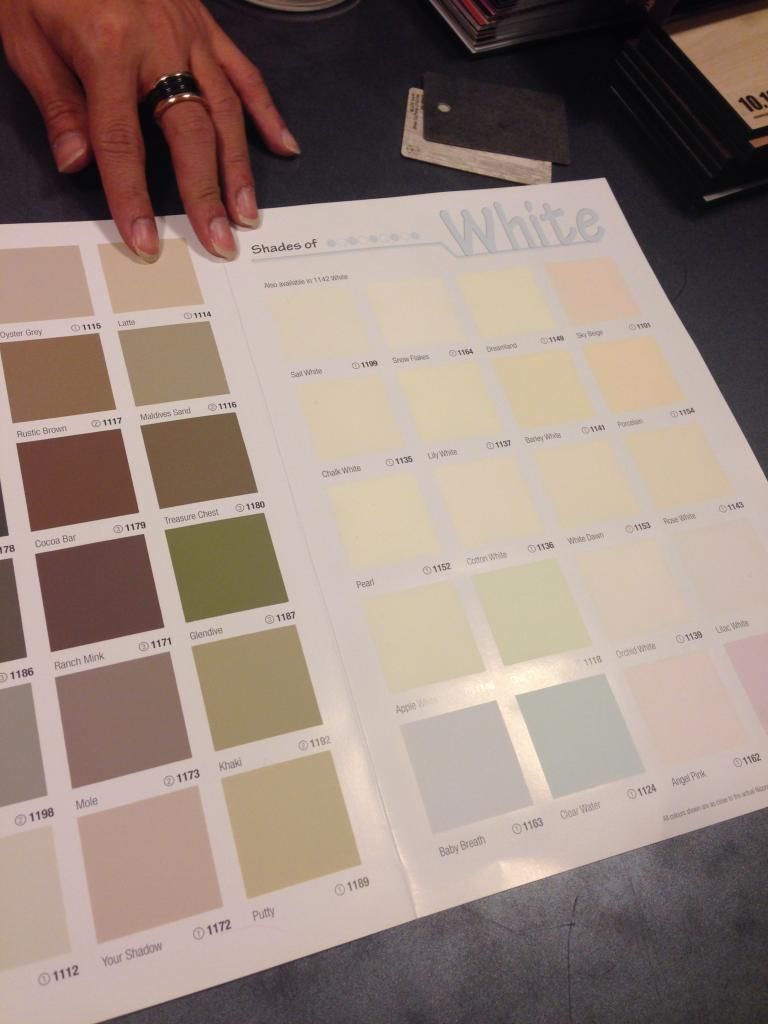 MBR:-
- Hacking works required to merge second room into the first
- Creation of new door at the side
- Shift the main door backwards
- Carpentry works (suspended cabinet)
- Feature wall for TV (opposite the queen sized bed)
- 2 laminated side tables at MBR beside the bed
- Study desk at MBR (computer usage)
(After renovation: Added in feature wall at MBR air-con ledge using partition box to hide the trunking)
WIW:-
- Initial concept was black but I insisted on changing it to white and gold to maximise the space
- Open-concept wardrobe (3 columns)
- Huge mirror inner partitions beneath
- White & gold door to be at a 45 degrees
- Bag cabinet with white laminates
- Vanity area with plenty of compartments for accessories & skincare products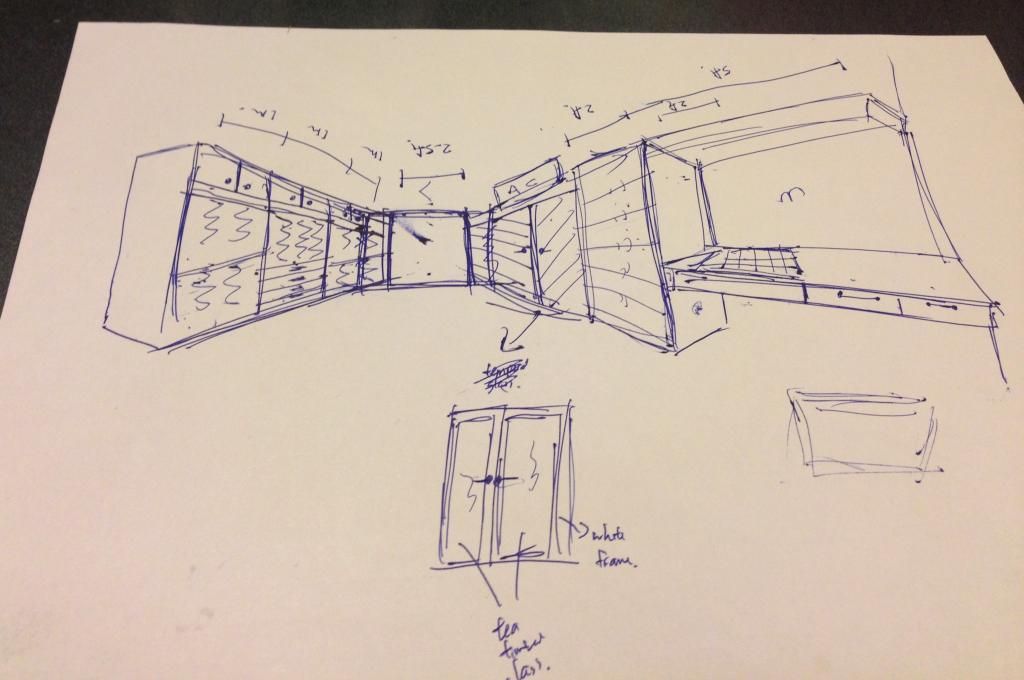 MBR TOILET:-
- Overlay of homogeneous tiles over existing floor & wall
- Carpentry works for toilet cabinets below sink
- Dismantle & Install back new toilet accessories for both toilets
OTHERS:-
- Tic-tac feature wall along bomb shelter
I'm glad the pictures are not true to actual pictures in the end! Pictures are often deceiving as well because the area depicted often looked so much BIGGER than your actual house. Still, it's good to have to have a slight idea of how your house will look like.
We made quite abit of changes which were not captured in the pictures:-
Living Room
- black fan to replace the track lights above the sofa area
- please ignore the spider lights for dining area haha!
- darker laminates for rotating tv console
- full black frames for the sword showcase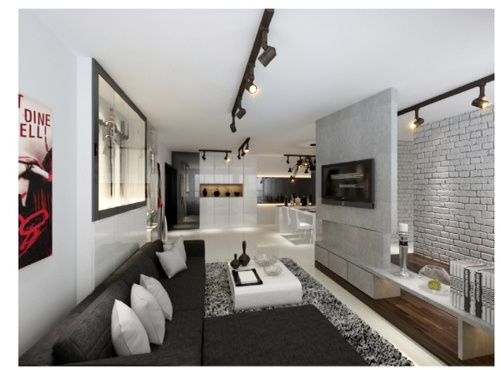 Wet Kitchen
- Oven to be under store
- Light laminates to replace the white laminates
MBR
- Brickwall paper replaced by Nippon Momento Paint
- No spider lights (!!!) nor track lights
- Feature wall to cover all air-con trunkings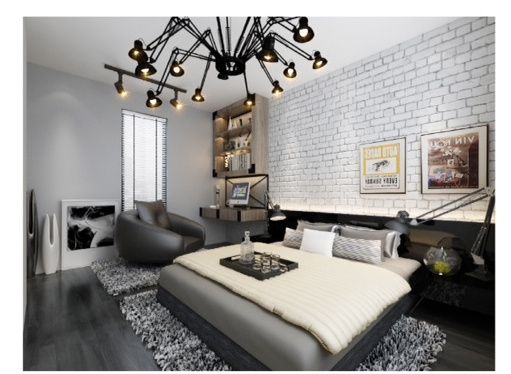 WIW
- Colour scheme changed to gold and white
- No black track lights, replaced by chandelier lights (purchased from TB)
- Full carpet replaced by vinyl tiles
- Top shelves were all replaced by closed doors with gold knobs.
---
Will continue the next part of the entry with my house purchases + renovation works! :)