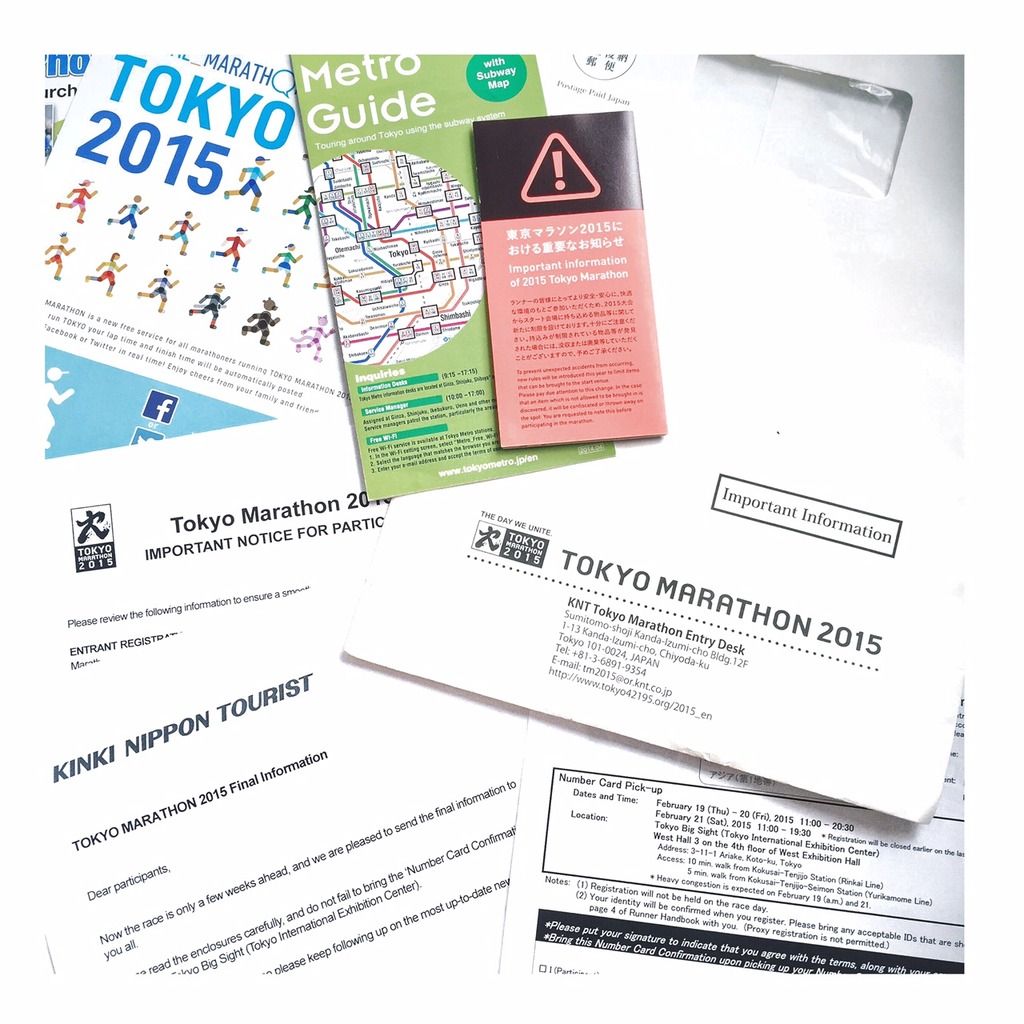 Till now, revisiting this city exactly
a year later
for Tokyo Marathon 2015 still felt like a dream.
Never did I expect both of us to get the marathon slots especially with the ultra slim balloting chances and our not-so-good luck. They say that 2015 is the best year for Tigers (as per all the fortune telling this CNY) and I think it's true. For that, we count our blessings. Upon the good news, I immediately went to book our air tickets via SQ (2-to-go) promotions which was at just $700 per head! Counting our stars for that since CNY should be the peak period. Accommodation was a tad challenging as all the hotels that we wanted were all sold out during the marathon period despite checking it out immediately after the balloting results. Airbnb was the answer and we got ourselves a gorgeous apartment after messaging the host to let us pre-book in advance.
What better excuse to embark on our post honey-moon other than going for our race together?
Training this time round was much more slack than last year with insufficient training. Part of the reason was due to the USA trip for our honeymoon late December. The winter season and holiday mood made longer runs slightly a tad challenging and the endless burgers do not help. Once we were back, we were frantically trying to regain our fitness to shed the holiday fats (but in vain) and to stick to a running schedule. It was already one month to the marathon.
21 Feb 2015.

The collection point was at Tokyo Big Sight and the ending point for the marathon.
Once again, it was a over-whelming shopping paradise that we spent hours pouring through apparels, finisher tees, shoes and all. An absolute heaven for runners. A pity we went on the last day (Saturday) and thus, most of the sizes were sold out. Would recommend runners to come much earlier, say Friday. The earlier the better!
Still, we walked away with numerous shoes and apparels to last us for the year.
And of course, collected our race bibs yay!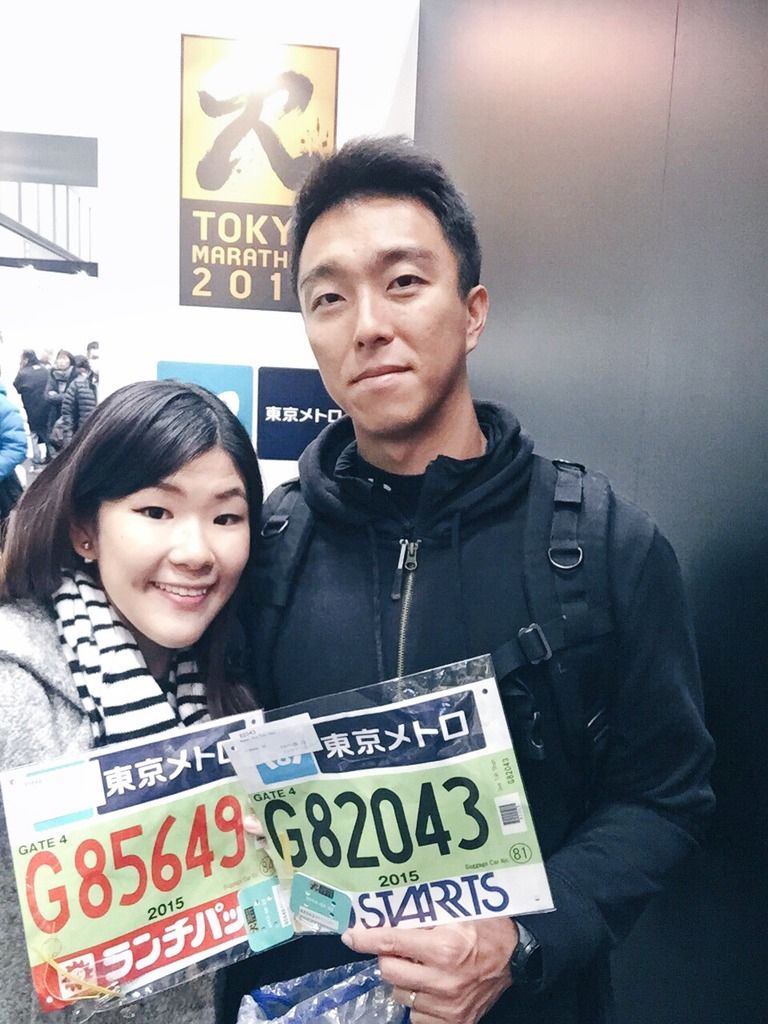 Throngs of finisher tees lined for runners to purchase.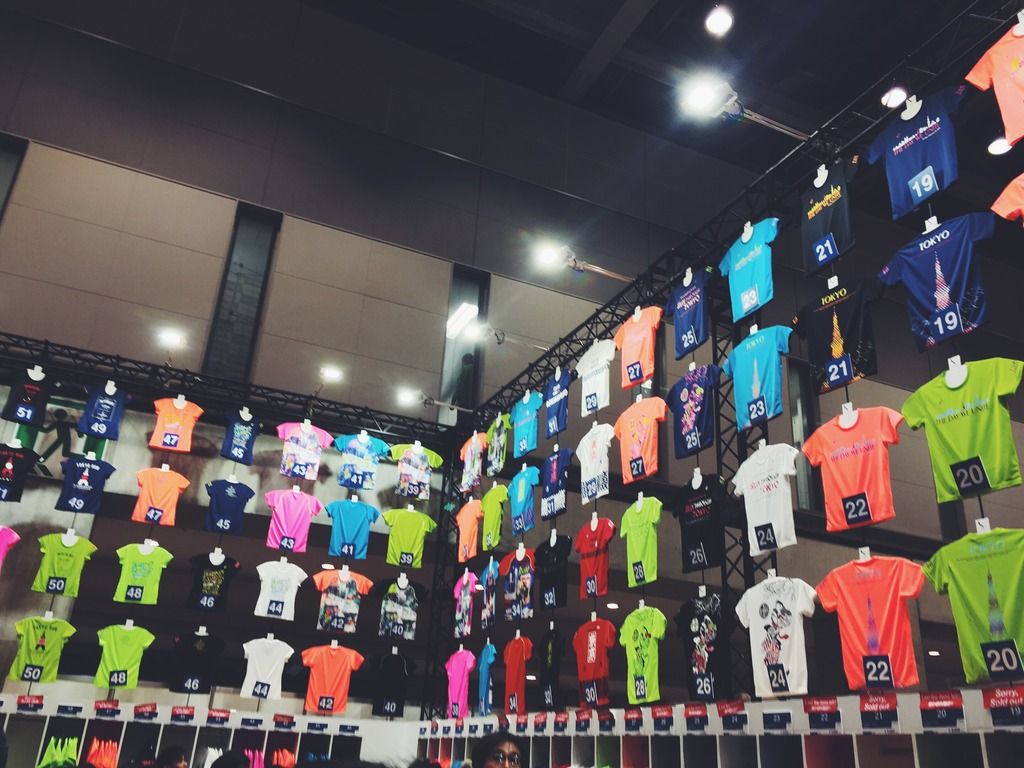 So apt for Jamie.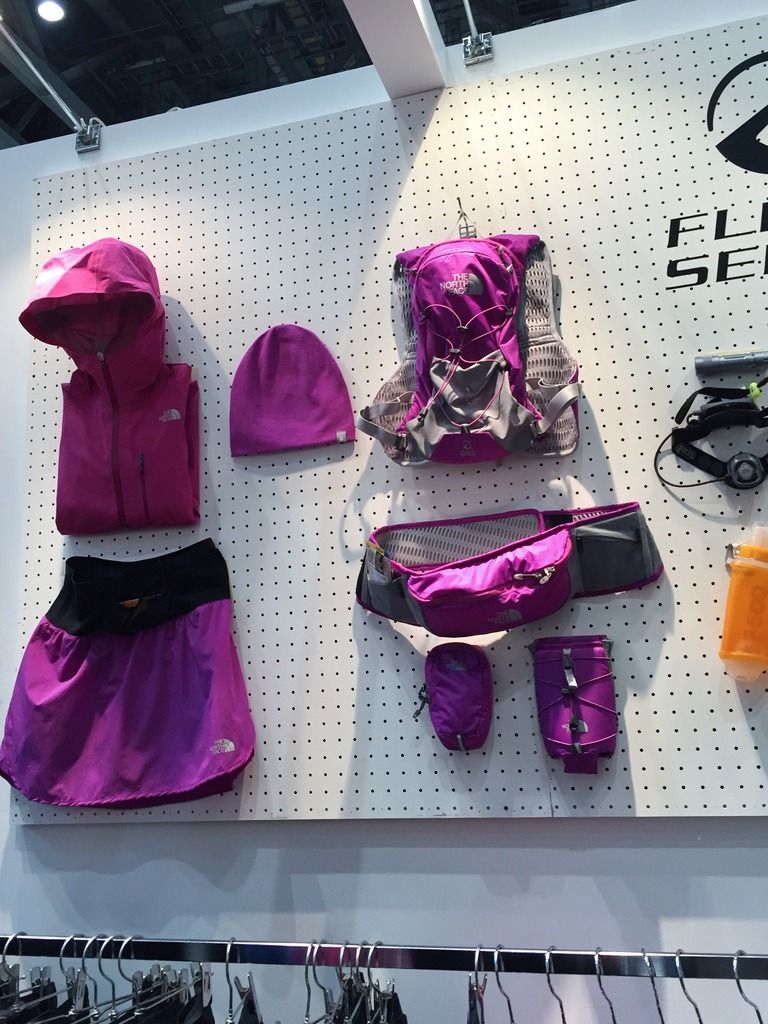 The shopping king caught in action. Each Nike Shoe was less than SGD50, how not to buy?!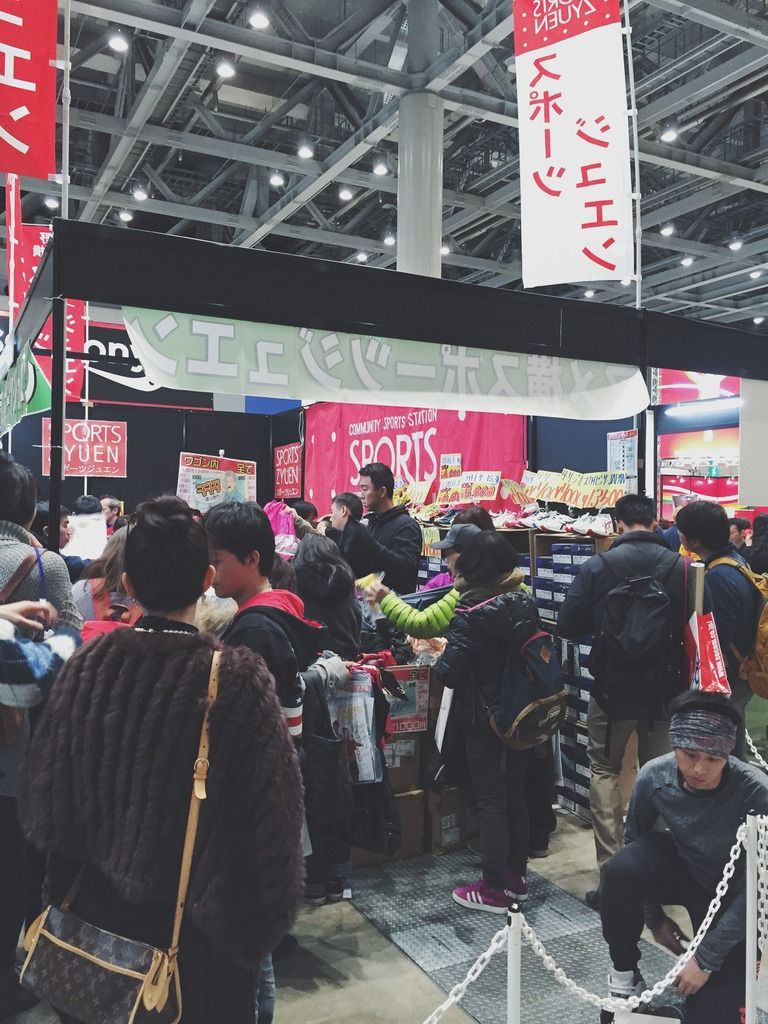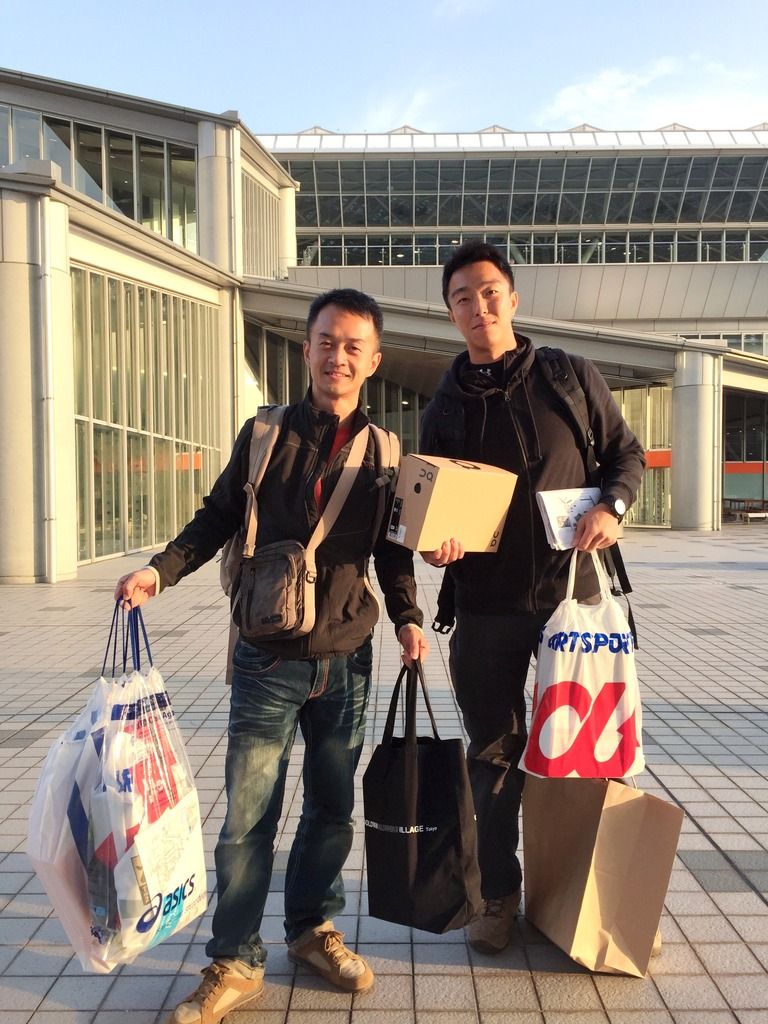 20 Feb 2015.

Thankful for our wonderful hosts, Makiko and John who greeted us warmly once again and arranged a gathering cum carbo-loading sessions for all Singaporeans to gather. Nothing beats meeting your fellow runner friends in a foreign country.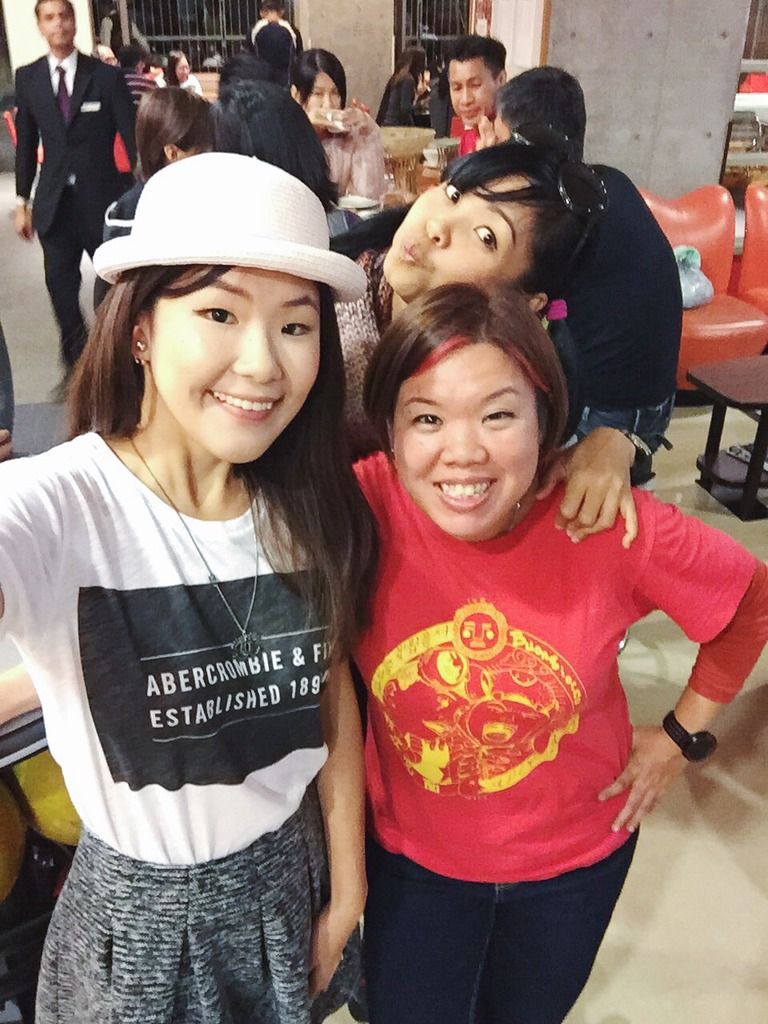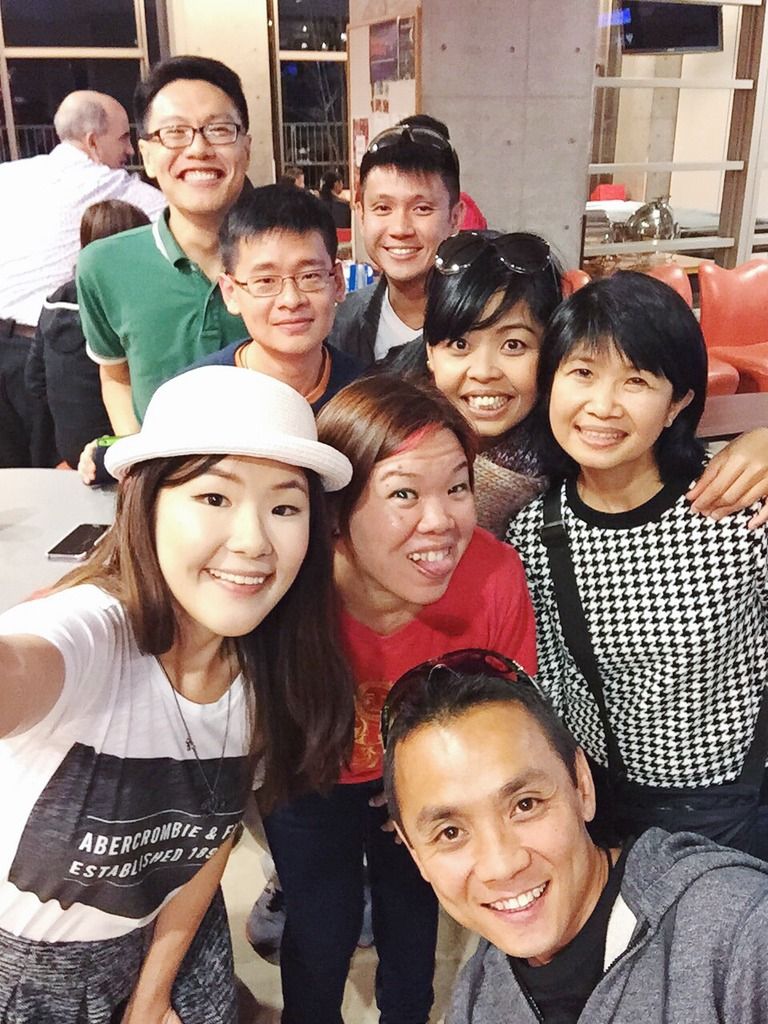 And we toured Tokyo Tower before calling it a day.
RACE DAY
On the night just 12 hours before our race, we headed for Ichiran Ramen at Shibuya, then followed by pigging out at the best (& cheapest) sushi joint. Carbo-loading was my favourite part prior to any race. I slept at 11pm that night with jitters and butterflies in my stomach. He told me I will be fine but I had lots of doubts about myself.
After last year's shivering experience, I decided to change the windbreaker to a thermal jacket to combat the coldness. I got this Nike piece at the US Outlets which served me really well!
Top - Bra top, Thermal layer, Thermal jacket
Bottom - Heat-tech leggings, Skins Compression Tights
Others - Lip Balm, Heat packs, Garmin watch, HP pouch, Protein Bars, Gloves , Running Cap
Feet - Socks, Shoes, Running Chip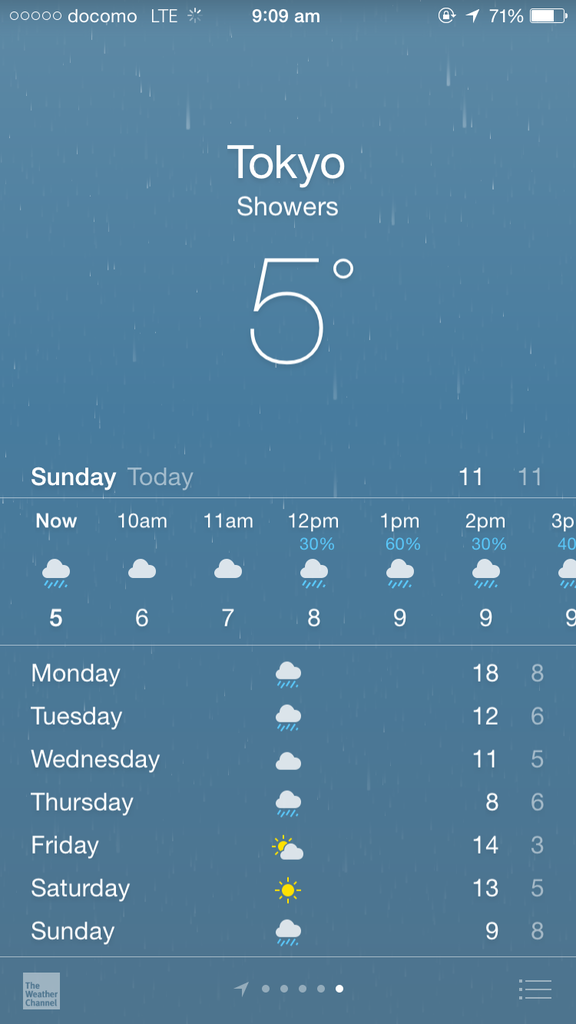 22 Feb 2015.

That morning, leaving our comfortable bed at 7am was the toughest thing especially with the sound of raindrops against our windows. It was drizzling at 5 degrees, even colder than last year.
I woke up to many messages from my close friends & family- thank you for all the blessings that helped me to tide through the tough race!
After much resistance, we proceeded to eat our breakfast which was a yummy sandwich from the convenience shop. That's one of the favourite thing I love about Japan - the convenience shops were always well-stocked with everything (snacks, bentos, drinks etc)!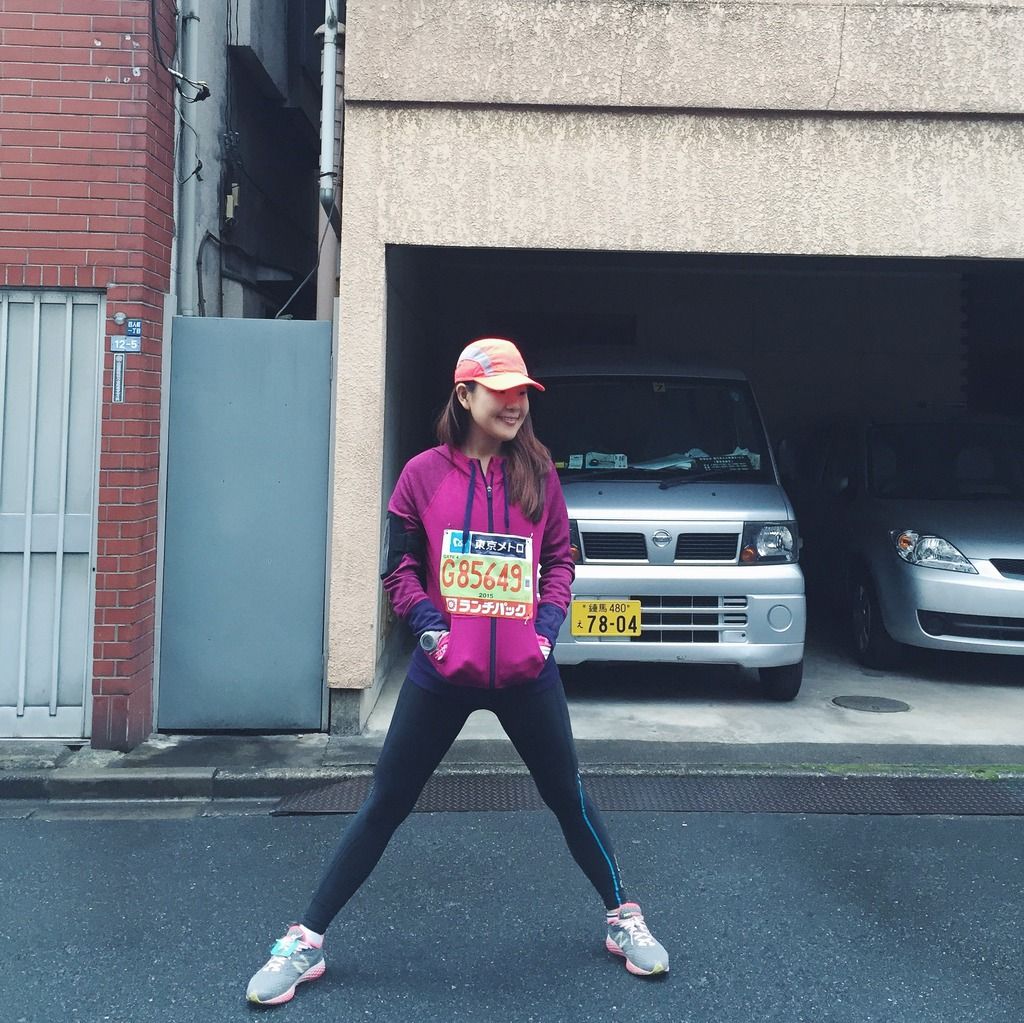 I decided to stick to the race outfit and not to load up more layers as i was afraid of feeling too uncomfortable half-way. He as usual wore very light. The 30 minutes walk in the rain to the starting pen had me almost freezing. However, I was feeling rather excited to start the race and soak into the ambience. This is why we are here for, right?

At the familiar race site, we were surrounded by thousands of runners all ready to brave the rain. Due to the outfit restrictions and selfie-sticks bans, there were less eye-candies to feast my eyes on.
The Japanese birds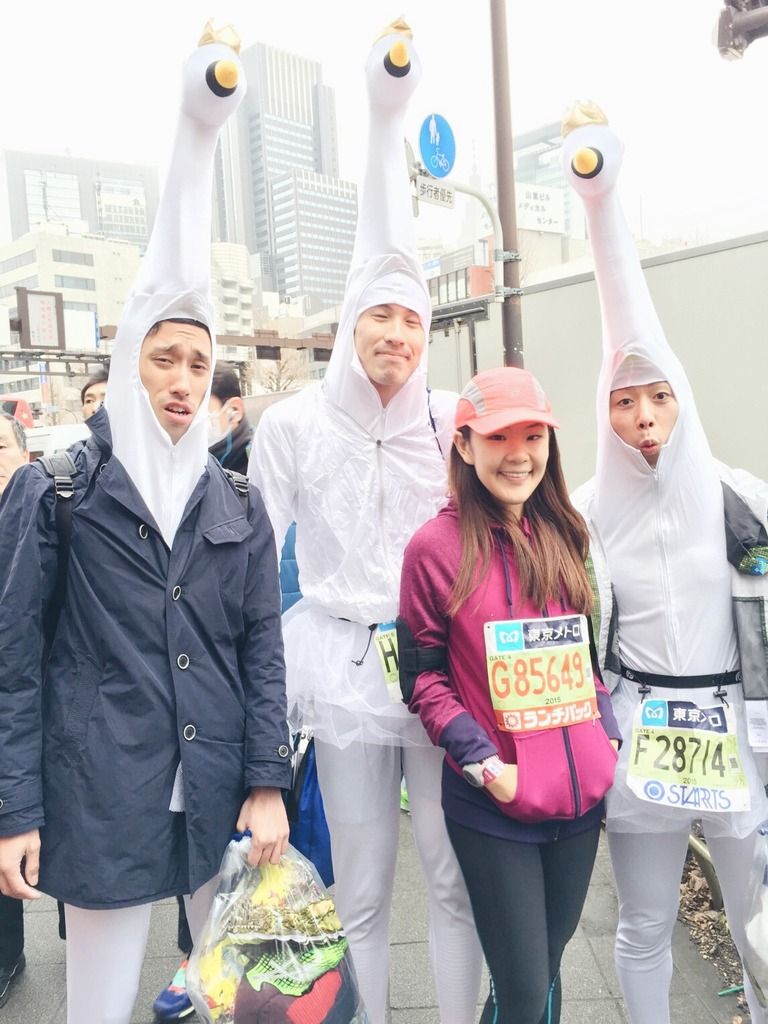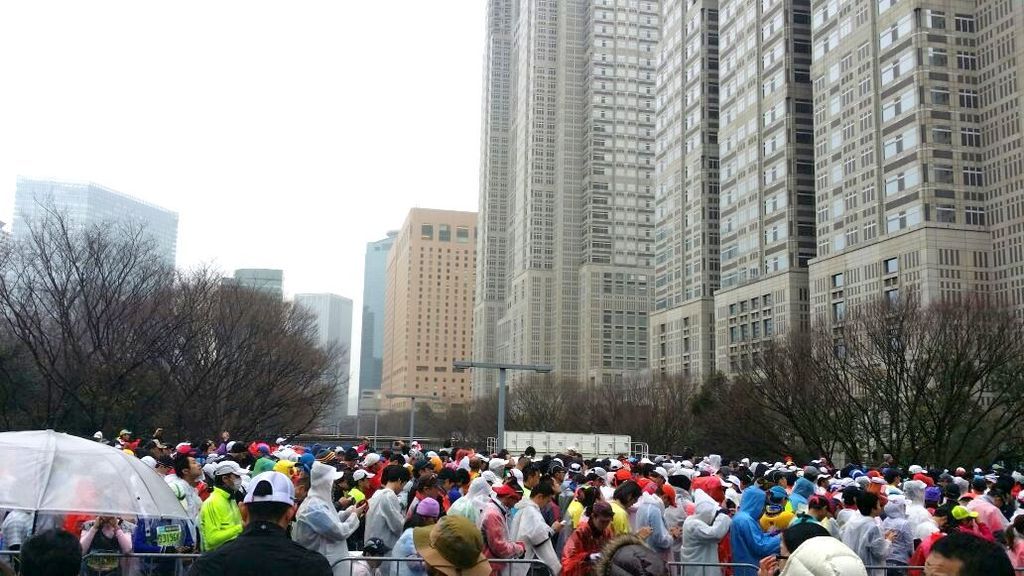 Our first overseas race together :)
No idea how I am going to survive the cold again.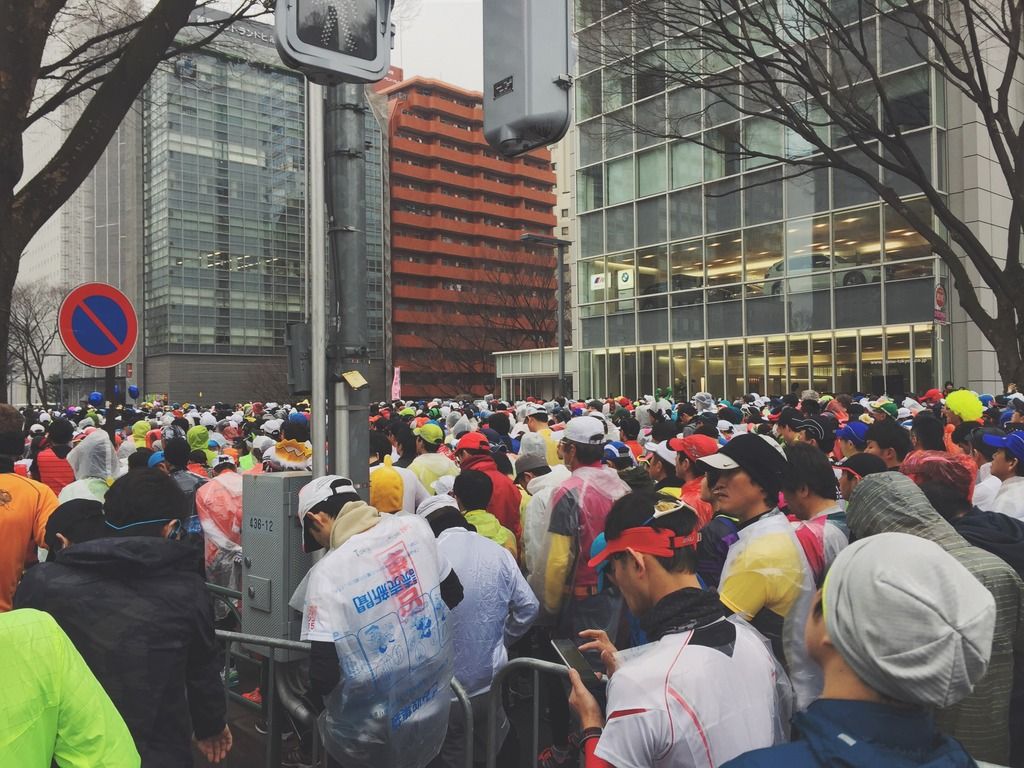 The race flagged off at 9.20am sharp. I was located at Pen G which flagged off 8 minutes later so we won't deter the speedsters (sub 4, sub 3). It was still drizzling and thus, the wait felt like forever.
1-21km
BANG! This is it. I told myself to take it easy and just try my very best.
The first half of the race started off really well and I started to warm up my legs a little. Thankful for the gloves that was bought at the race expo which was the best purchase ever to keep my hands warm. At the 3km mark, I could spot the Singapore flag and the lovely faces of Makiko and Jes (from RD!). Once again, the supporters and volunteers were the awesome lot who provided us with endless cheer throughout the endless course.
Along the way, I was keeping tab on my pace which was between 5:59 to 6:04 kmp. Still within my expected timing I thought, while looking at the 4:30 hour SCM targeted race band (really useful). I kept to the left lane and tried my best to maintain a consistent pace while keeping the stride as light as possible. That gave me confidence that I had enough energy to persevere through the second half without hitting the wall.
I kept in mind the strict cut-off time for every 5km. There are two buses driving behind - one filled with people to judge if the runner will be disqualified while the other was to send the runner home. Clearly, it emphasis on the message - train hard or go home.
The weather got colder after a while which felt like 3 degrees except that the rain stopped. This time round, I decided to focus on the run and not to take any pictures to prevent myself from fiddling between my phone pouch and gloves. My lips felt dry with the incoming cold wind and I had to reapply my lip balm every 5km.
Tokyo Tower was a lovely sight at 10-12km and the sight of the red rustic structure motivated me to continue.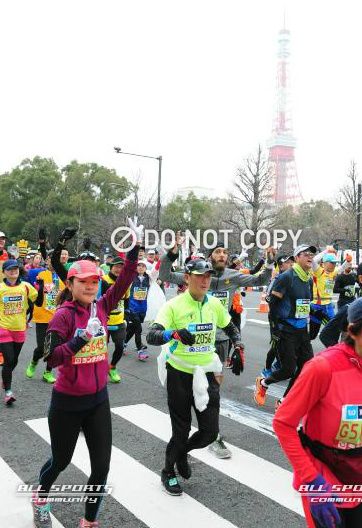 I was looking forward to the food section and the reward shortly came after 21km.
21km - 42.195km
The best thing about running in Tokyo would be having the spacious wide lane to yourself and the attention of all the supporters.
My favourite booth was here! The sports sweets were my absolute favourite and kept me sane. Of course, I couldn't resisting not grabbing the buns, bananas, chocolates, nicely cut fruits and all. Thankful for the volunteers who peeled and cut the fruits nicely, while sending us high fives and endless ganbattes!
For me, the hardest course of the race was definitely the 30k-35k with two upslopes which were never the best welcoming sight for not so fresh legs. I was still 5-6 minutes ahead of the targeted timing based on the wristband and told myself that it is not the time to slack. My personal best was still within reach as I only need to shave one minute off 4:31 hour. Even 4:30 hour would be sufficient, I told myself.
35km. Time check: 3 hours 38 minutes. Still within target.
ALL IN or NOTHING.
I then told myself that for now, it's either going all out with my full effort or nothing at all. Nothing in between or else I must else just give up. there's no point giving a 50% effort, I must as well give a 0%. Having a motivating phrase in your mind helps. It kept ringing in my mind on certain points where I was switching off and tempted to slow down.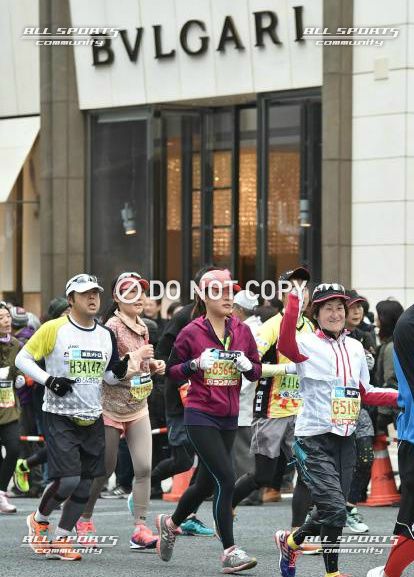 After passing by the final Ginza areas, we were on the way to Tokyo Big Sight! I was very excited to see the hubs again and the late lunch became my motivation.
42km. Time check: 4:22km. Just 0.195km to go!
After passing by the final 0.195km stretch, we were warmly greeted by lots of volunteers who draped towels and medals around our necks.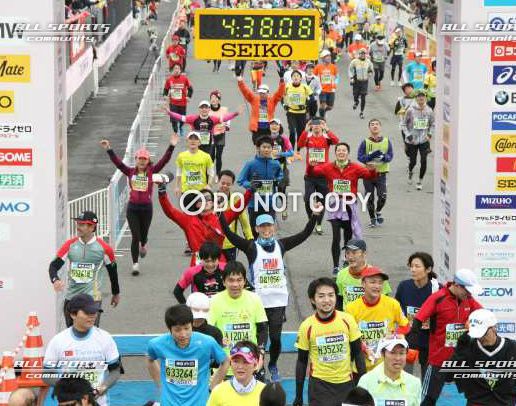 As usual, the race organiser was so thoughtful to give us a printed carrier to store our bananas, pocari sweat etc so we wont have to hold them with our bare hands.
I AM A FINISHER!
4:24 hours. Yay, I got my PB and improved by 7 minutes!
Crossing the finishing line is always the best feeling ever. Victory on your own, no matter how fast/slow you are. Everyone is a winner!
Despite the cold, my heart felt incredibly warm at that moment. It didn't matter if everyone was of different nationality, we have crossed paths via running! It was a splendid moment congratulating people around you, taking pictures for each other and enjoying that few minutes of glory before we went back into the warm tent.
The compulsory shots - I looked like I'm about to die but noone can look glamorous after a marathon right?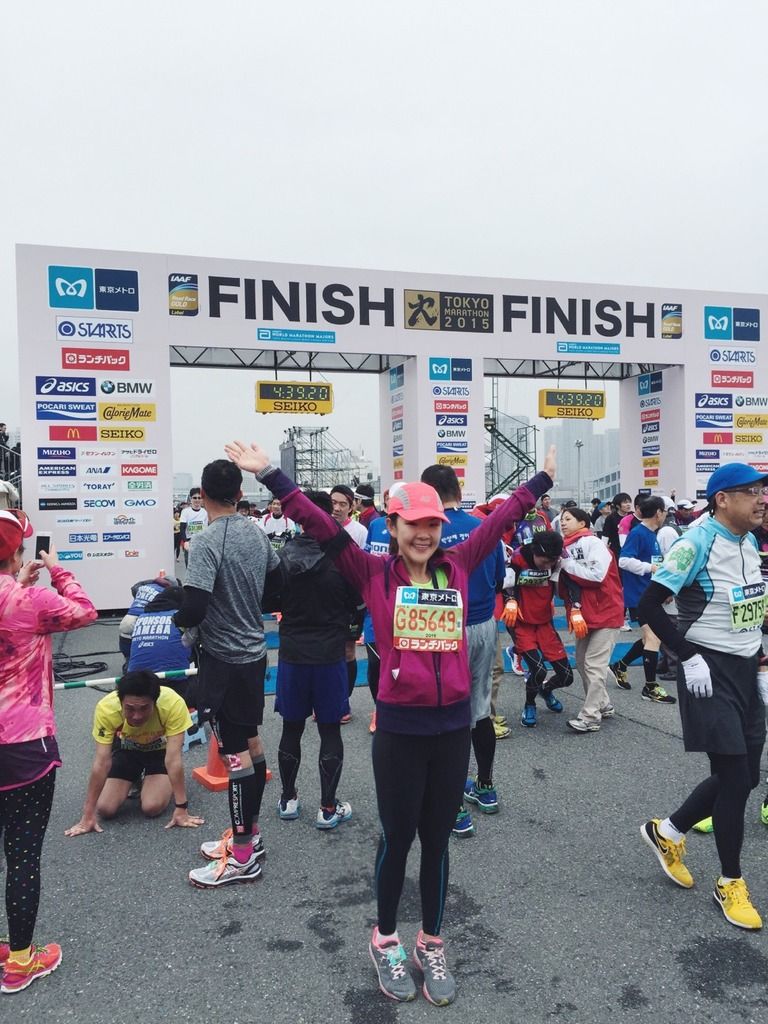 YAY!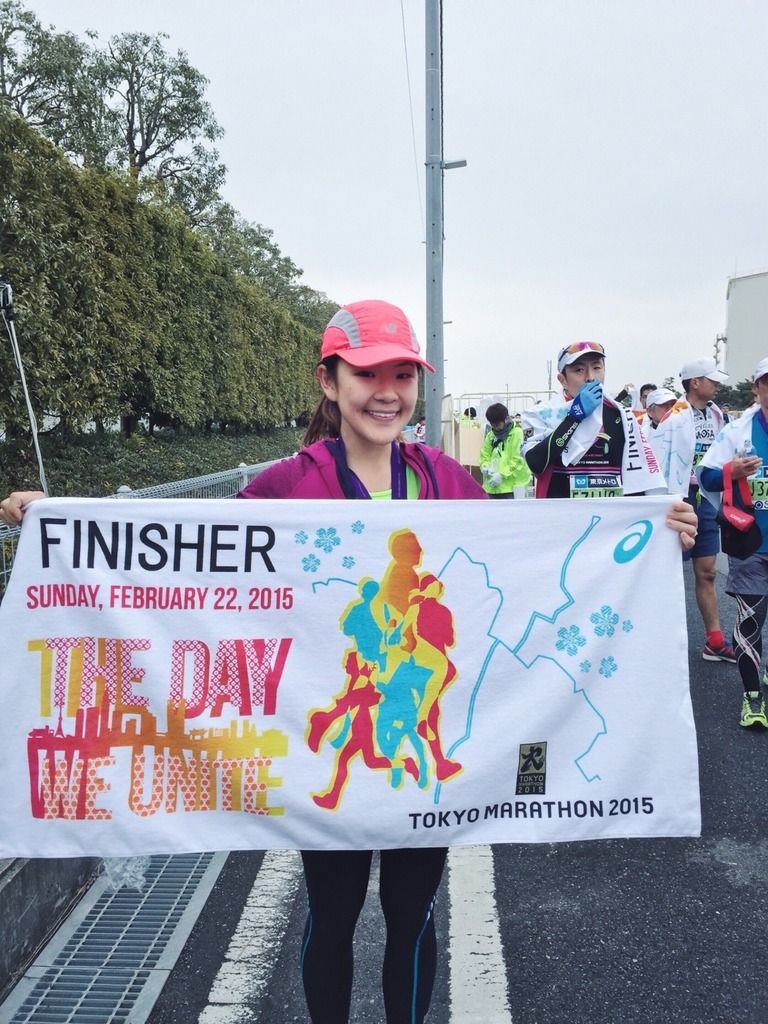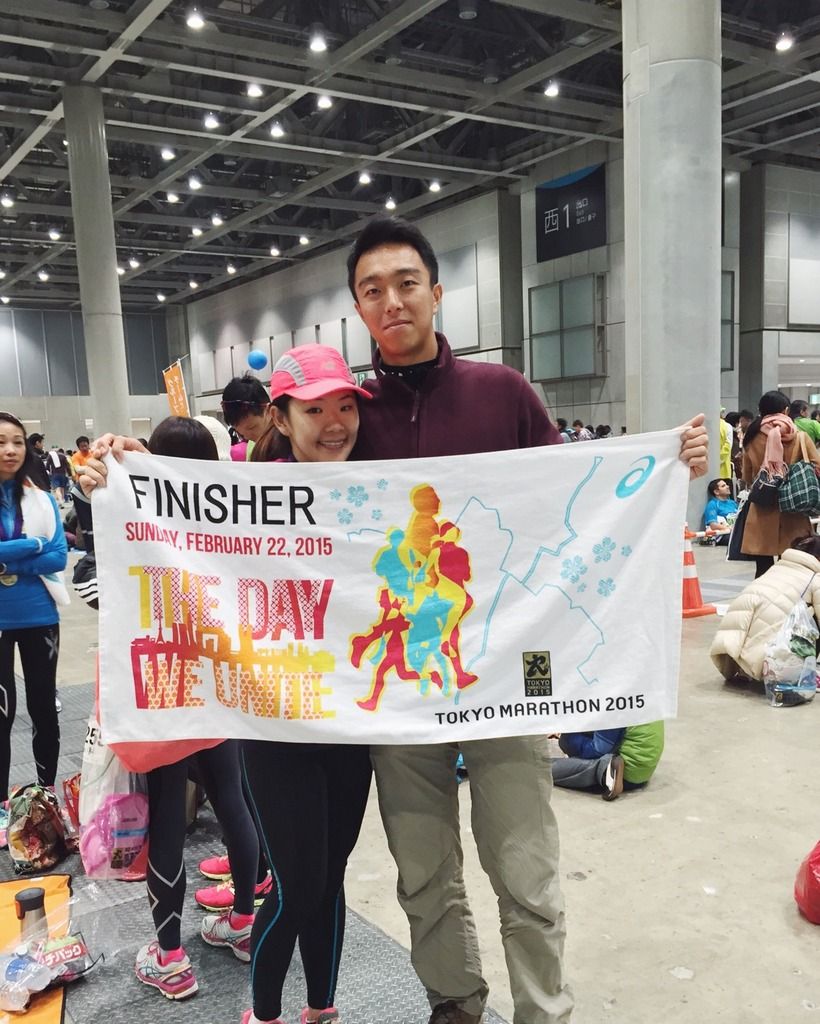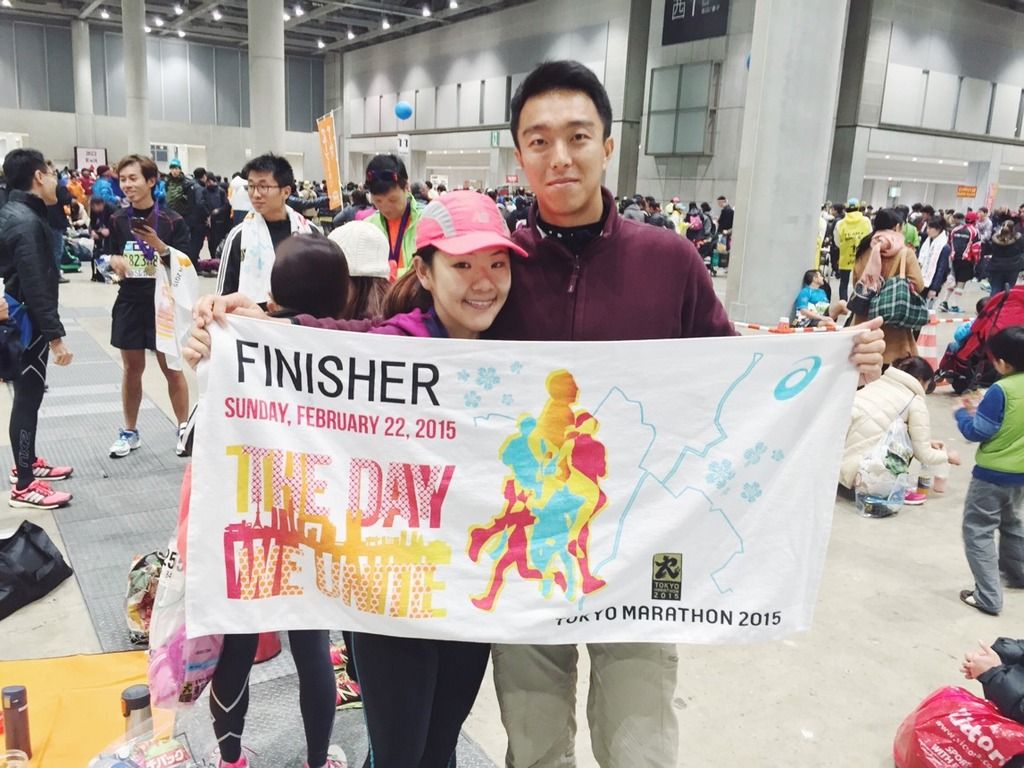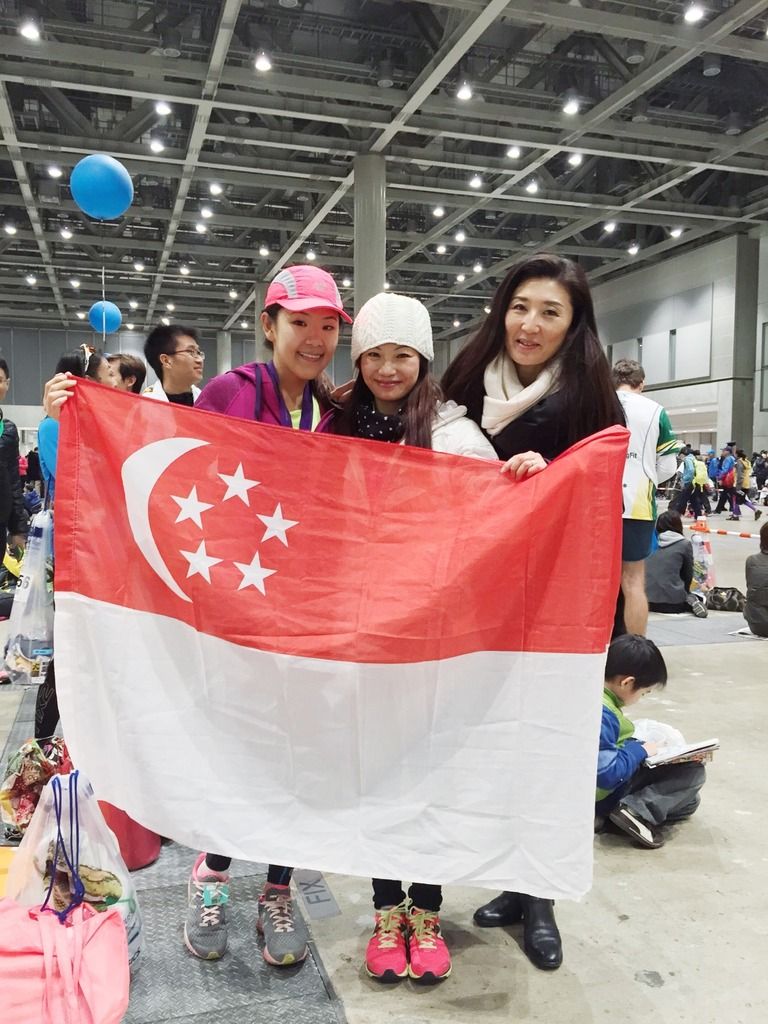 Thank you hubby for always believing in me (even when I do not) and piggy-backing me down the horrendous subway stairs throughout.
The day we unite.
Once again, thank you Tokyo for creating such wonderful post-honey moon memories for us. Our first World Majors and first CNY overeseas. We will probably not ballot for some time but definitely, we will be back to reunite with you soon! :)
This time round, I am really pleased with my consistent splits and executed marathon plan despite the lack of training. Still slow as compared to many marathoners out there but I will work towards shaving the timing second by second. It gave me motivation to train even harder for my next marathon (if there is one this year).
All in or nothing.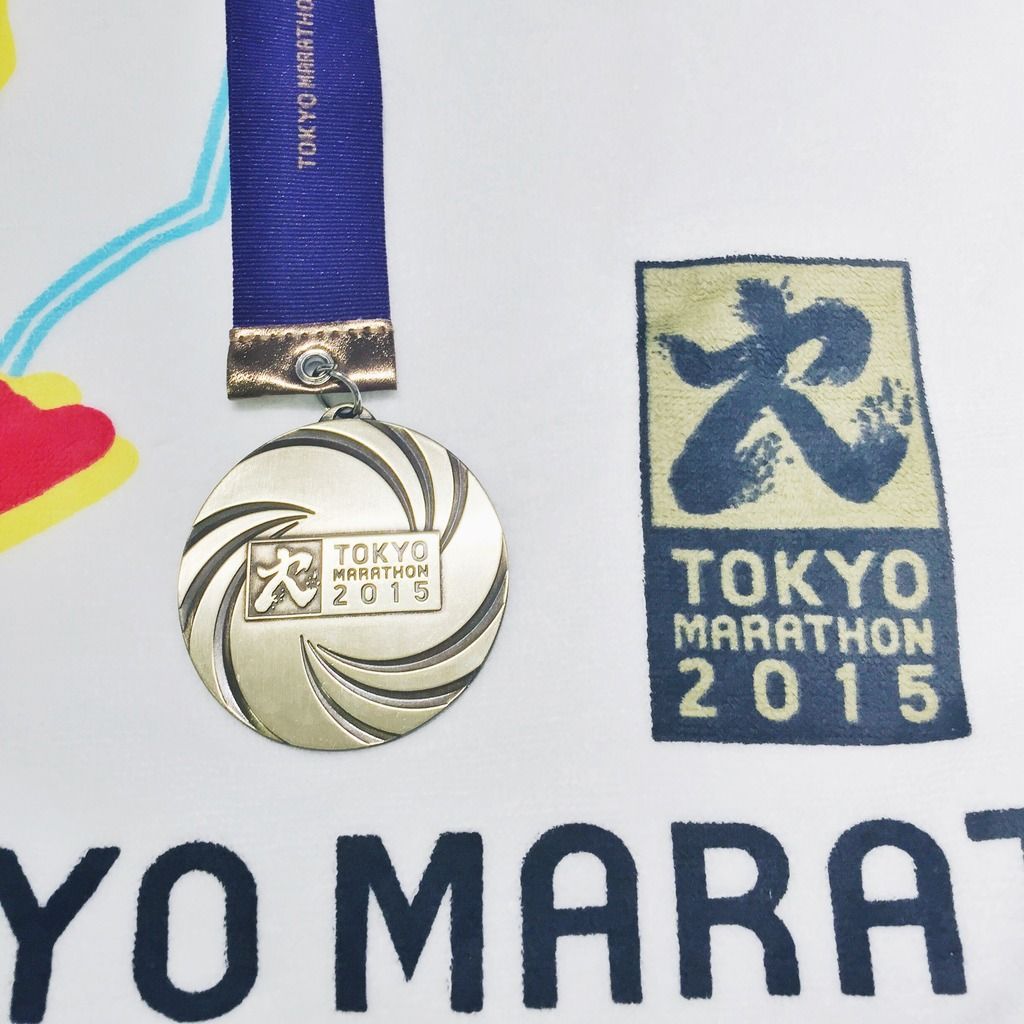 I love you Japan. Aishiteru