After months of liaising with our ID, buying trips around Singapore and endless trips to monitor the progress, we are finally done with our renovation process!
The best feeling was finally having our love nest to call our own which ended 2014 on a perfect note.
It's been about three months since we have shifted in and we have slowly got used to our own space as well as the daily chores that came together with it. Instead of heading out to town, our weekends were mostly spent chilling in our nest and enjoying our staycations.
I've finally compiled the pictures for this final house tour post. Credits of pictures go to
I-Chapter
, our friend,
MW
and my trusty iphone6/sony cam. So enjoy! :)
---
ENTRANCE
We painted our front door white (originally brown) to match the Scandivanian theme. As you can tell, the hubs is a total LOTR fan from the brown signage on our main door.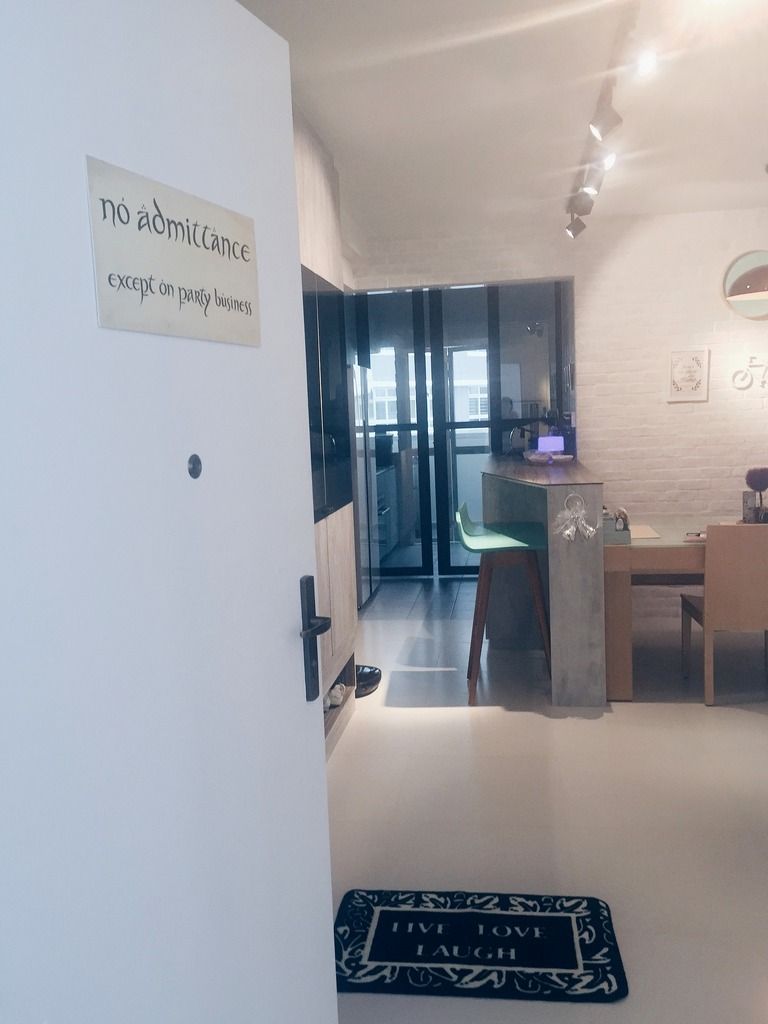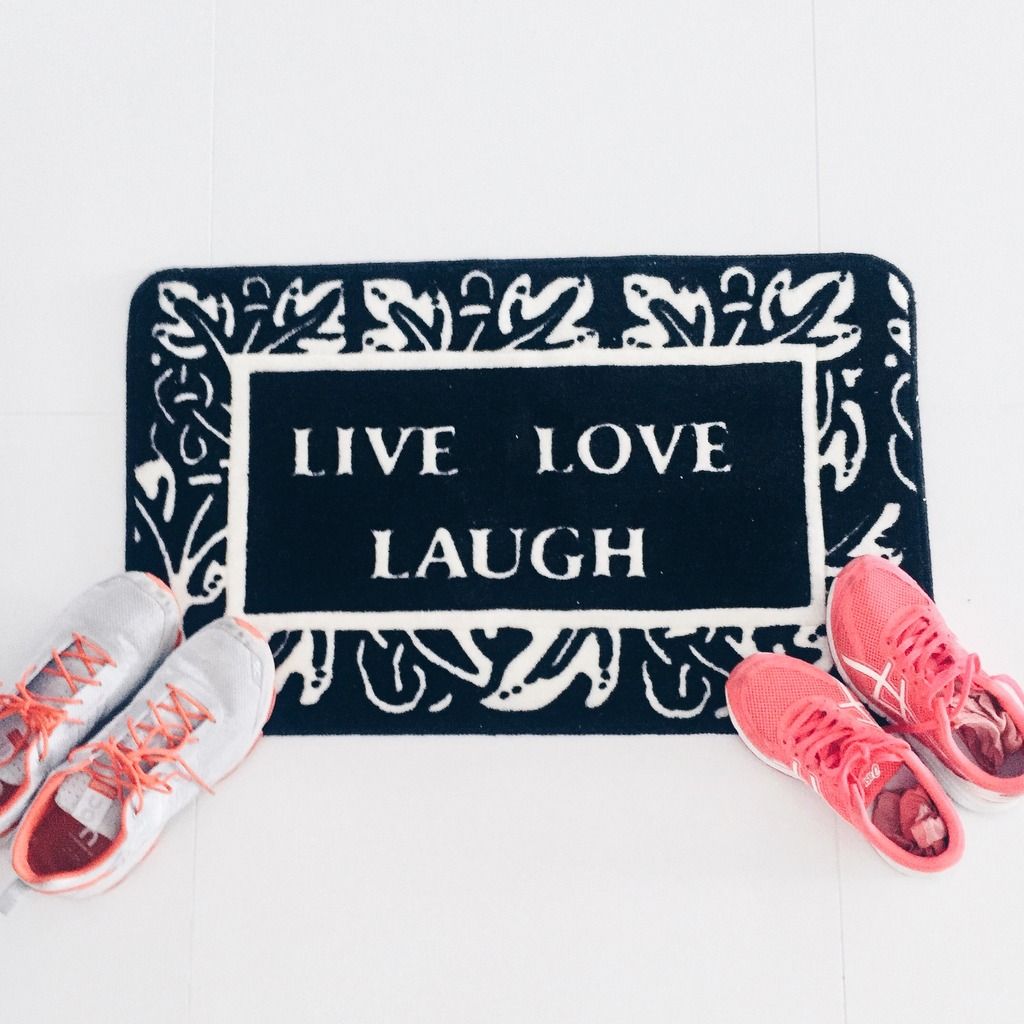 LIVING ROOM
The platform area was a "suggested study-room area" which we didn't enclose nor do anything to it so that the living room will remain spacious.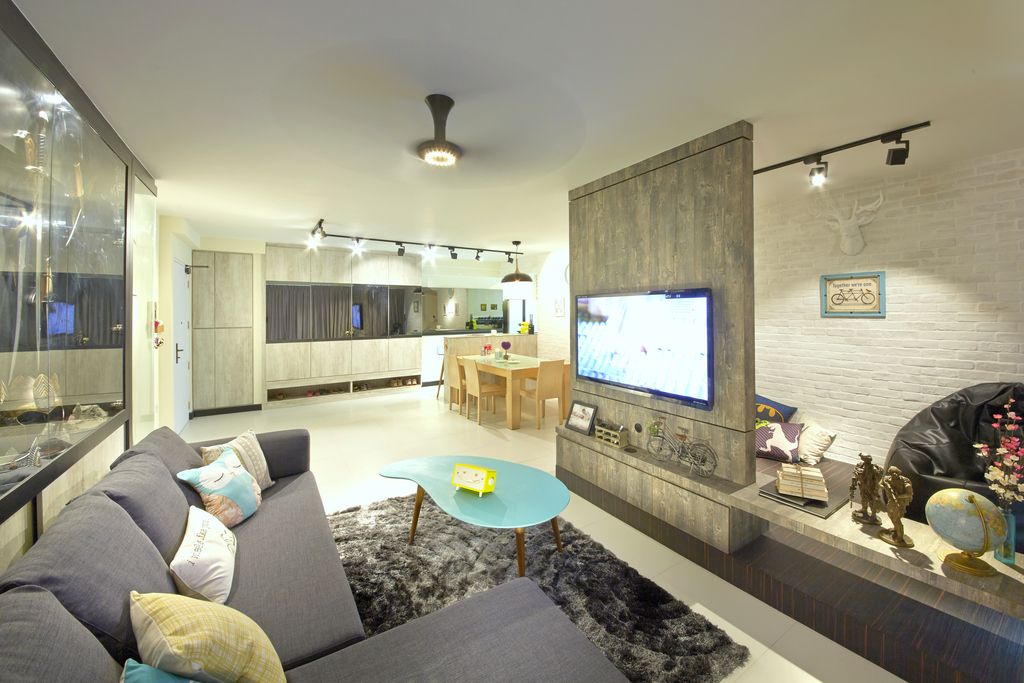 One of my main concerns was having a huge shoe wardrobe to contain at least 100 pairs of shoes. All thanks to my ID for making it possible! The laminates on the shoe wardrobe were the same as the kitchen laminates and meter-compartment.
Where my heels are.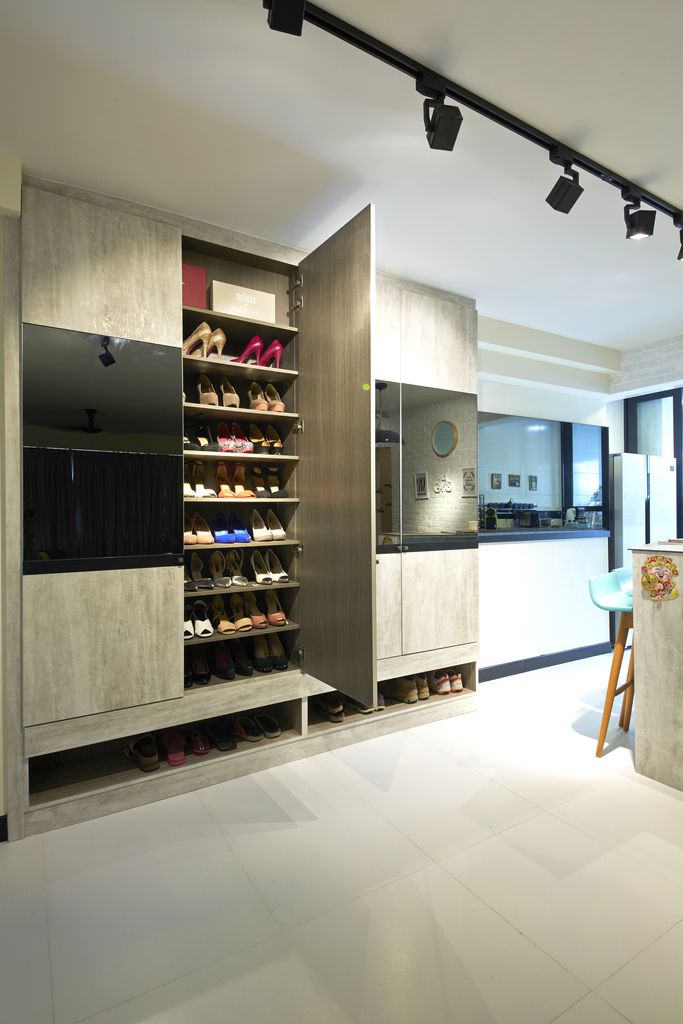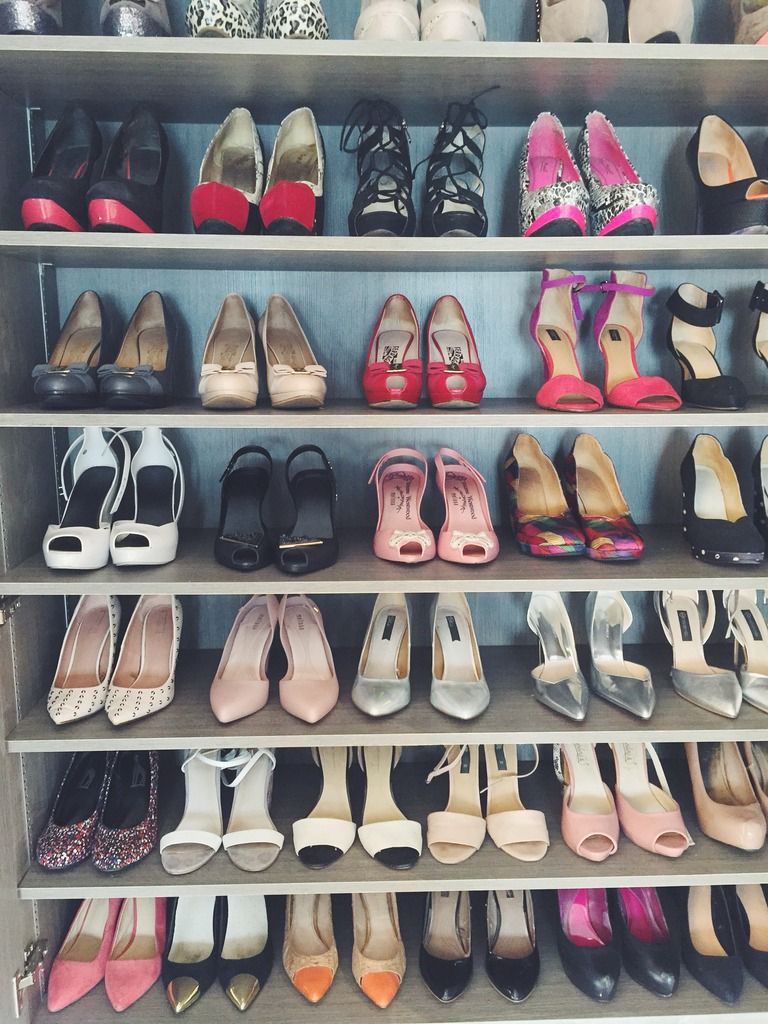 The right hand side were for wedges, flats and sports shoes.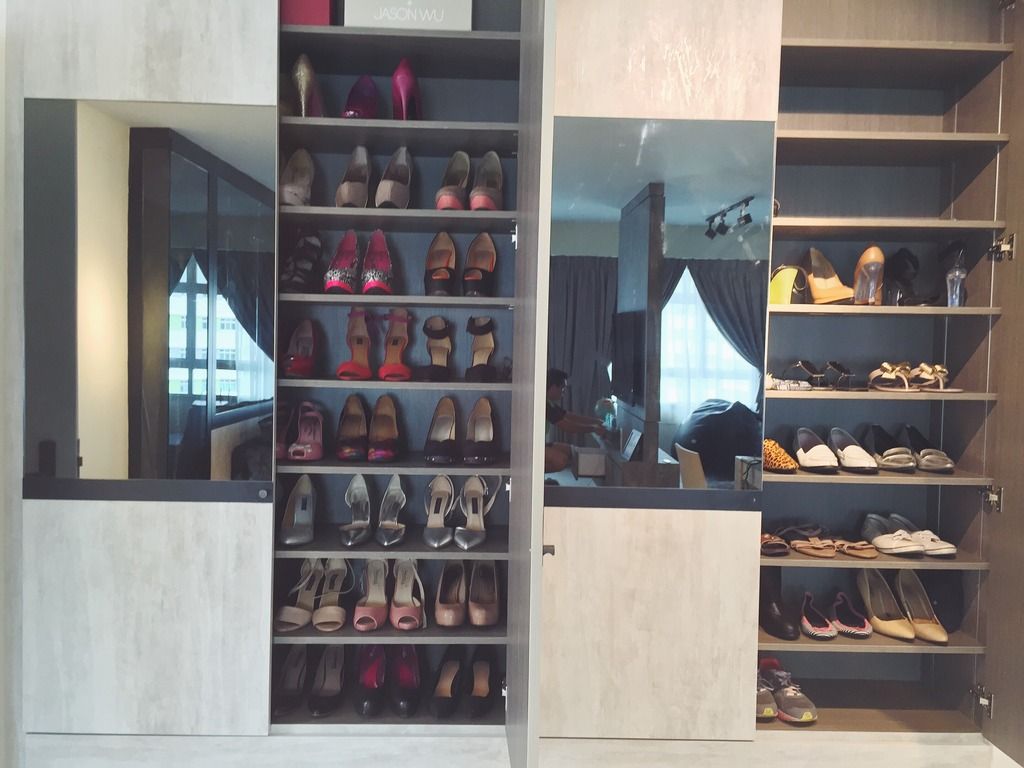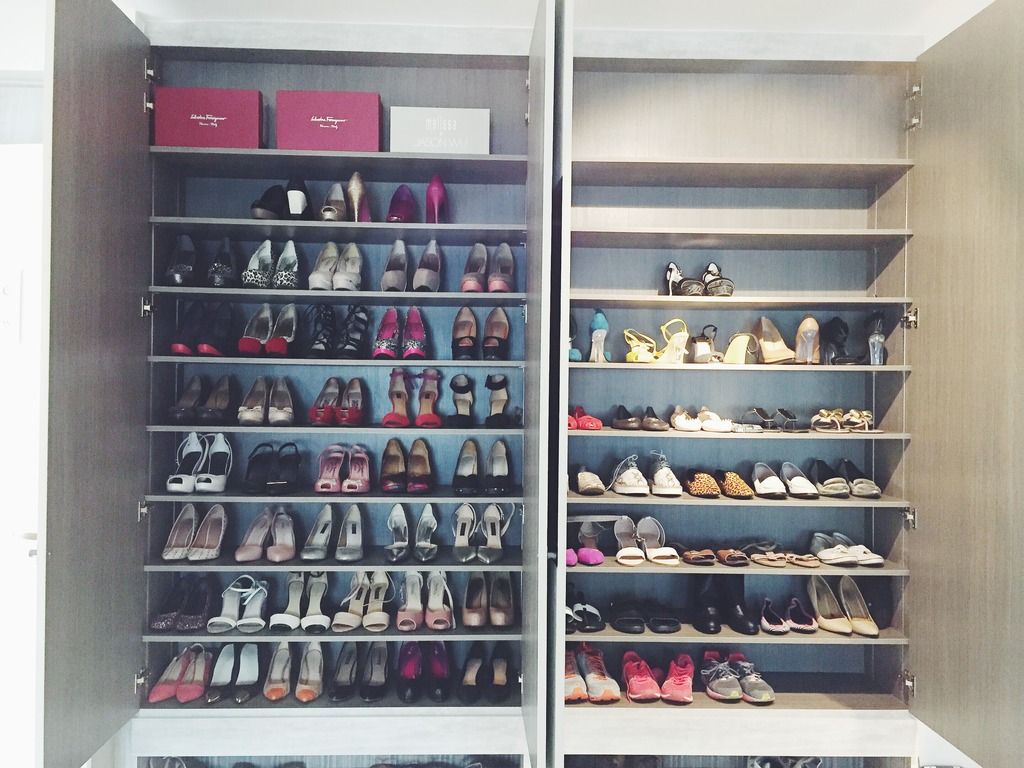 Next to our main door was our mail holder to store keys and letters.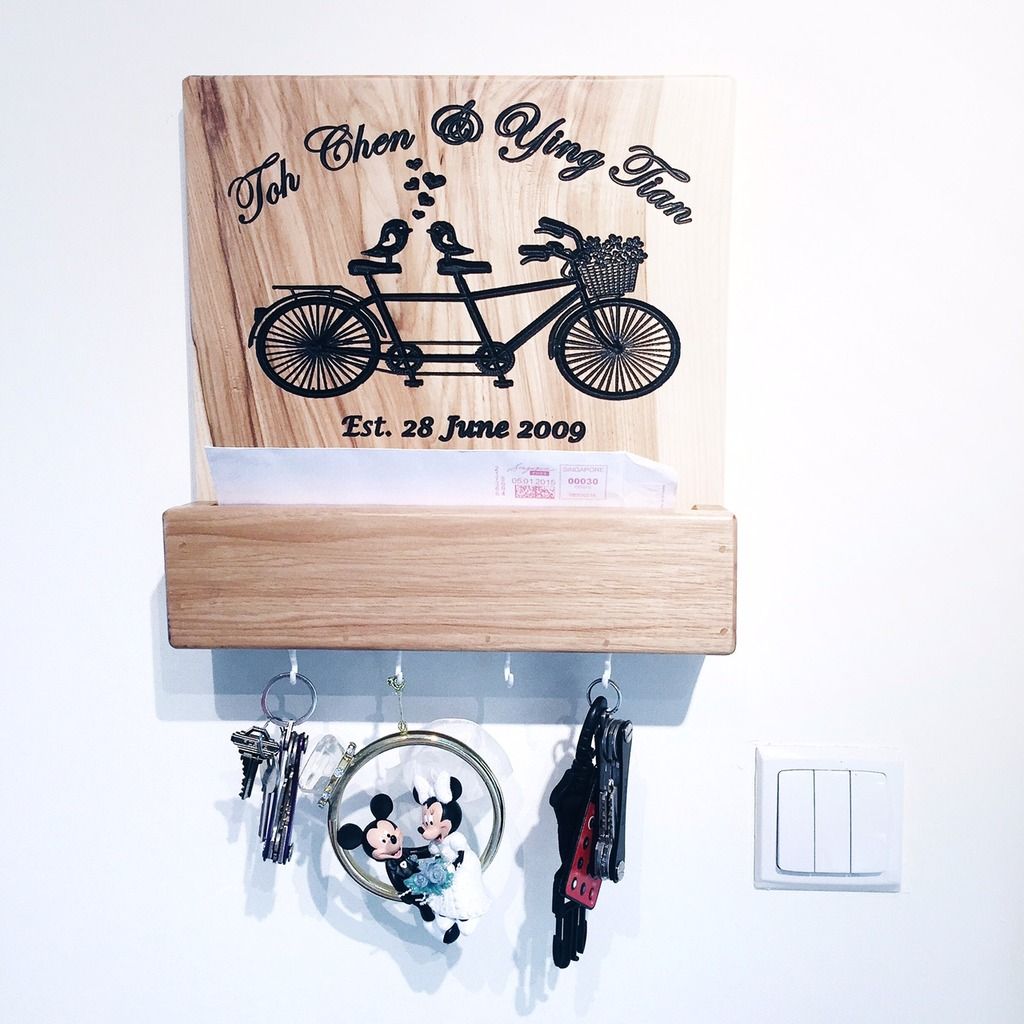 The hubby was a huge fan of swords and thus, this was another main criteria conveyed to our ID. It's even bigger than my shoe wardrobe and he is already thinking of extending it to the other end of the wall.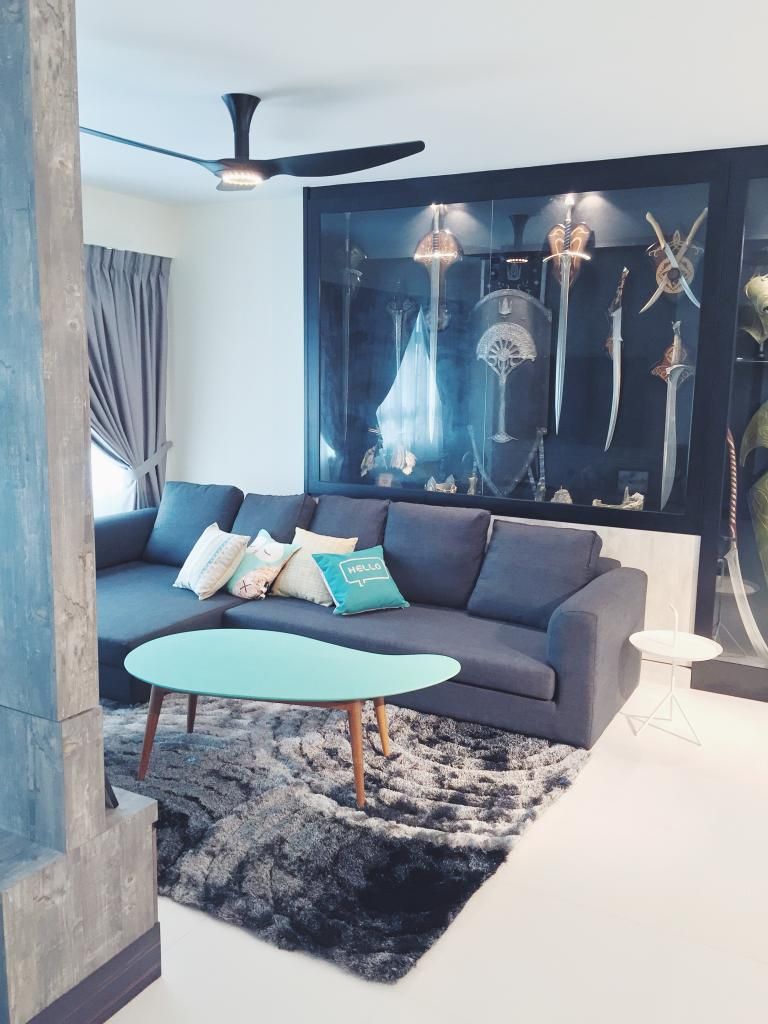 There's some storage space for more of his toys behind the sofa.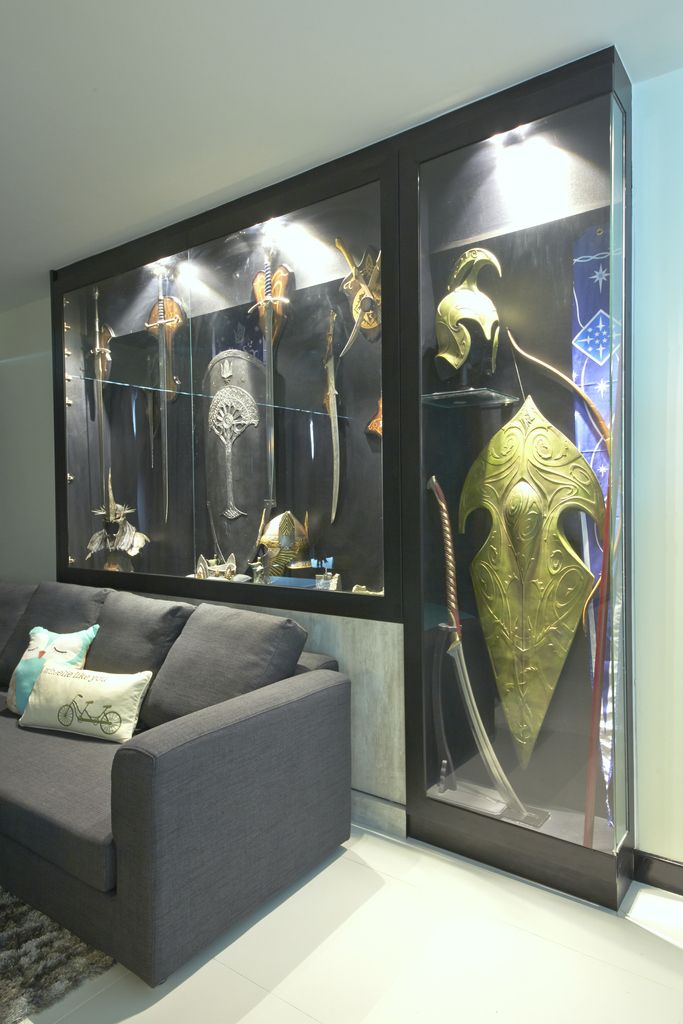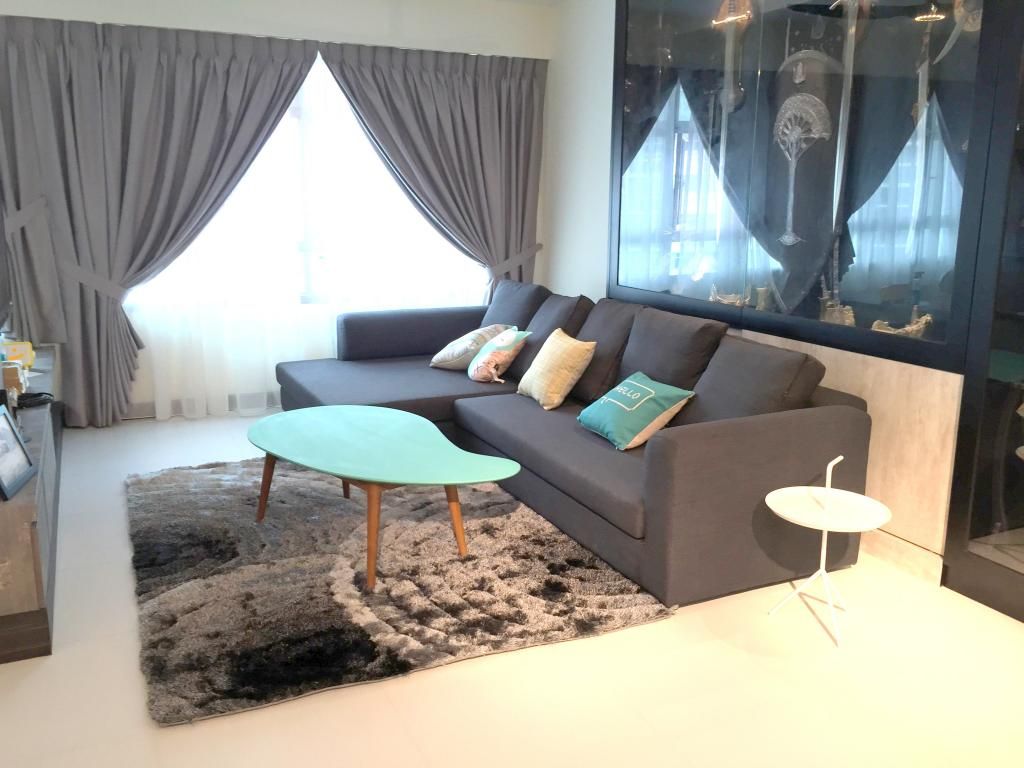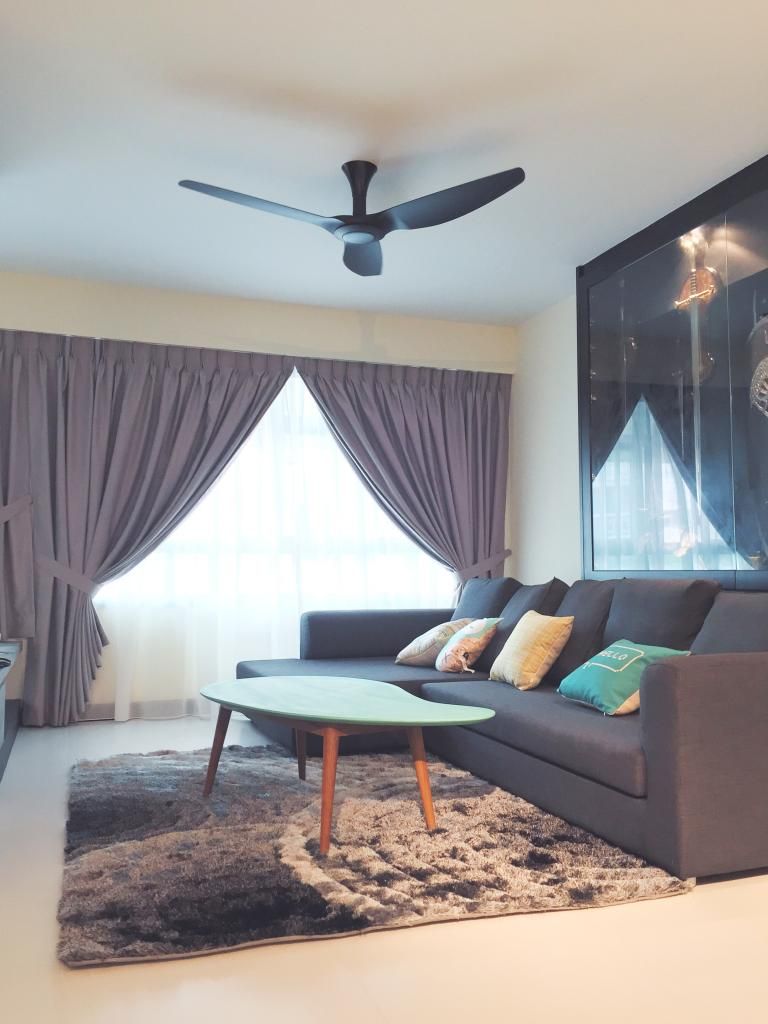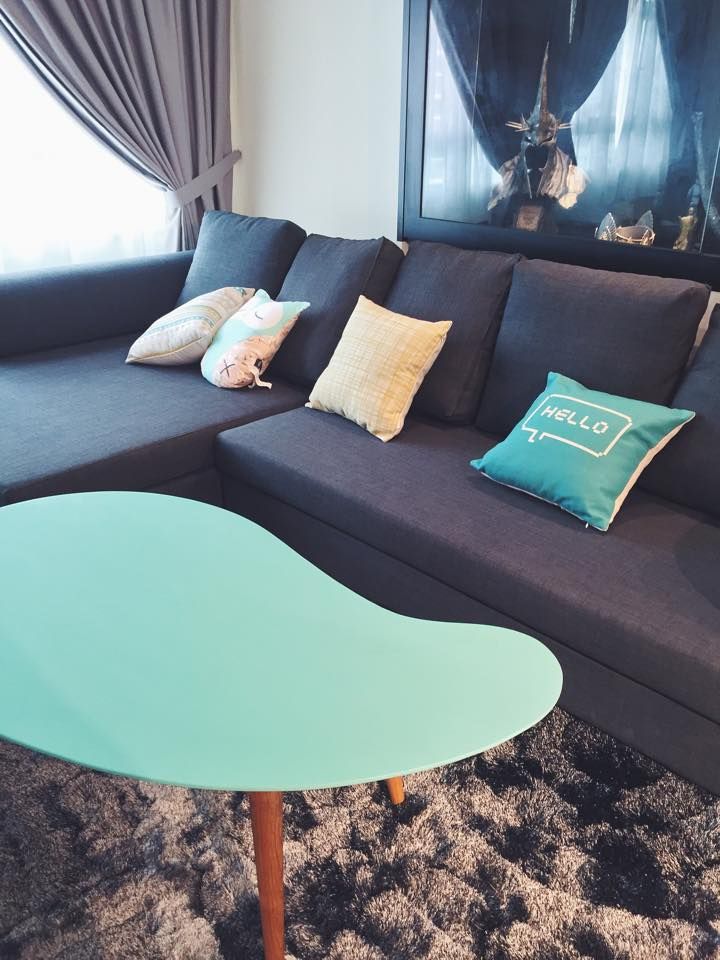 One of our fav features that we like was the 360 rotating television in between our cosy area and our sofa area. It allows us to watch television from the bar counter and dining area. Our ID has cleverly concealed all the television wires within the wall as well.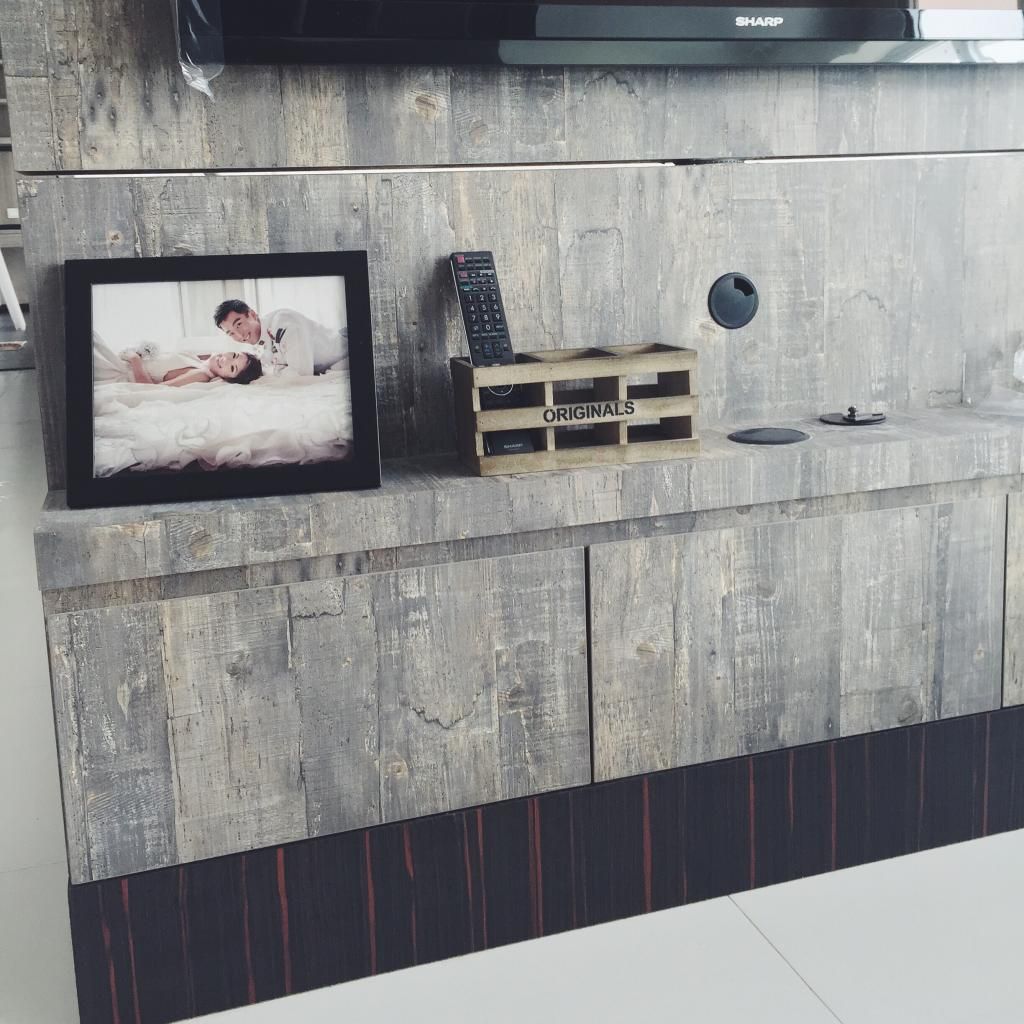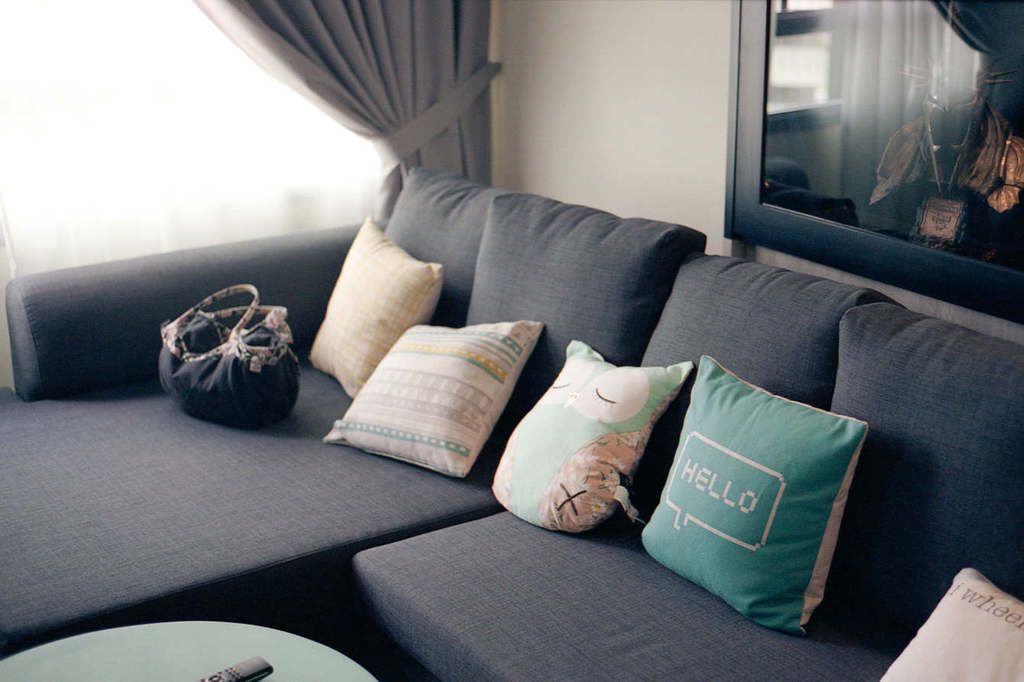 My favourite part of the house was the cosy area where we littered with cushions and bean bags. Good for gatherings and the somehow the kids love it.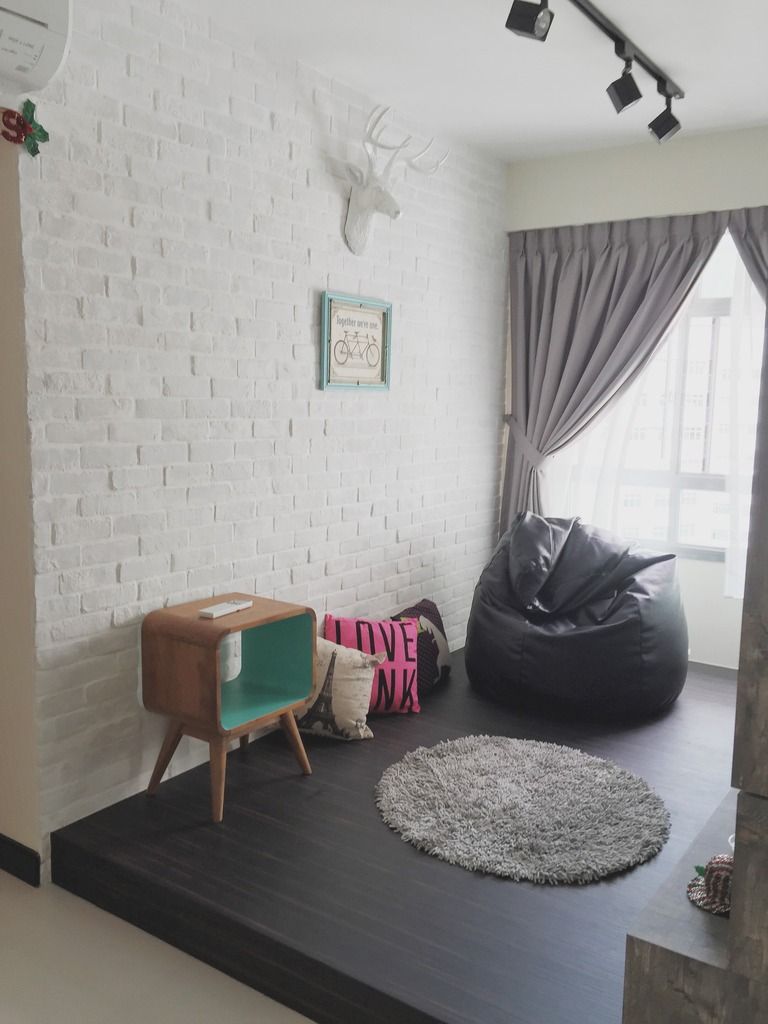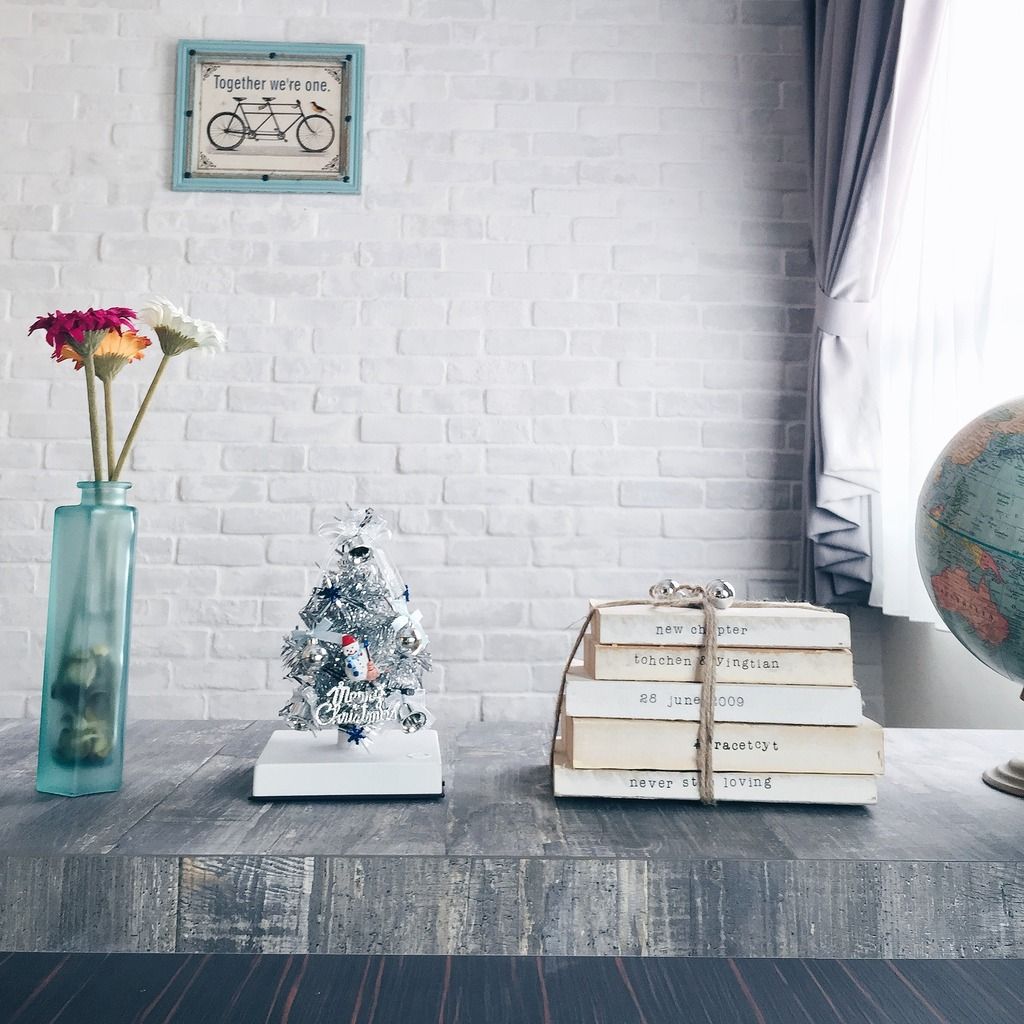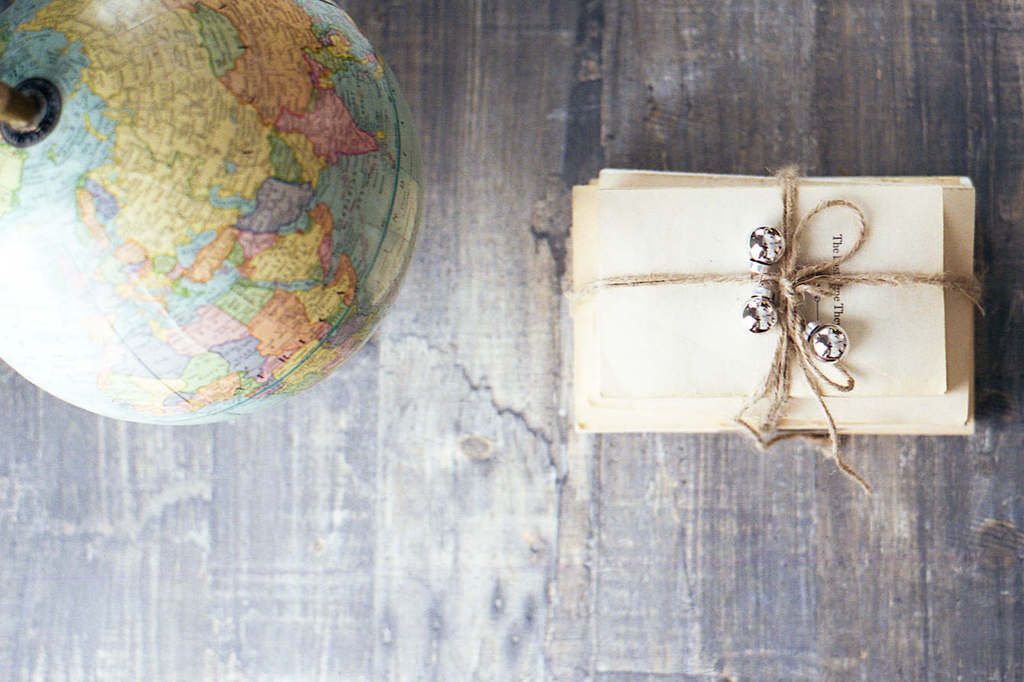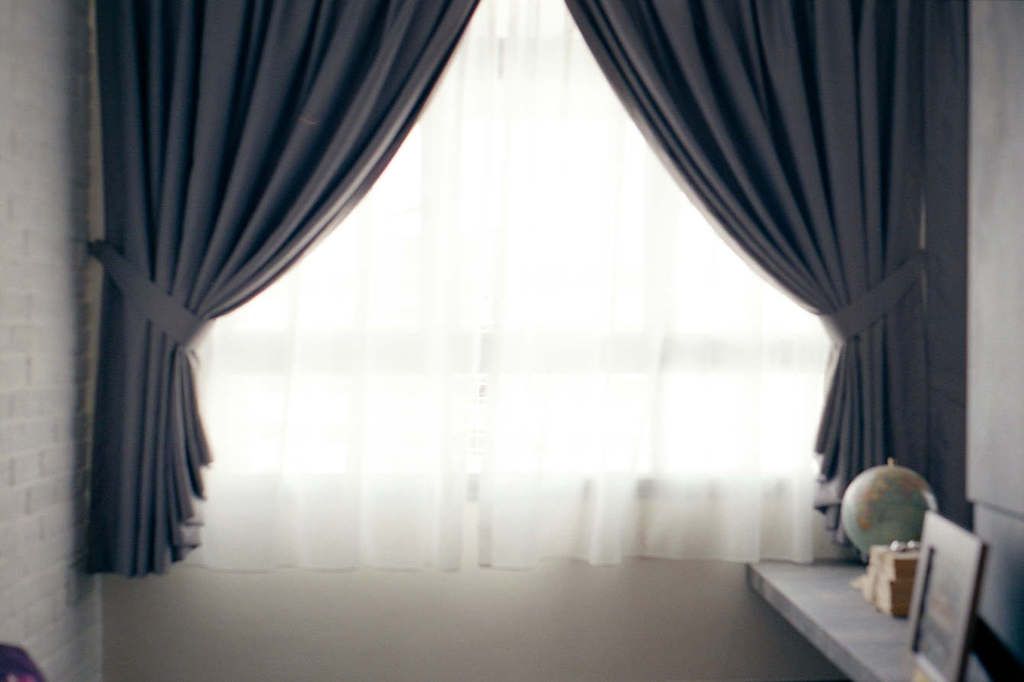 KITCHEN
Our ID suggested a wet & dry kitchen which we were fully supportive of. The "wet area" was enclosed with an aluminium black framed door for our cooking while the counter-top area at the "dry area" was our chilling/drinking area.minimal
Also, the width was extended by hacking some parts of the walls to enlarge the space. We were both not a kitchen person but weirdly we have spent hours trying to whip up something decent. Very fun!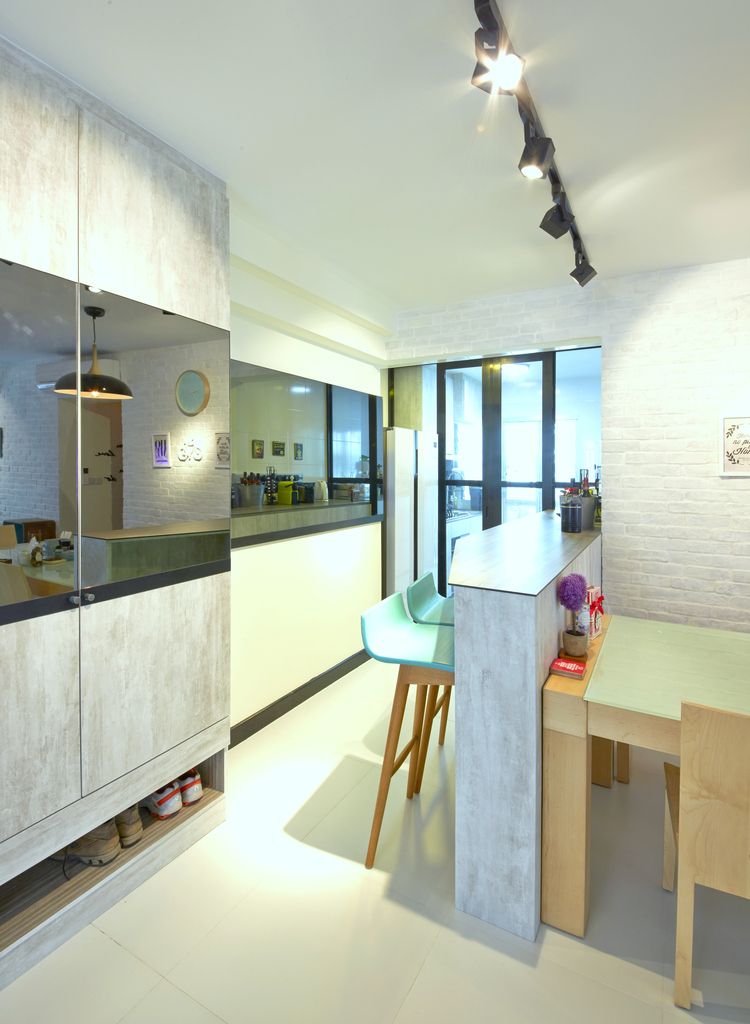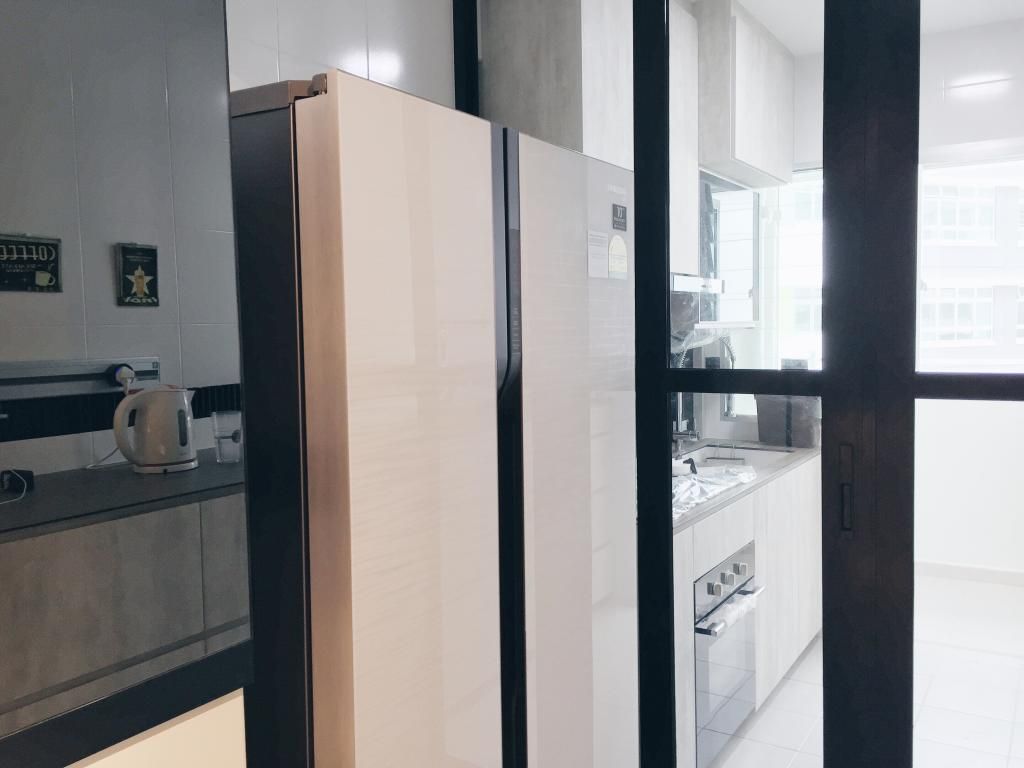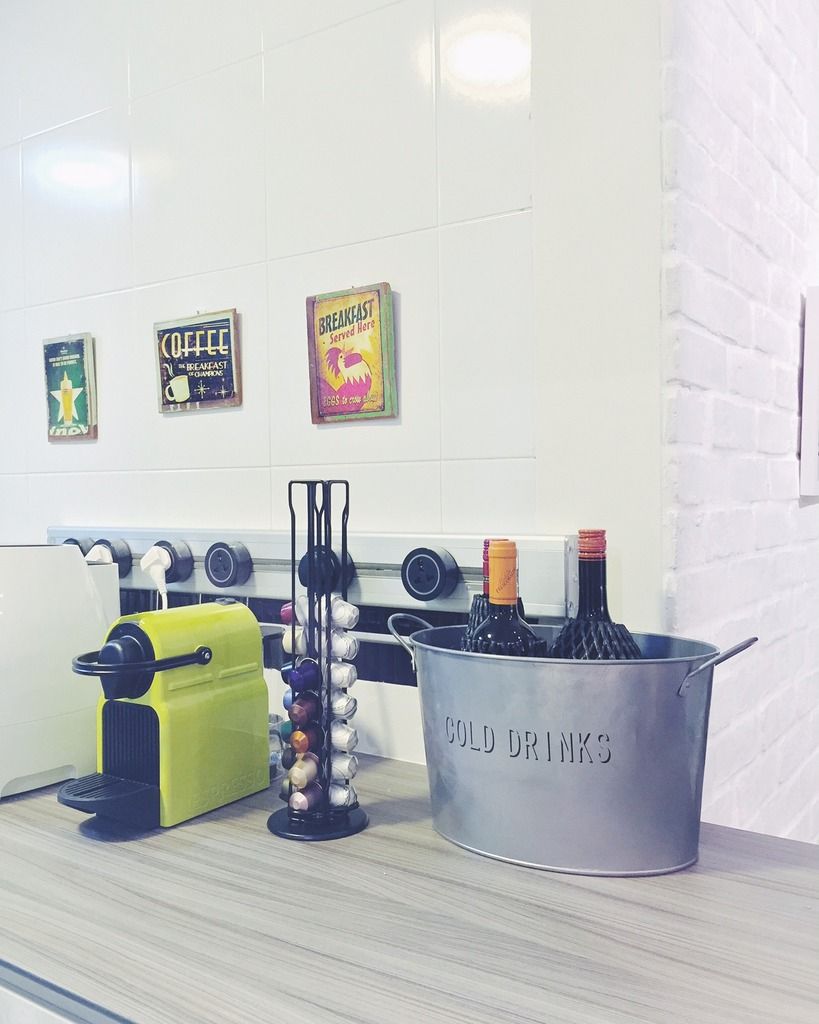 View from the wet kitchen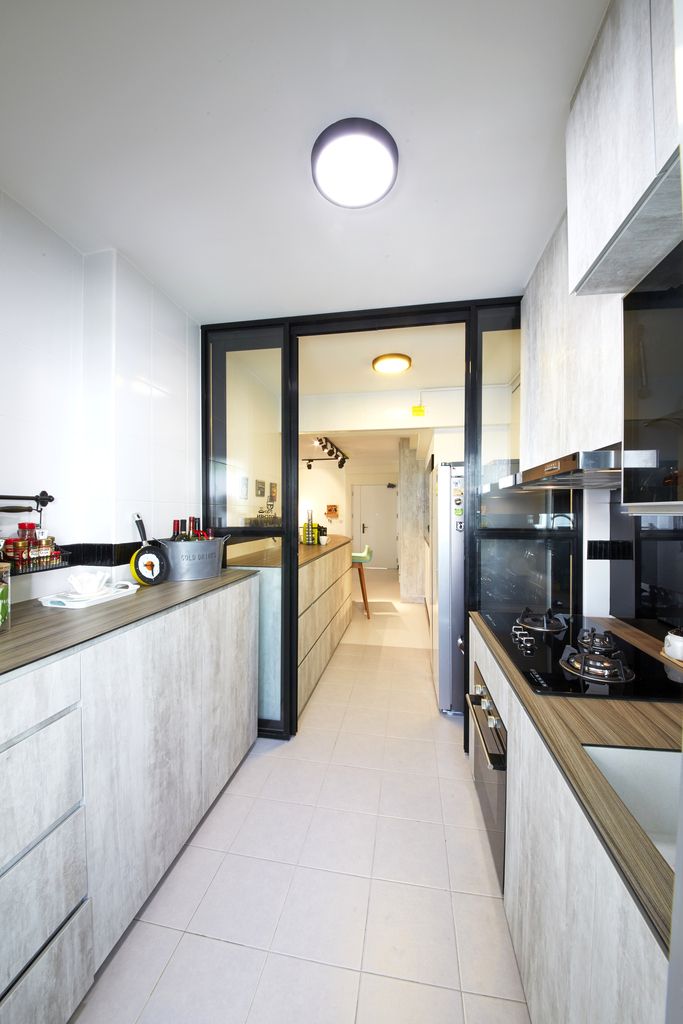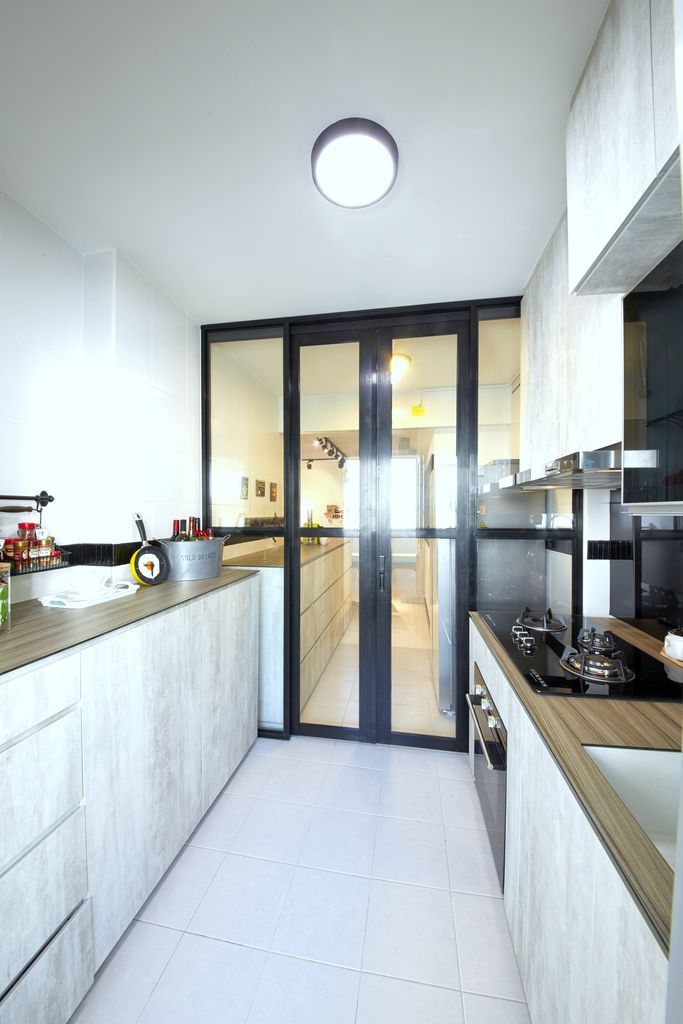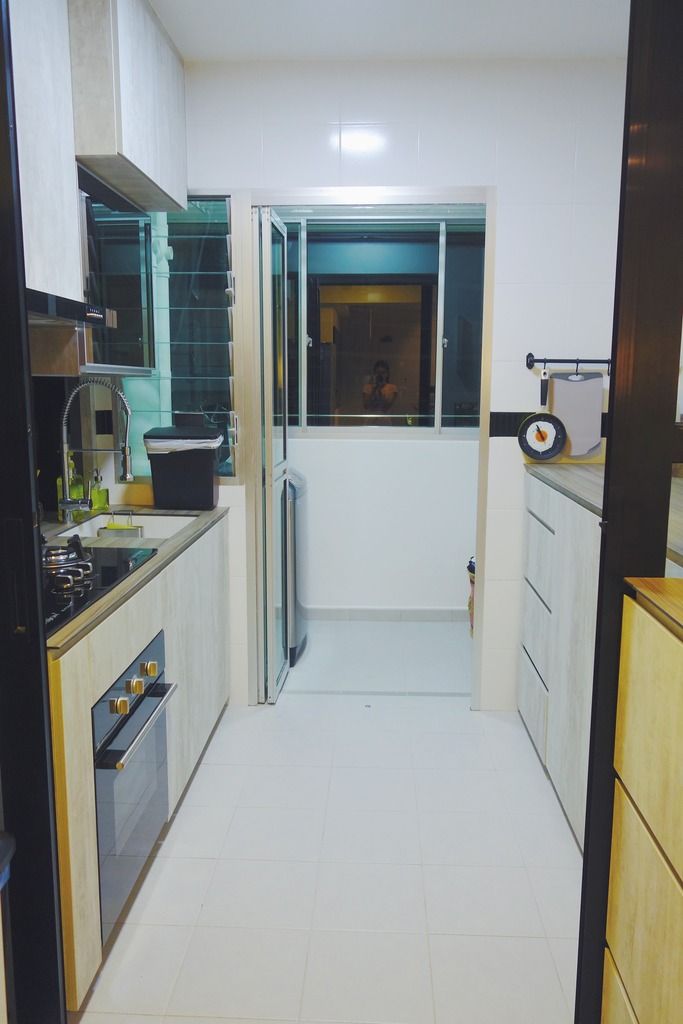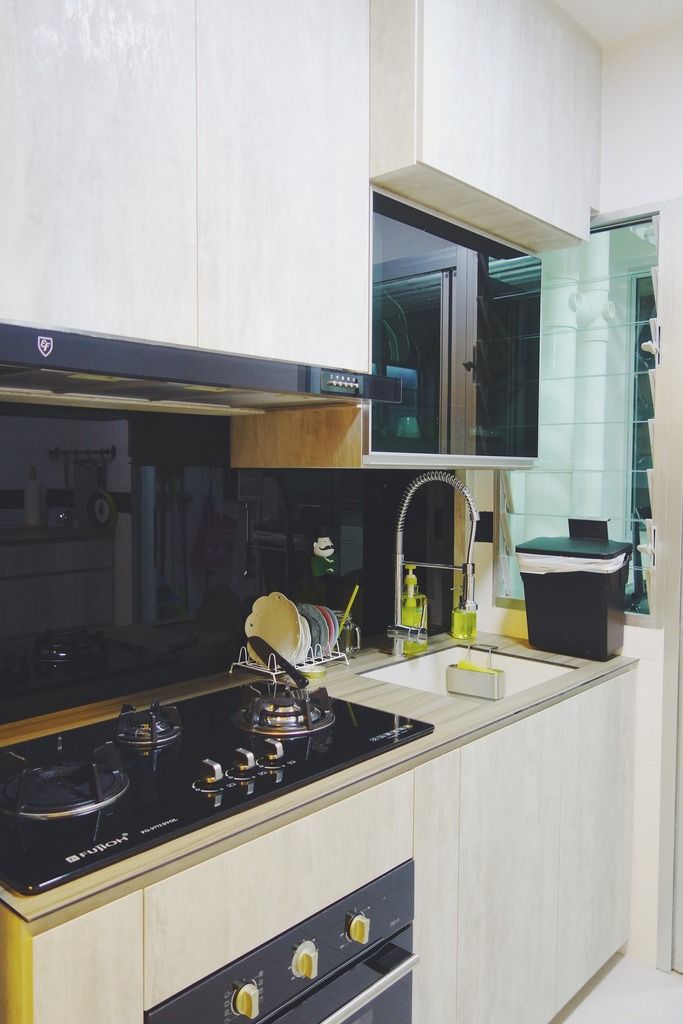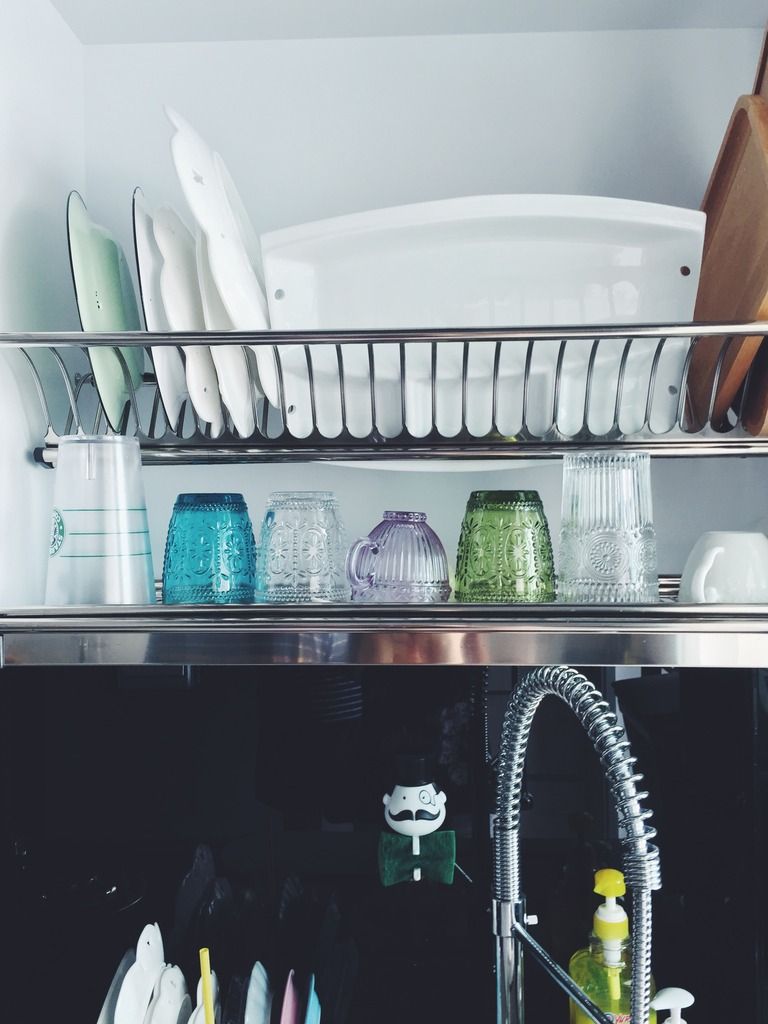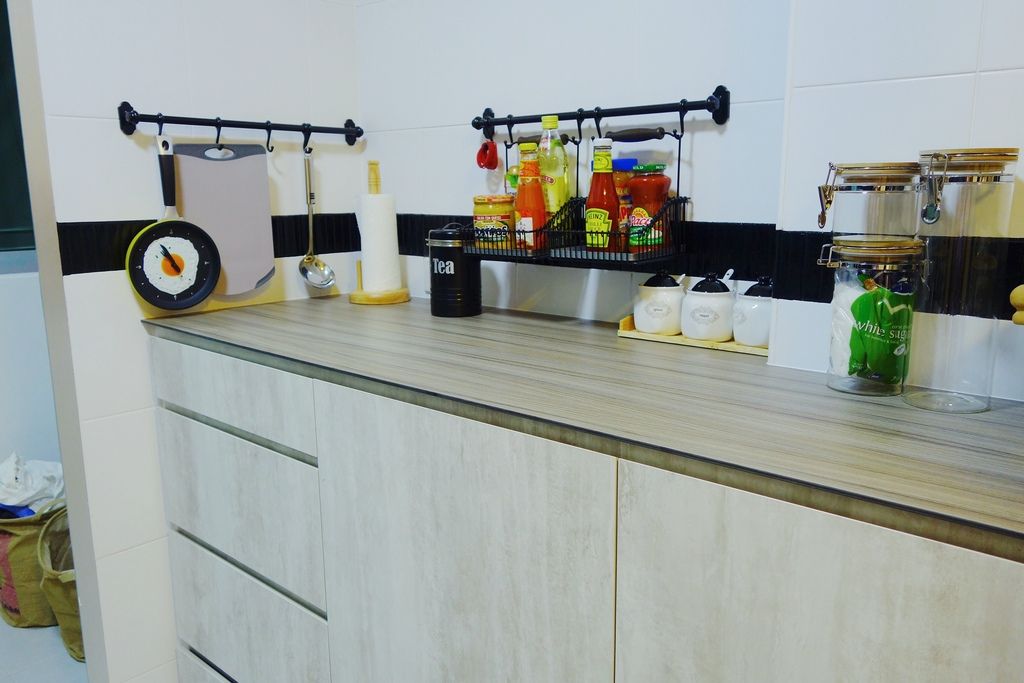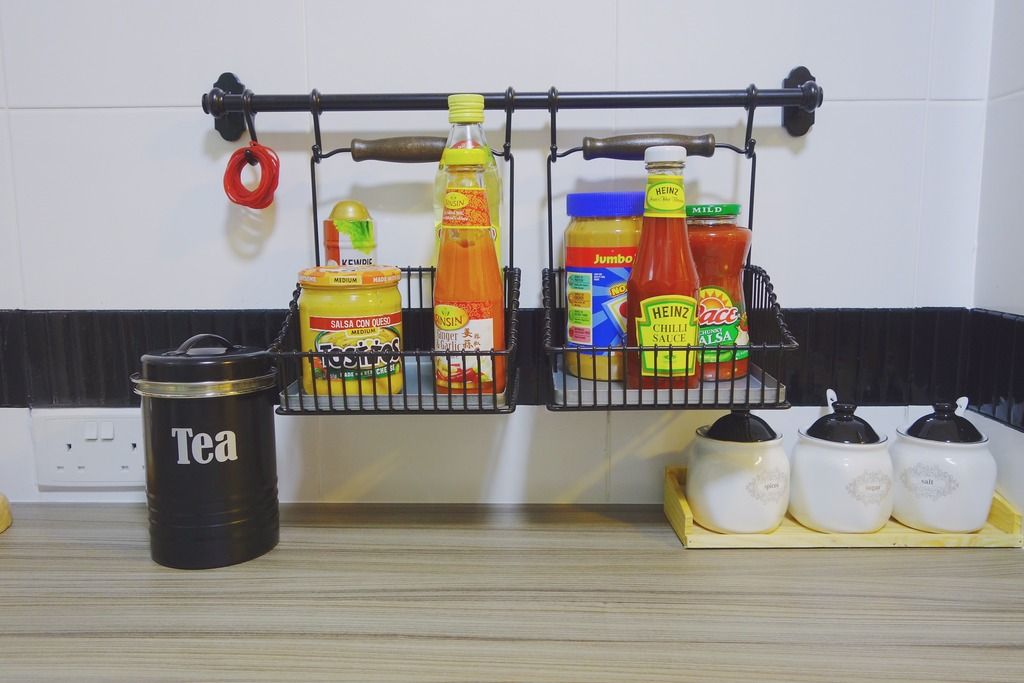 SERVICE YARD
Most items were supplied by HDB so we just had to add our own barangs and window grilles.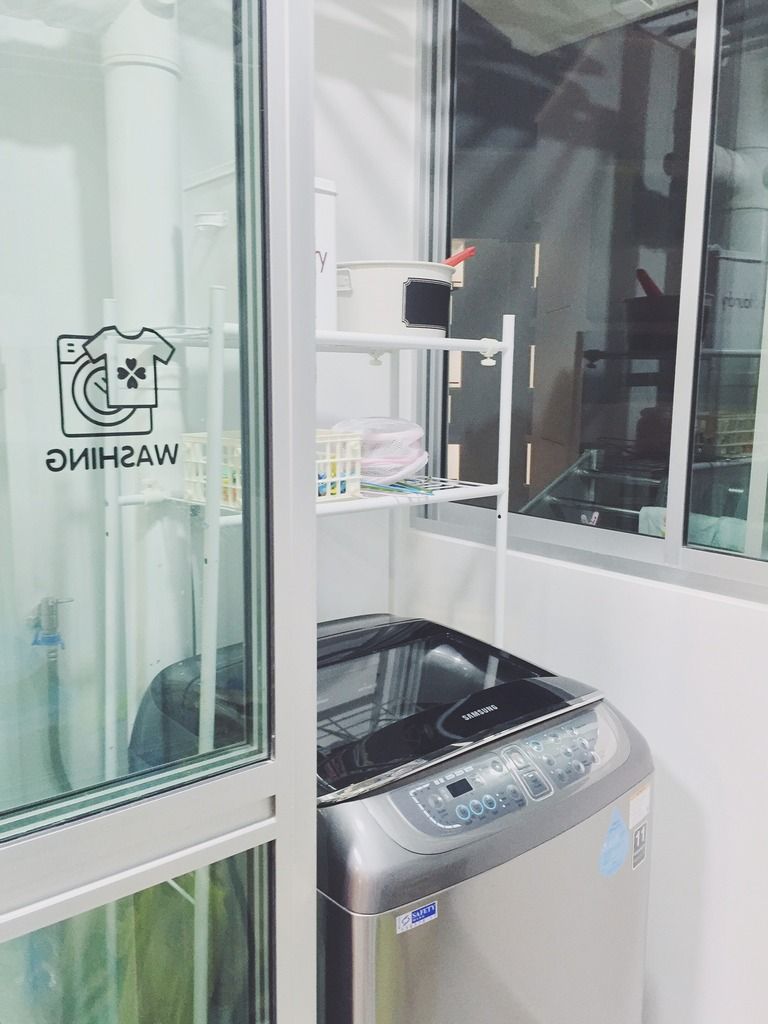 WALK-WAY
For our walk-way leading to the rooms, we had the brickwall connecting to our bomb shelter for a form of continuity, As for the bomb shelter, it was concealed using laminates (same one as the tv area) with a tic-tac door.

The door frames for the rooms were painted in black to complement the white doors that our IDs have selected as we didn't opt for HDB doors. Jazzed the area with some our favourite quotes, picture frames and lightings and that's it!
This picture was taken during christmas before we reluctantly pasted our cheena CNY decorations up.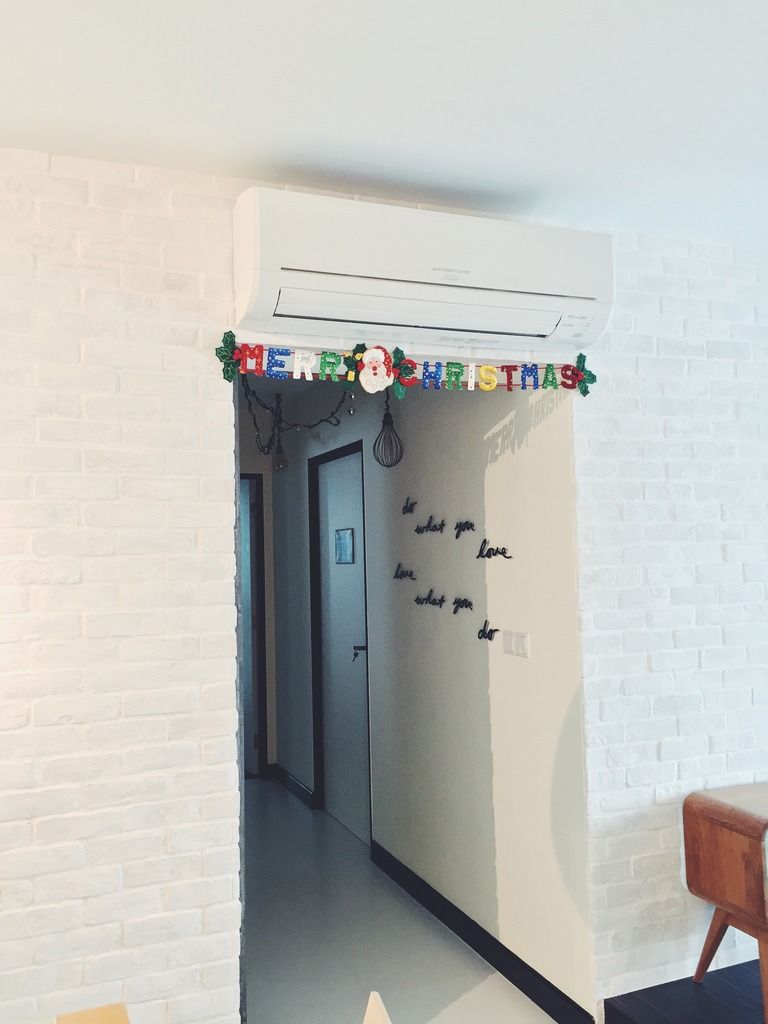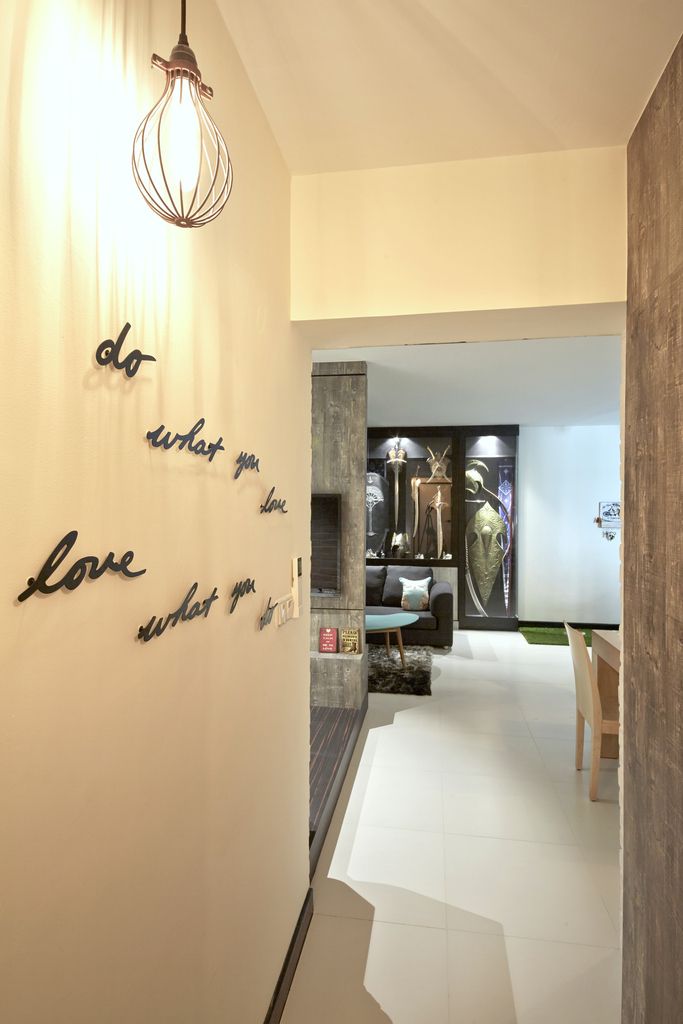 We love how it looks like at night with the warm lightings especially. All our door frames were painted black but picture was taken prior to that.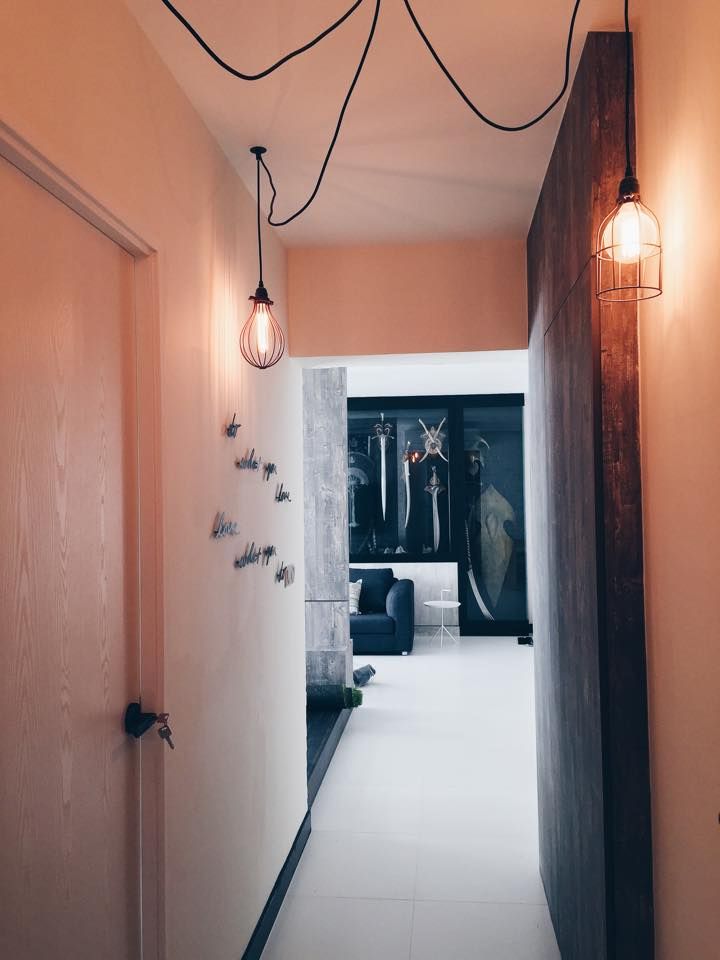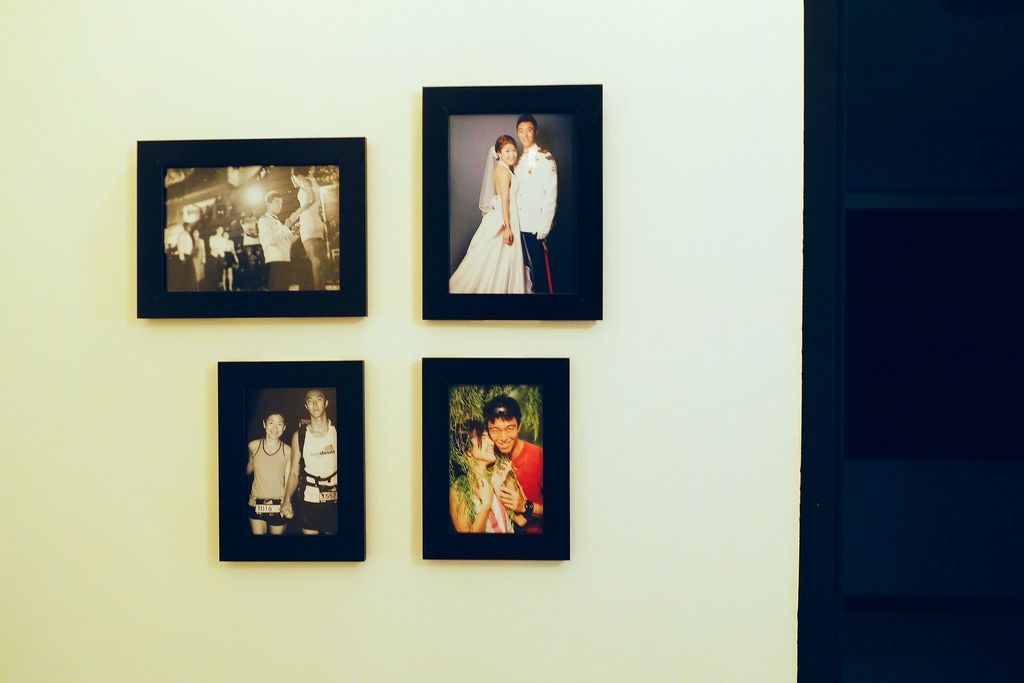 ROOM ONE
This room was kept bare with just a splash of mint paint to complement the living room's colours. It is currently our sports room before our kids come onboard hehe.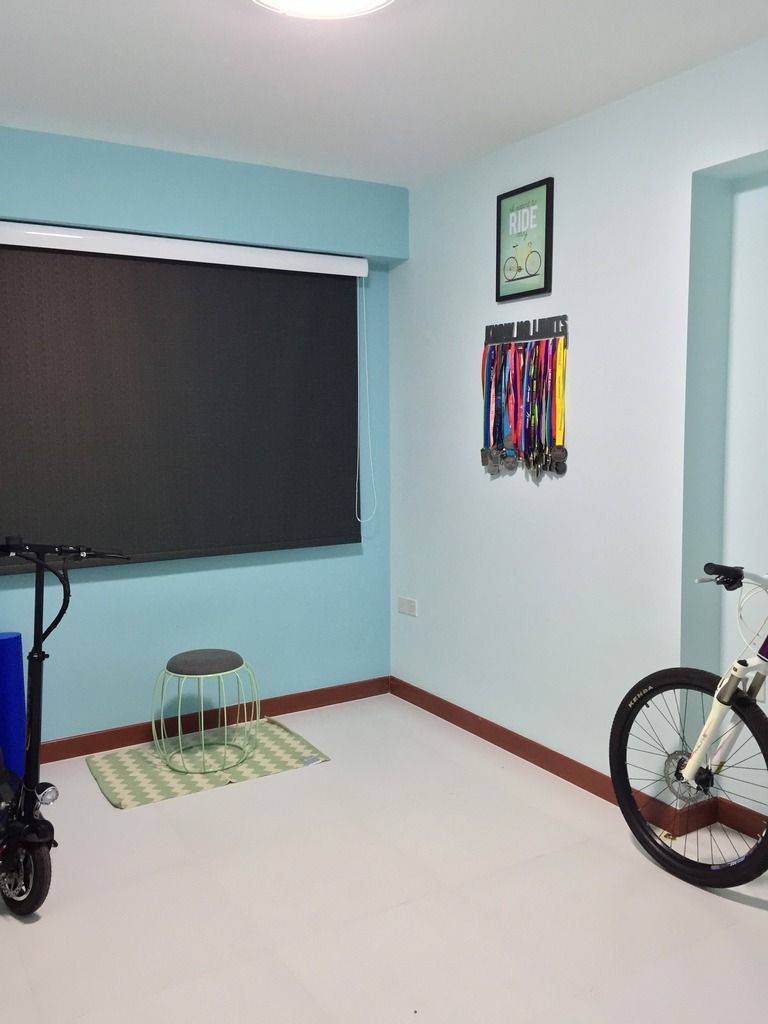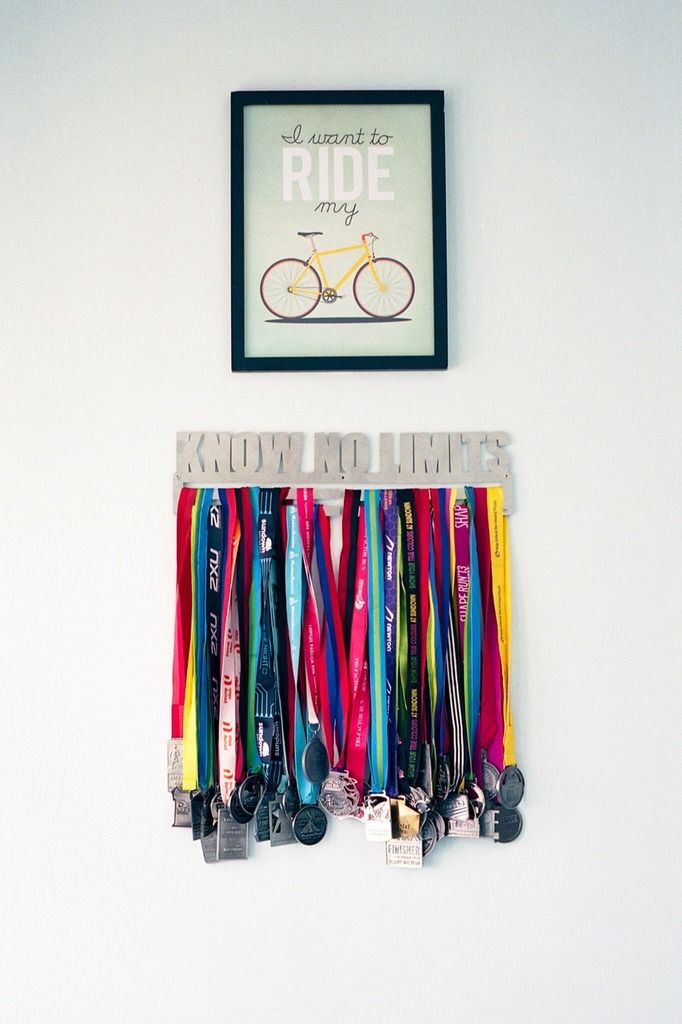 MBR
One of our best decisions made was listening to our ID to hack the second room due to the original small space. It didn't help that the original walk-way to the MBR was at a 90 degrees angle which made it look ultra tiny. That enlarged the room visually by at least 40% which made alot of difference.
As such, they had to conceal the original door opening of the second room and create a 45 degrees door opening (made with false gypsum board). The main bedroom door had to be shifted forward before the new door opening as well. Result: our bedroom now look so much bigger!
The colour themes were kept the same as the living room area, with the same laminates chosen for the side bed tables, tv and study area. For both the rooms, we overlay the flooring with matching vinyl flooring and chose a light champaign gradient Nippon paint to match it. Other walls were kept simple with pure white.
We really liked how our ID concealed the air-con trunkings (on the left) with a false triangle feature wall (that we could display pics and toys).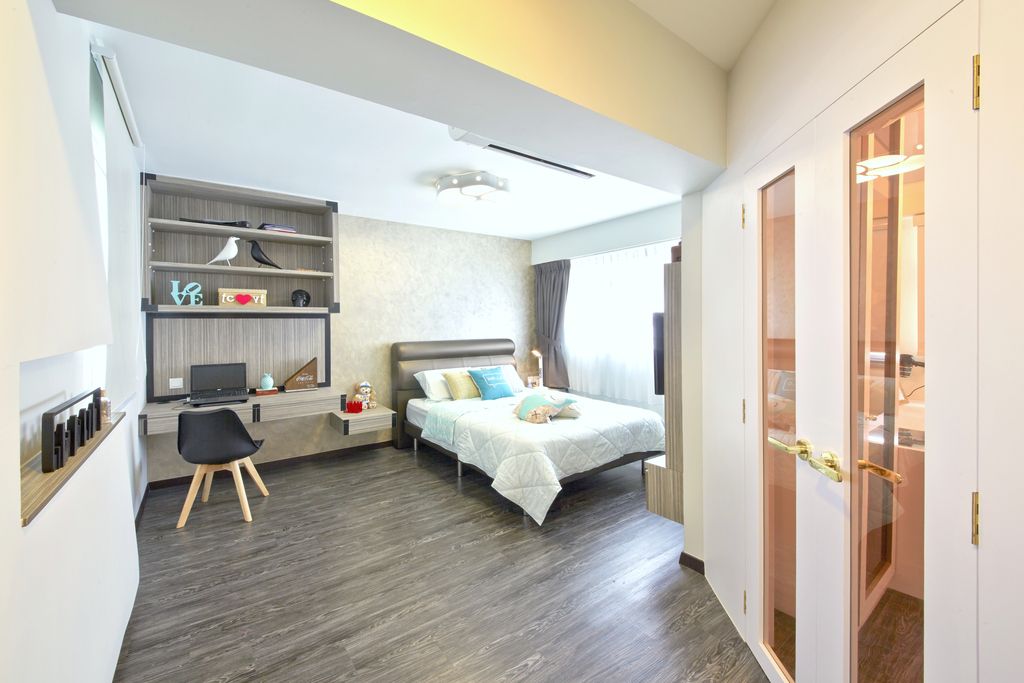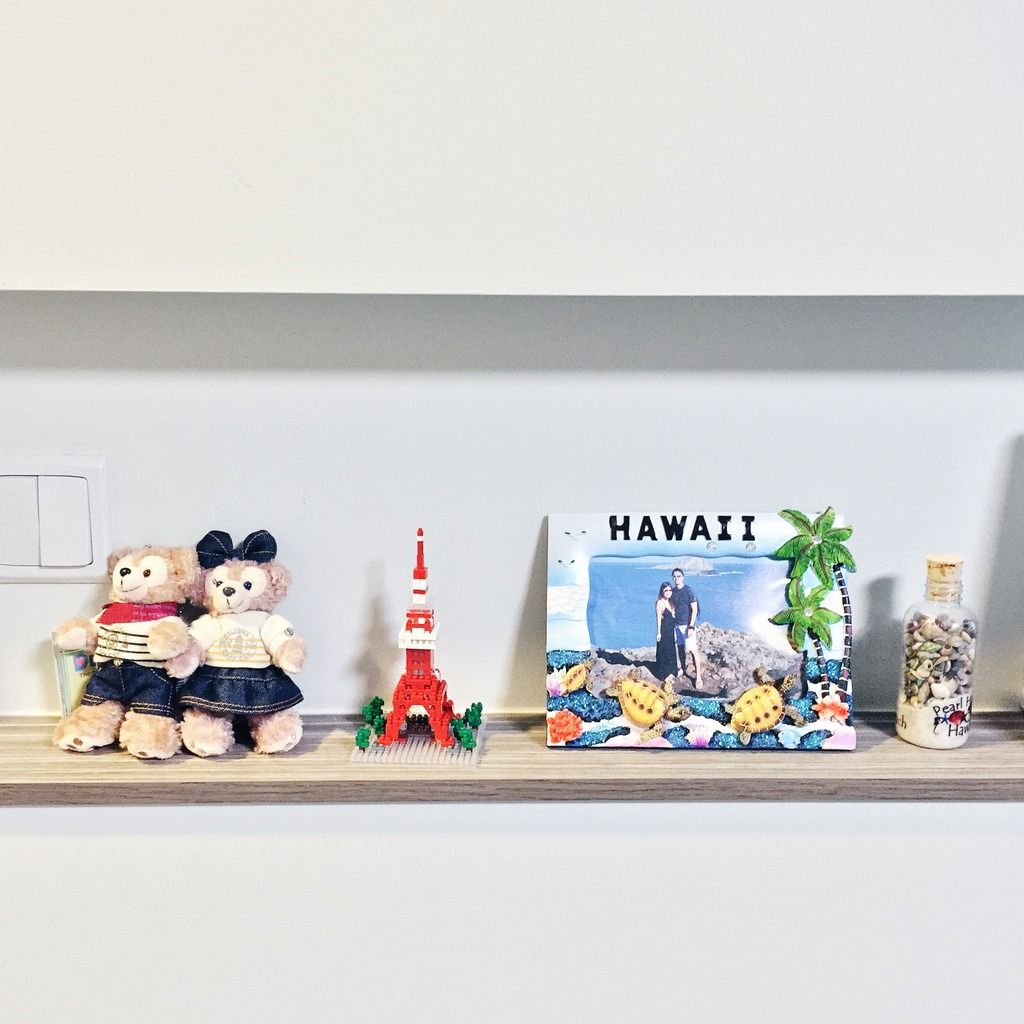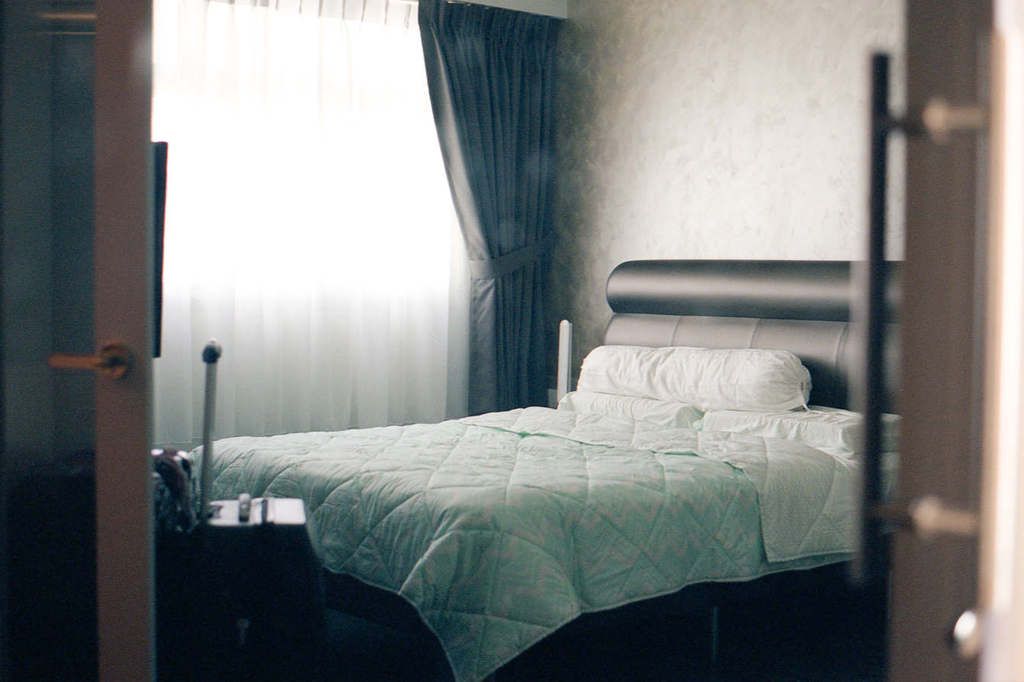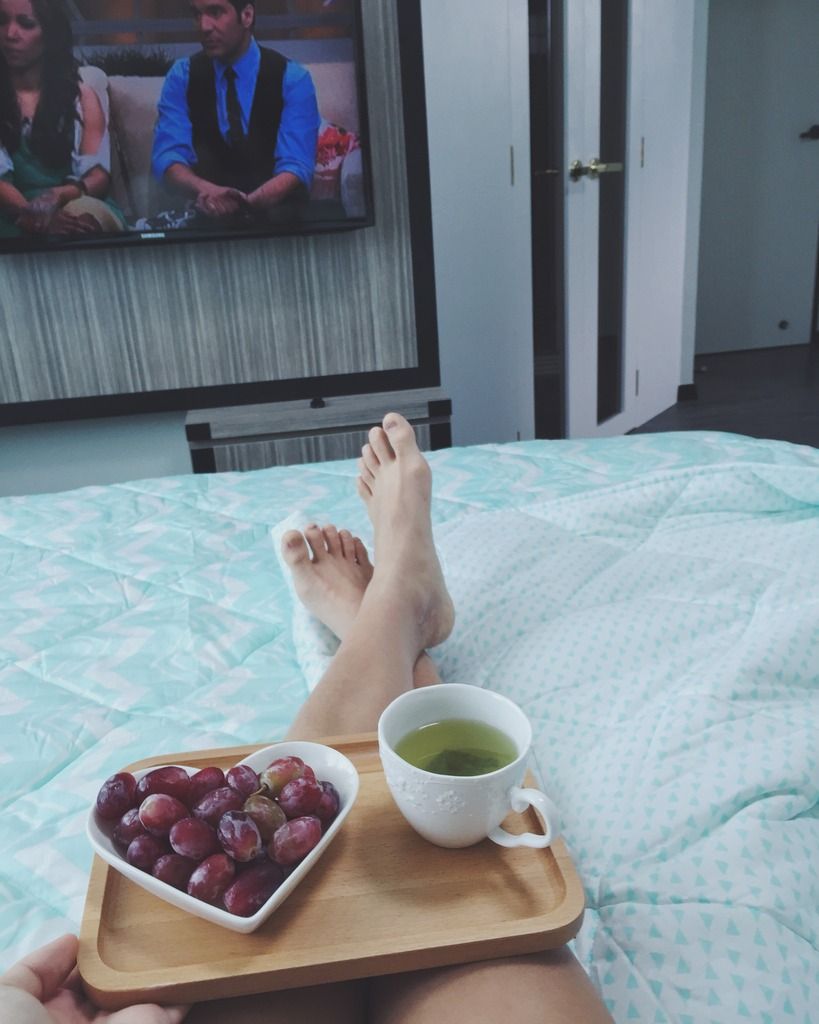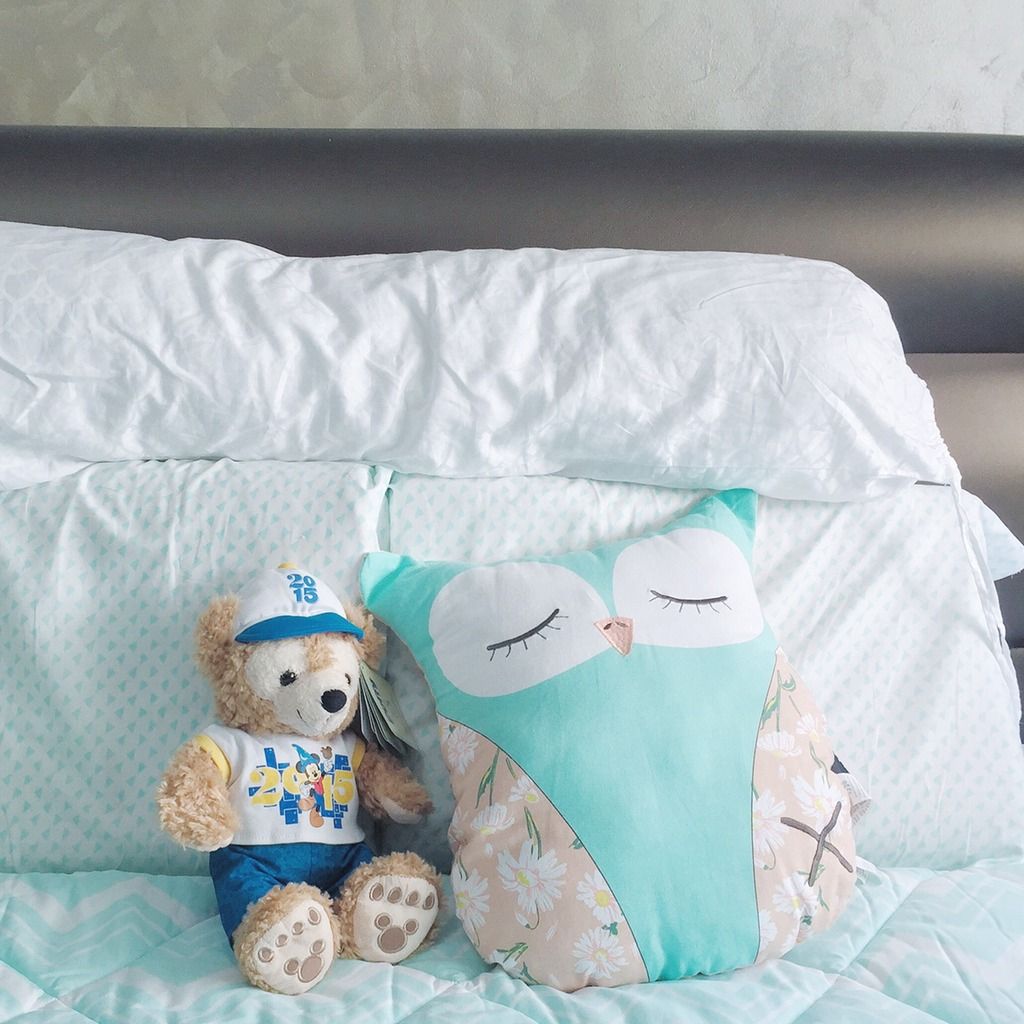 MBR TOILET
This was the only toilet that we spent our bucks renovating fully since it will be the most utilized. We overlay the floorings and walls while adding lightings and acrylic panels to make the toilet looks brighter.

We are glad we listened to our ID of choosing dark colours so the toilets won't look so dirty and at the same time, it had a cosy feel which we like. For the ceiling, it was painted in a light grey shade (same as the other toilet).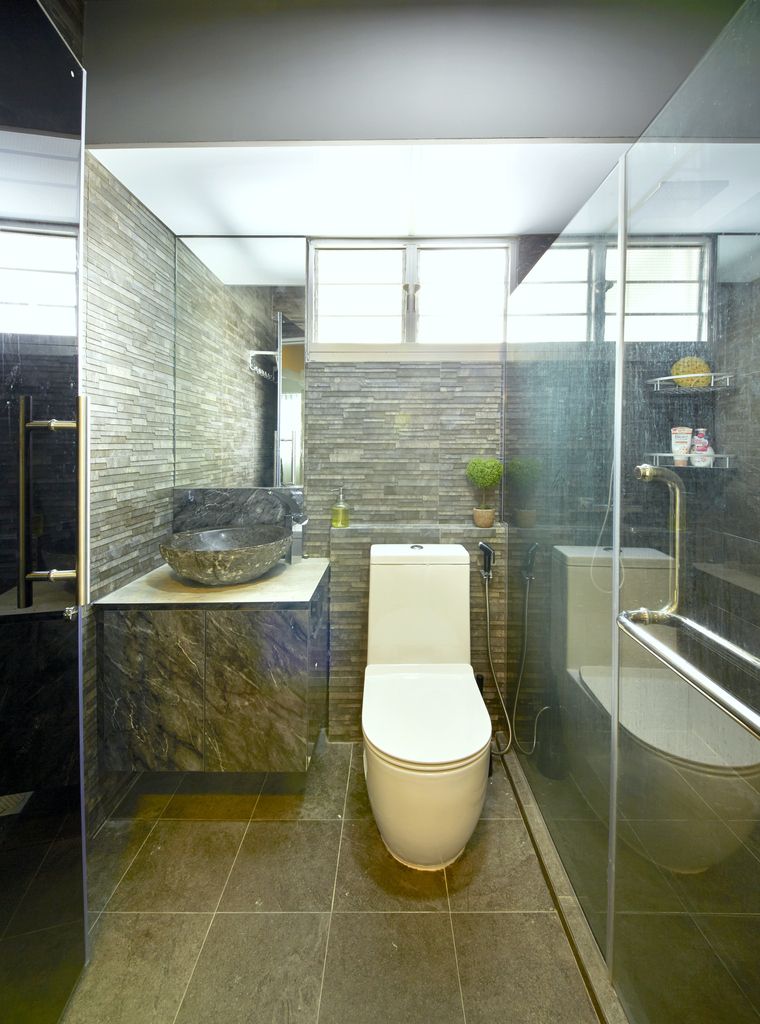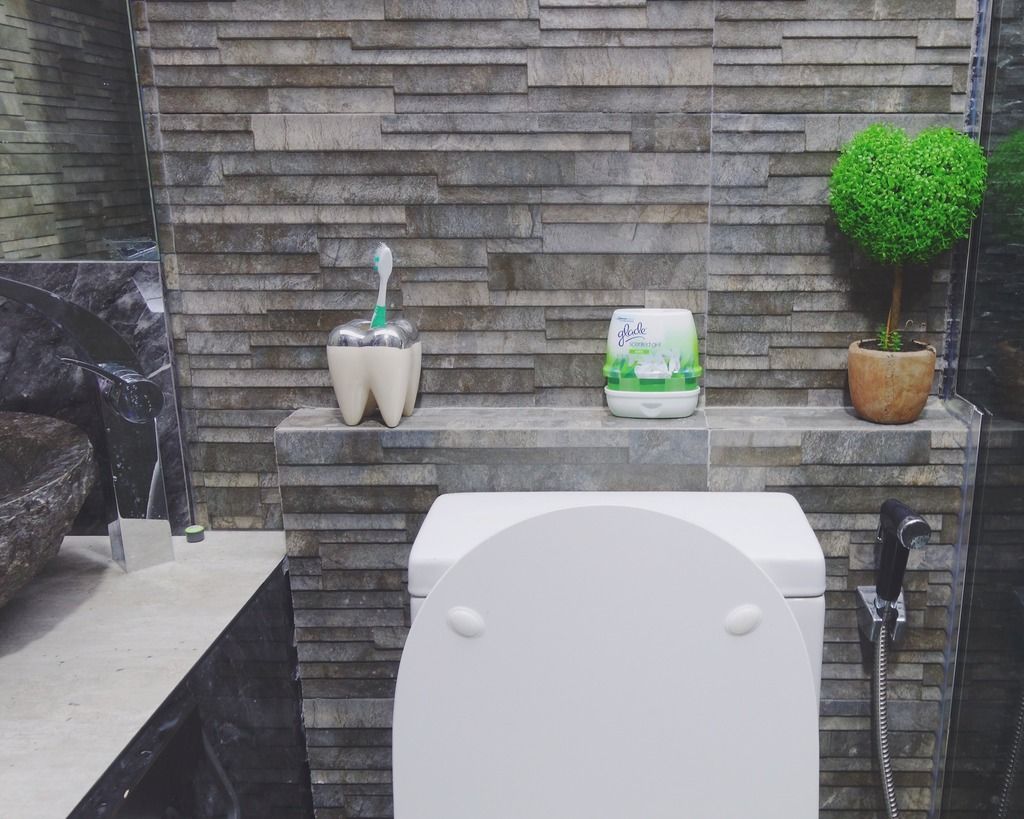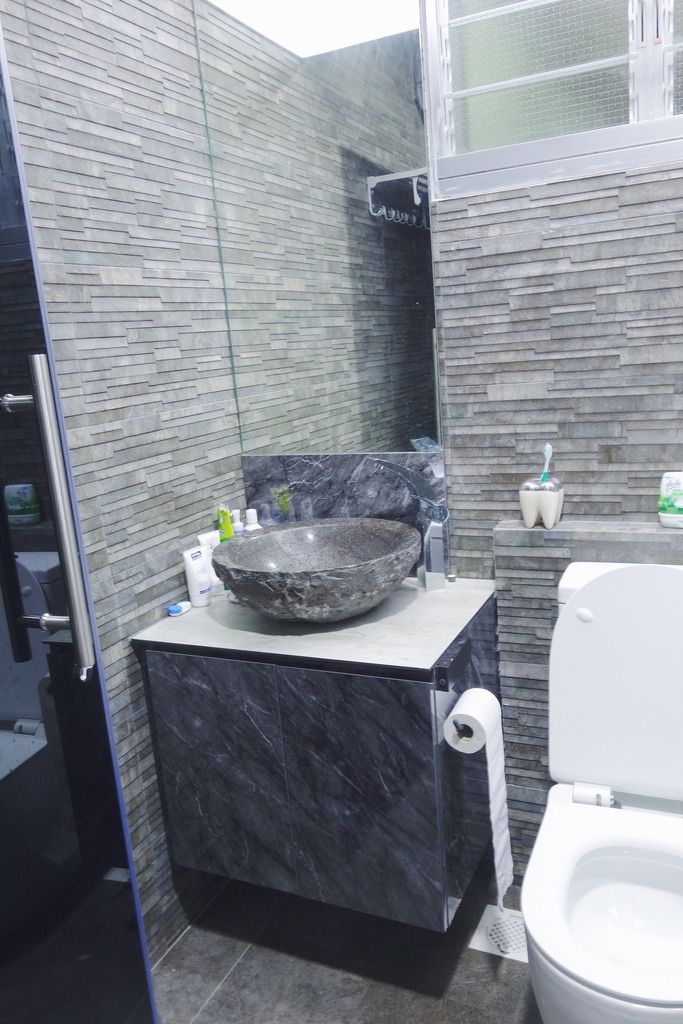 WALK-IN WARDROBE
My second favourite place apart from the platform for obvious reasons. It's a very happy feeling to enter my fashion space every morning to dress up before the day starts!

The false gypsum board was in a white tone with gold handles to match the inner interior. I'm glad I insisted on a white & gold theme instead of a monochrome theme to make the original cramp space look so much wider.


The entrance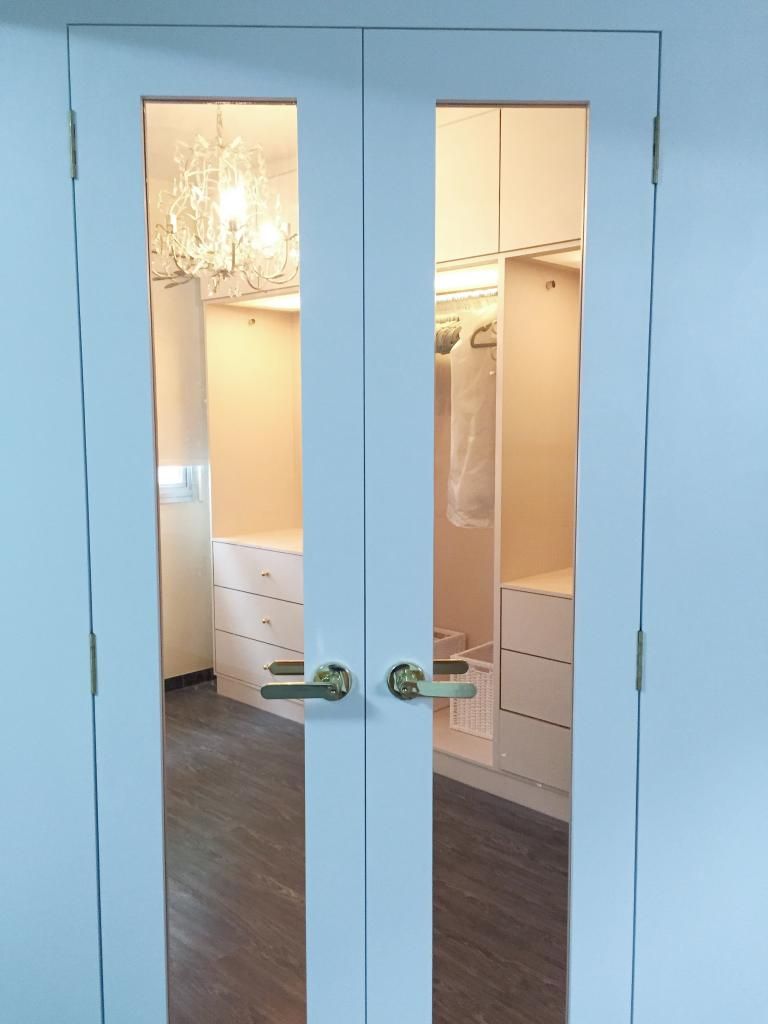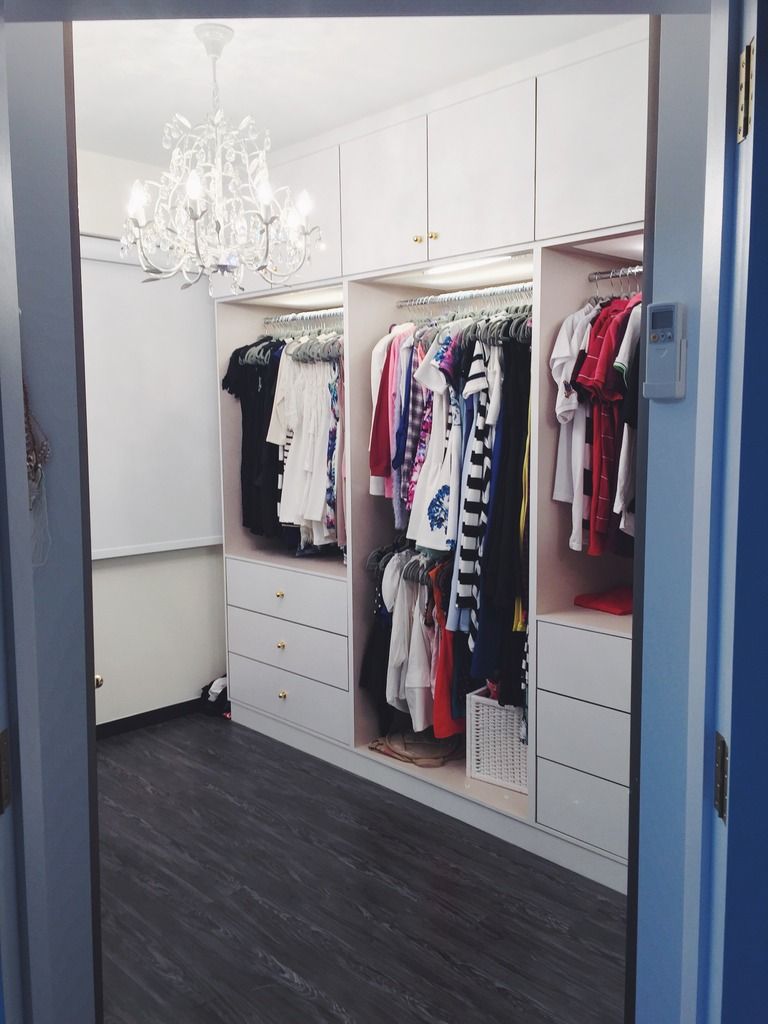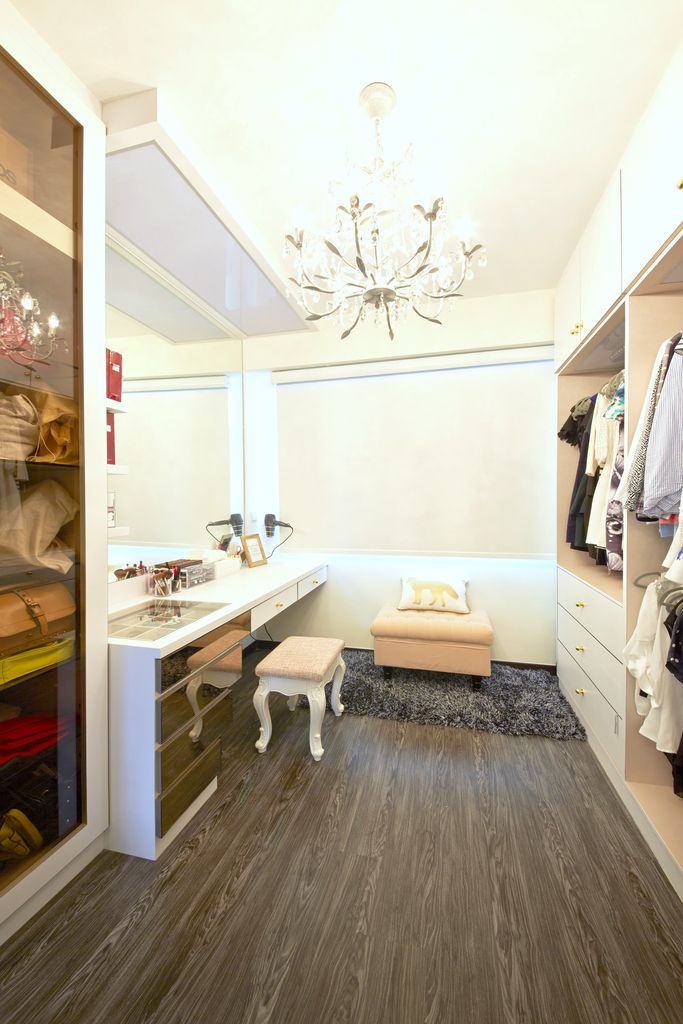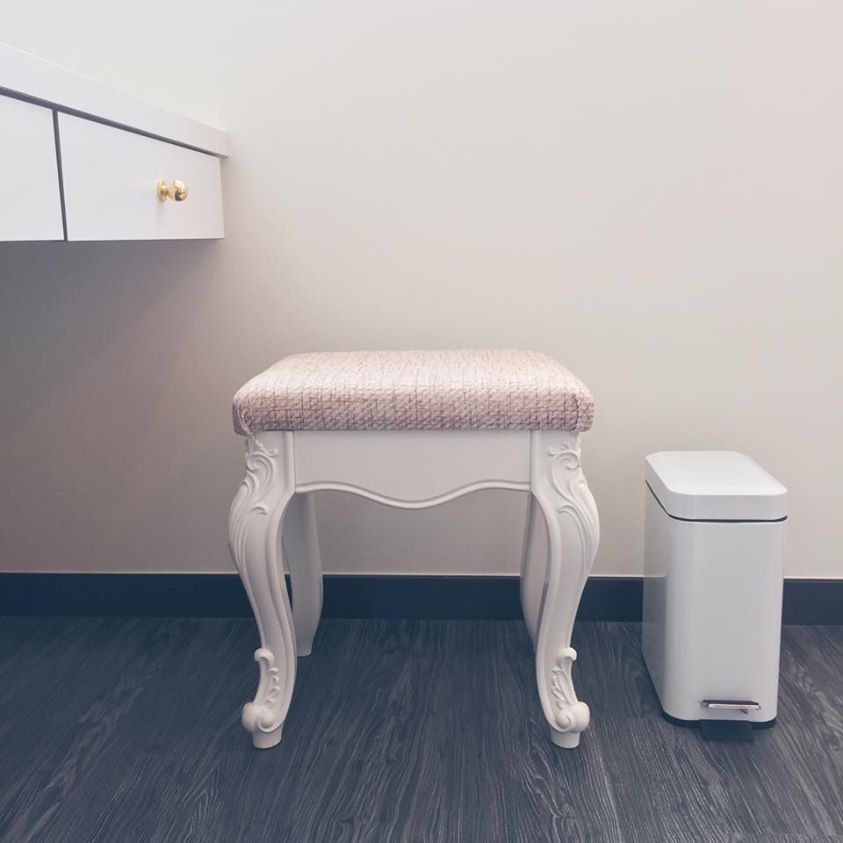 Picture taken before shifting in to show the storage area. The many shelves behind the huge mirror were for storing our folded clothes, shorts and barangs.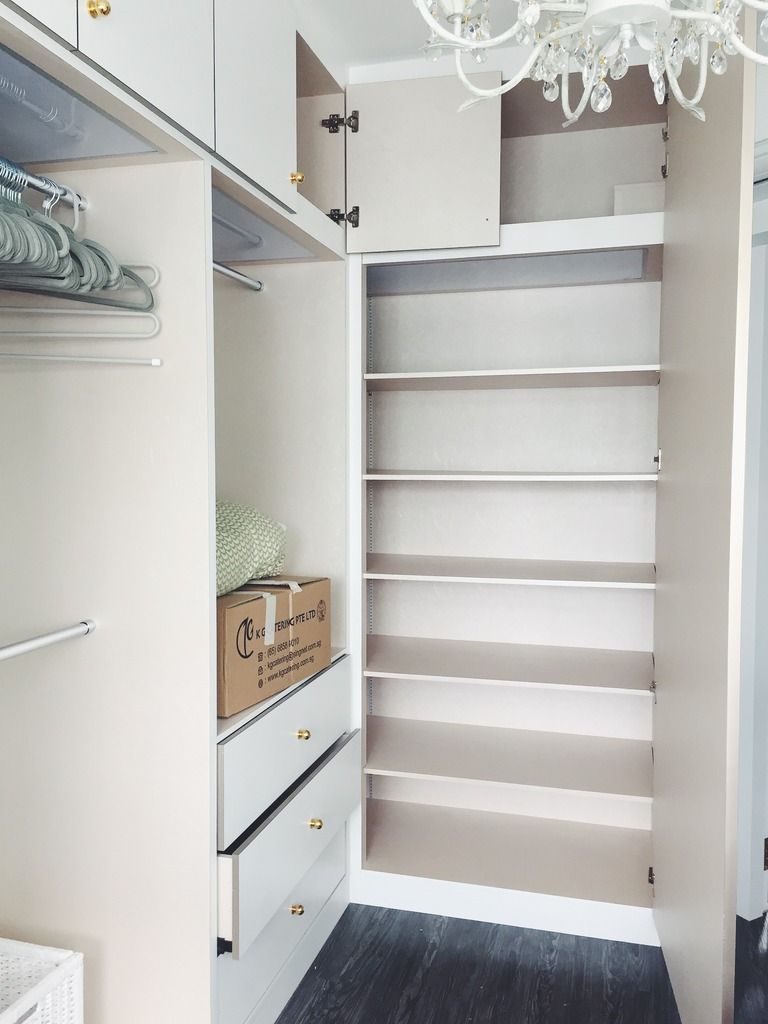 Dressing area in white & gold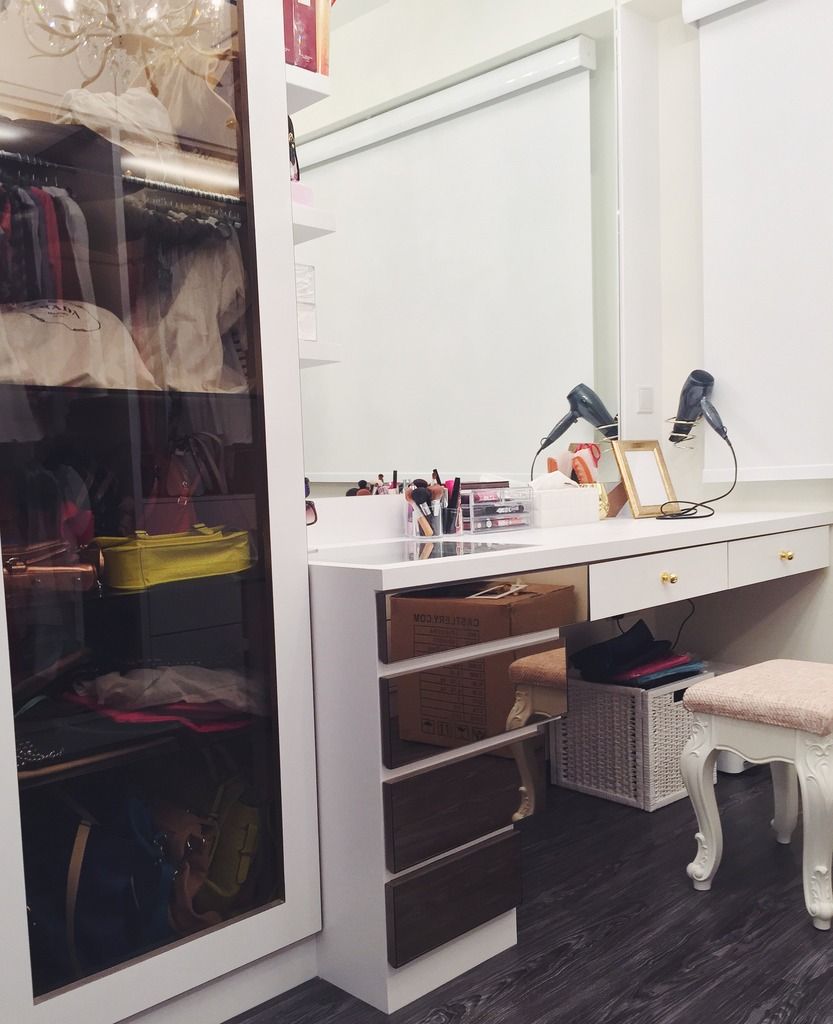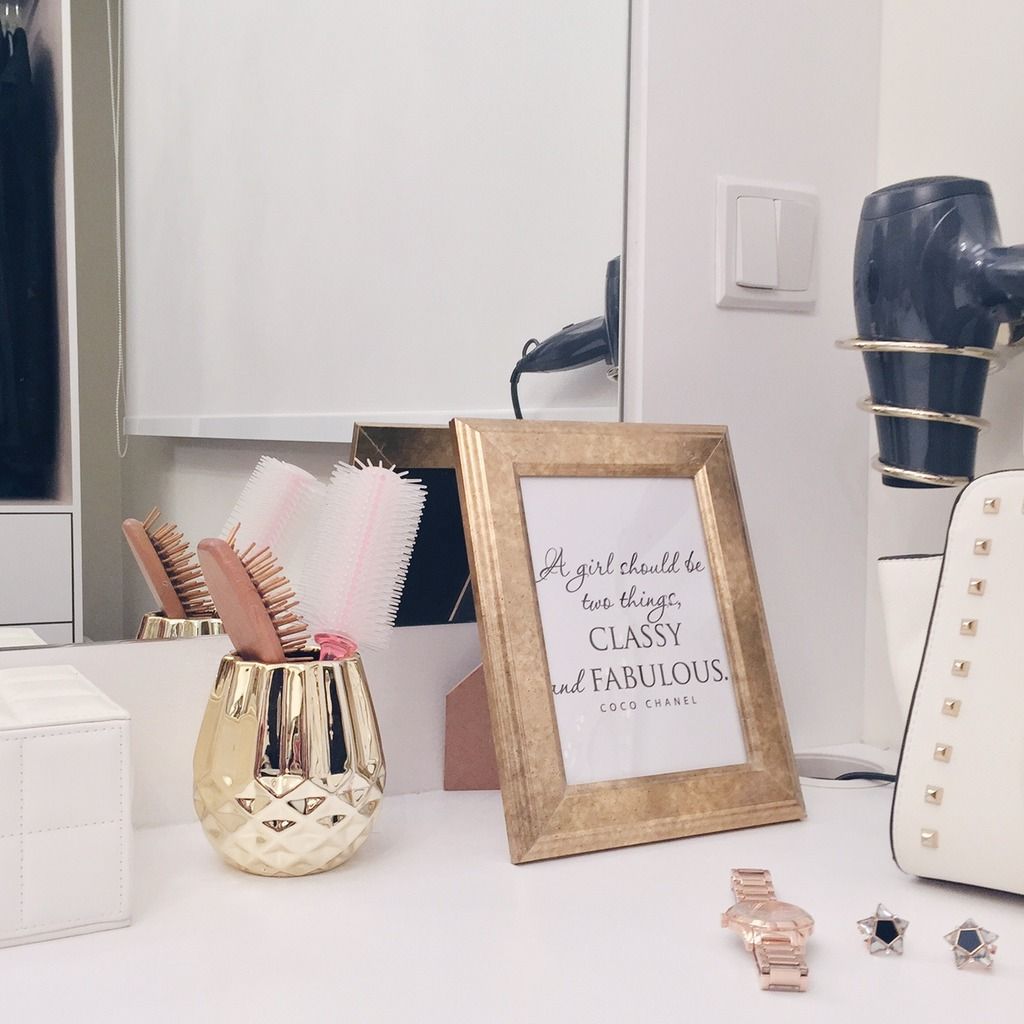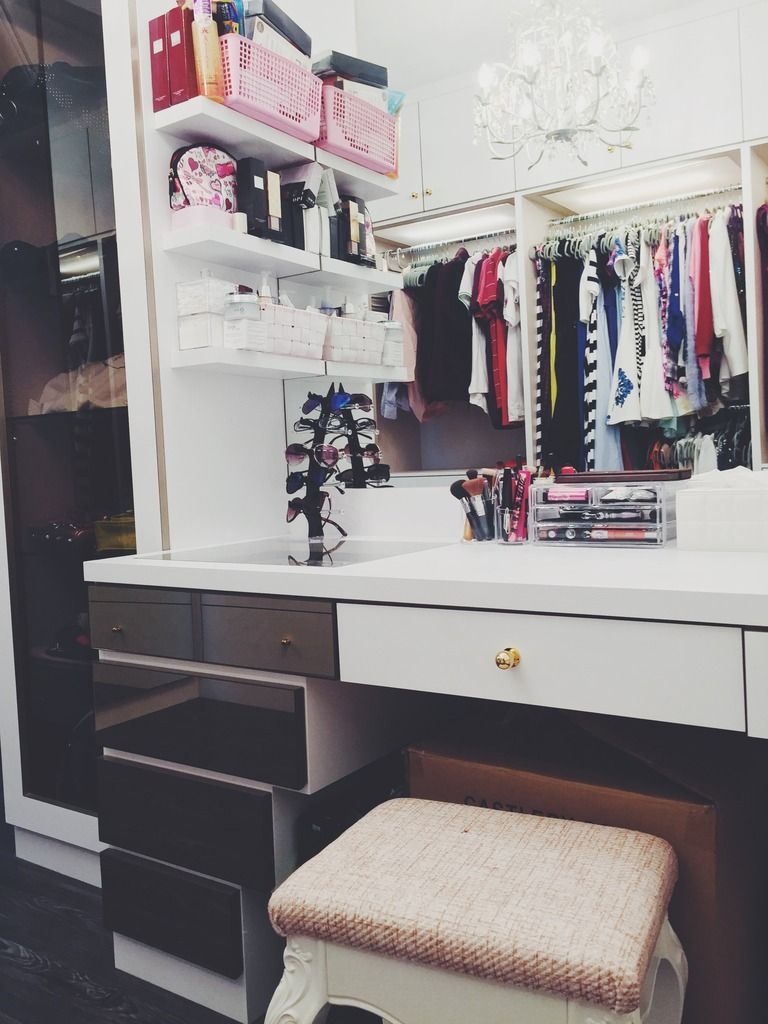 The adjustable shelves with black tinted mirror to store my bags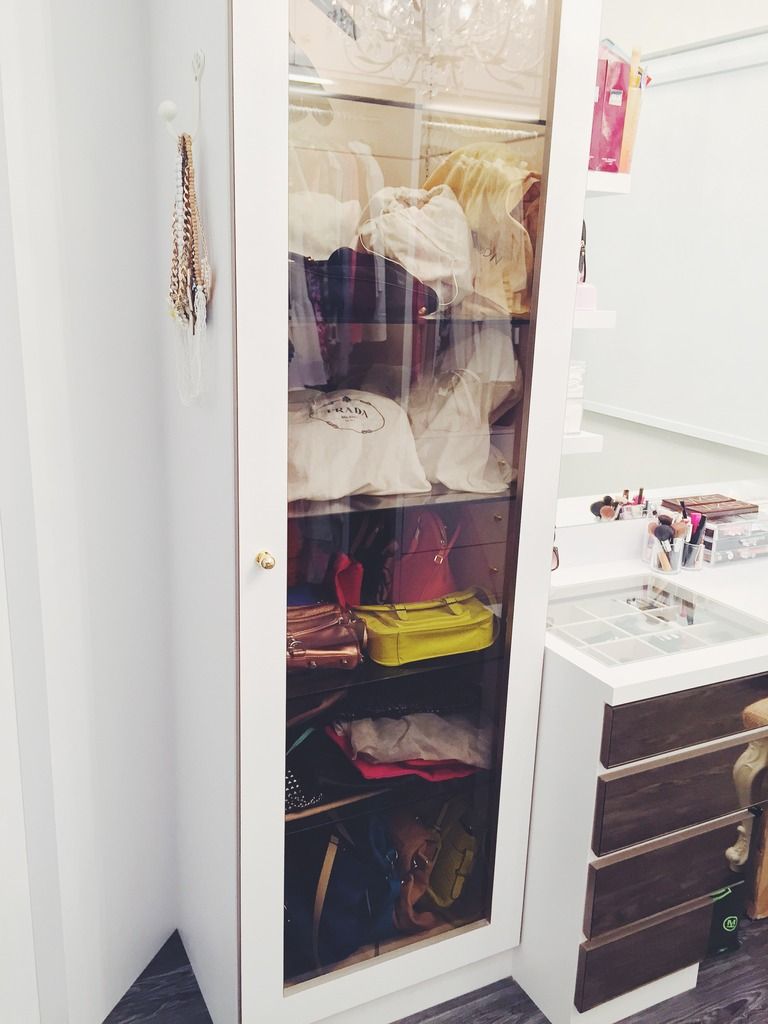 Another concern I had were having enough space to store all my accessories. I mean no point if everything looks good but is not functional for us, the owners right? And so far so good, the drawers were sufficient to serve its purpose (for now).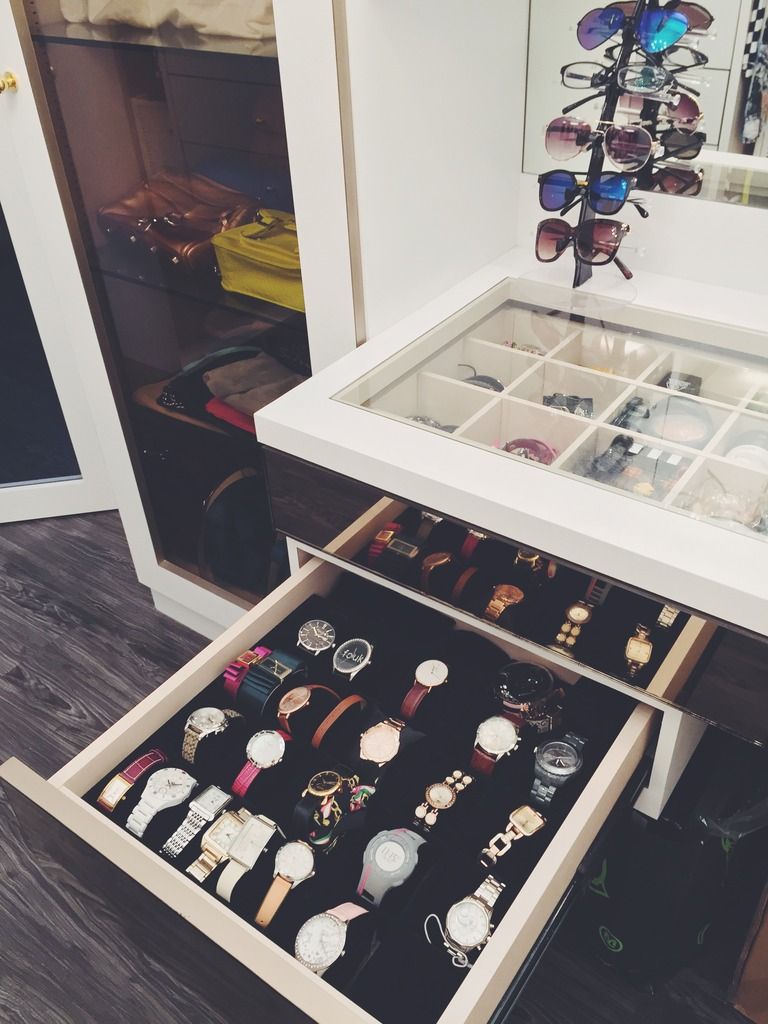 All inner storage items were bought from Taobao.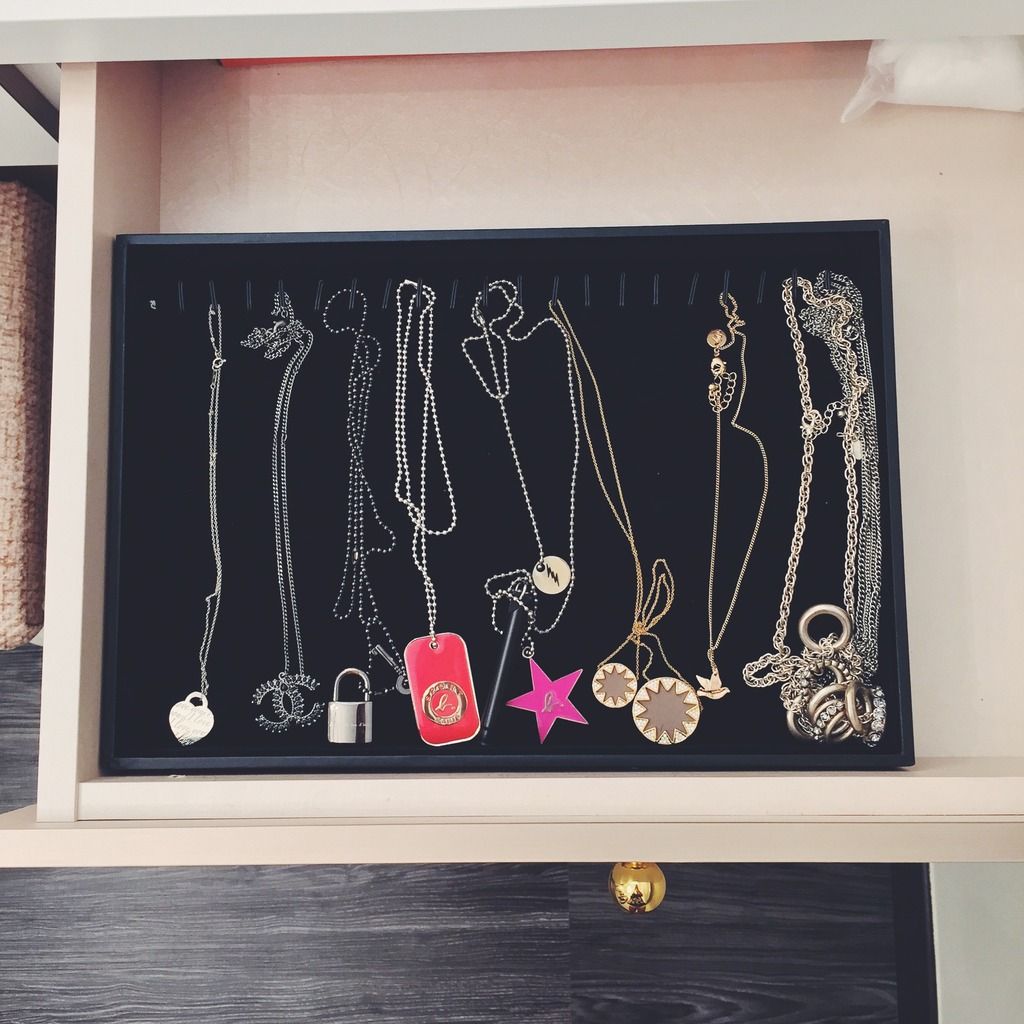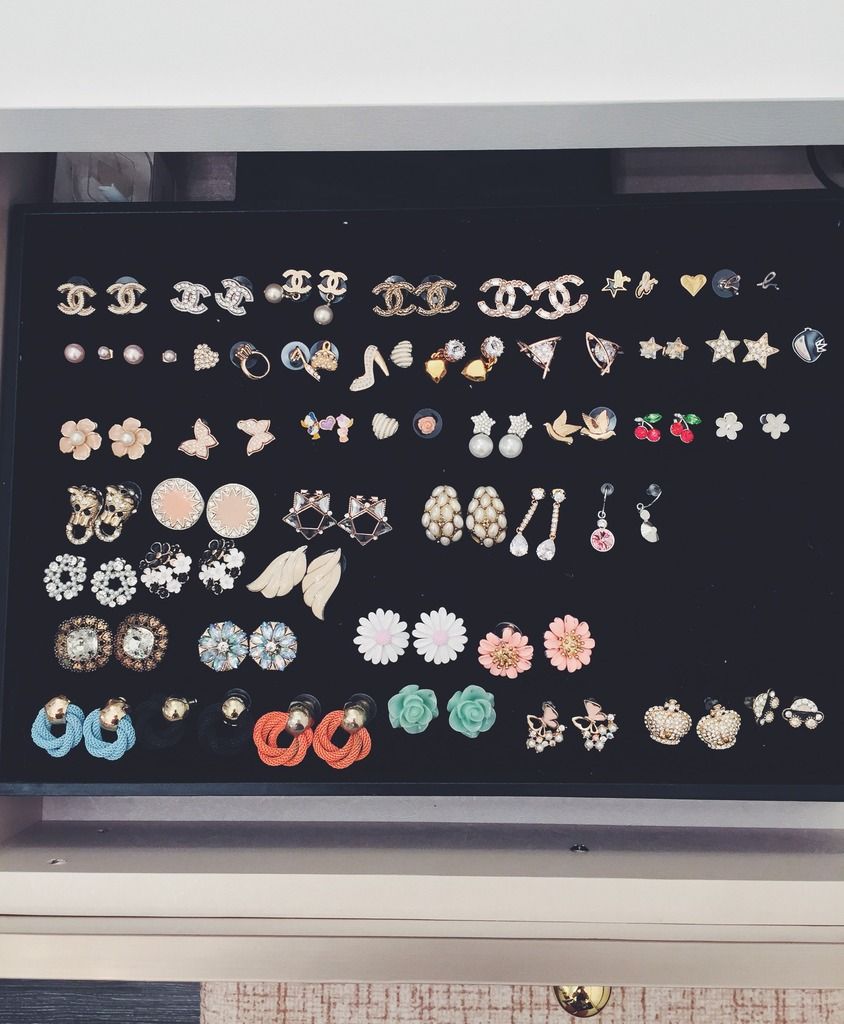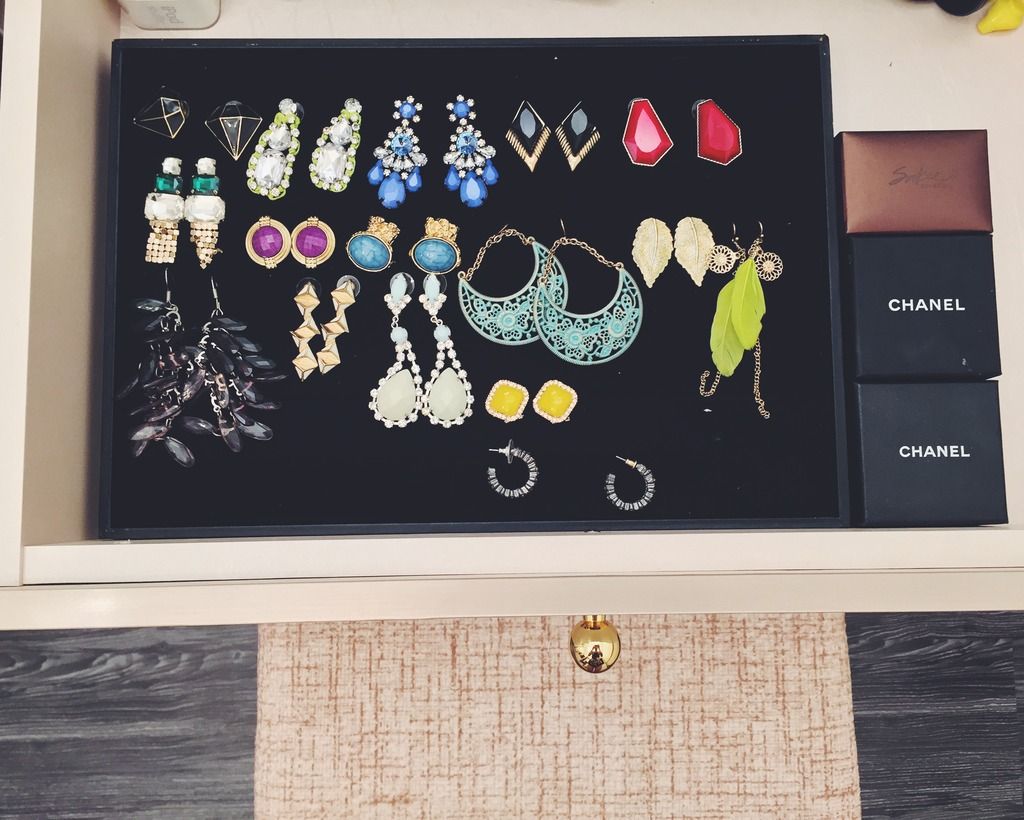 My clothes were on the left while his is on the right. Reason was due to safety reasons coz with his height, the chandelier lights were somehow still slightly low for him :(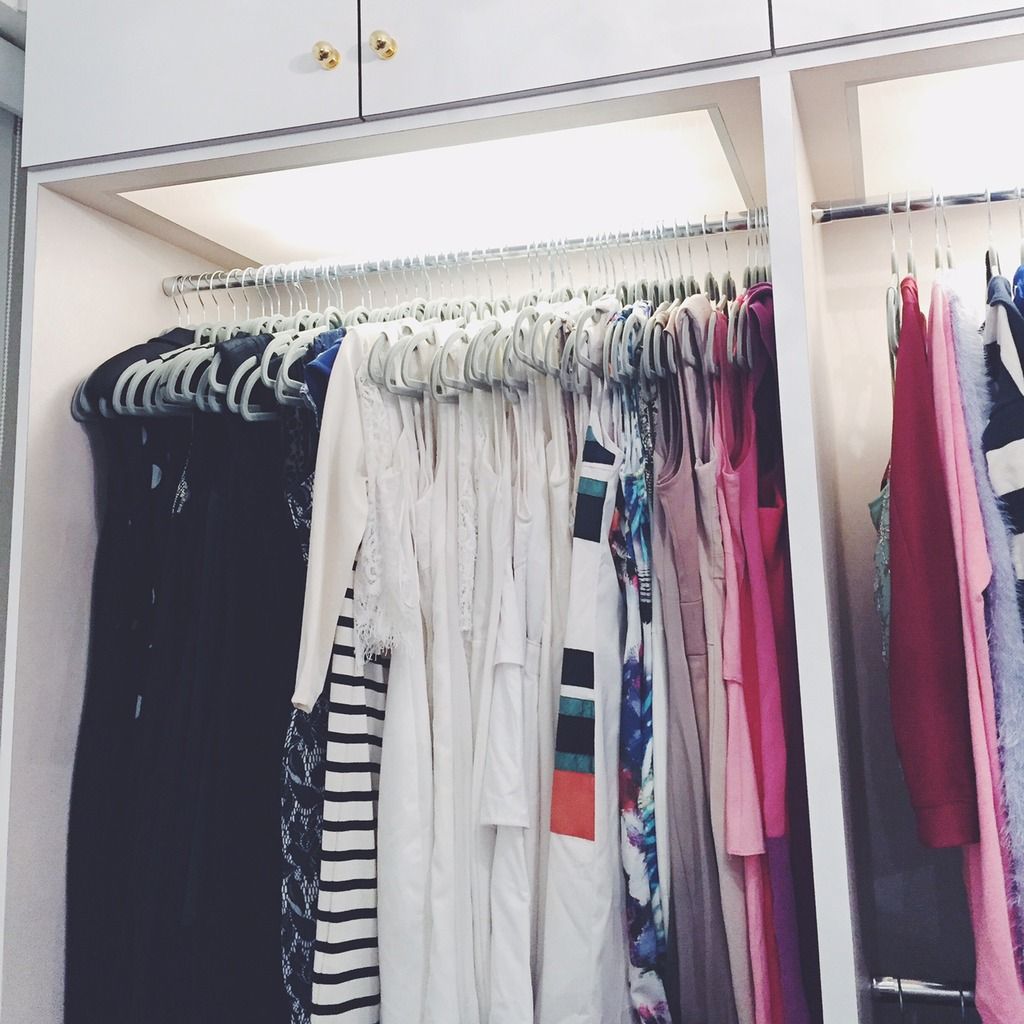 shelves below the wardrobe to store my shorts, skirts and exercise wear.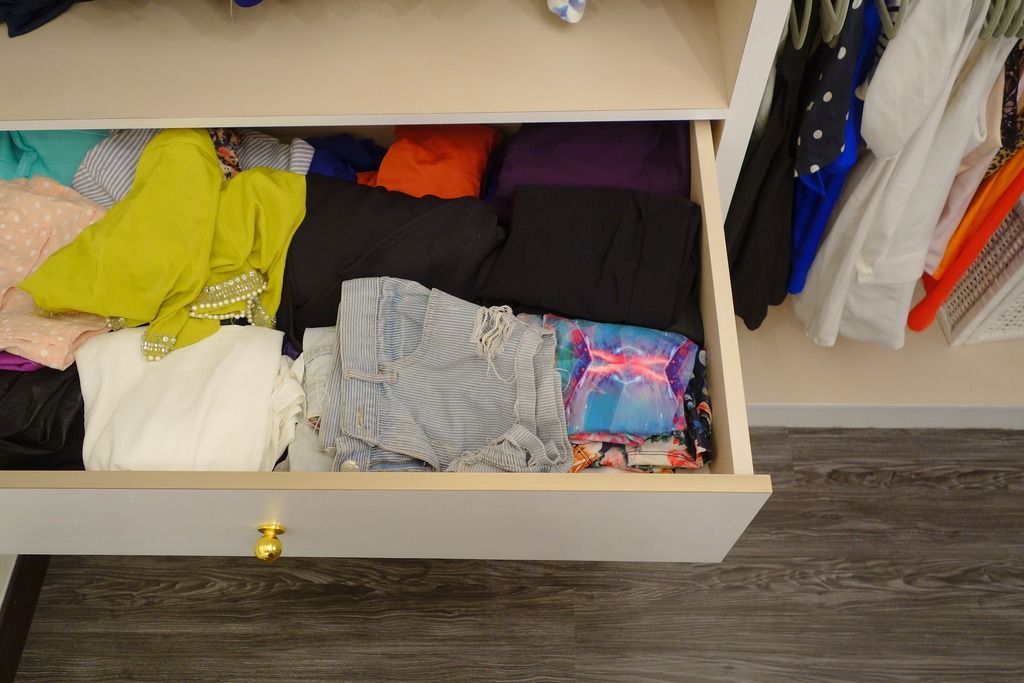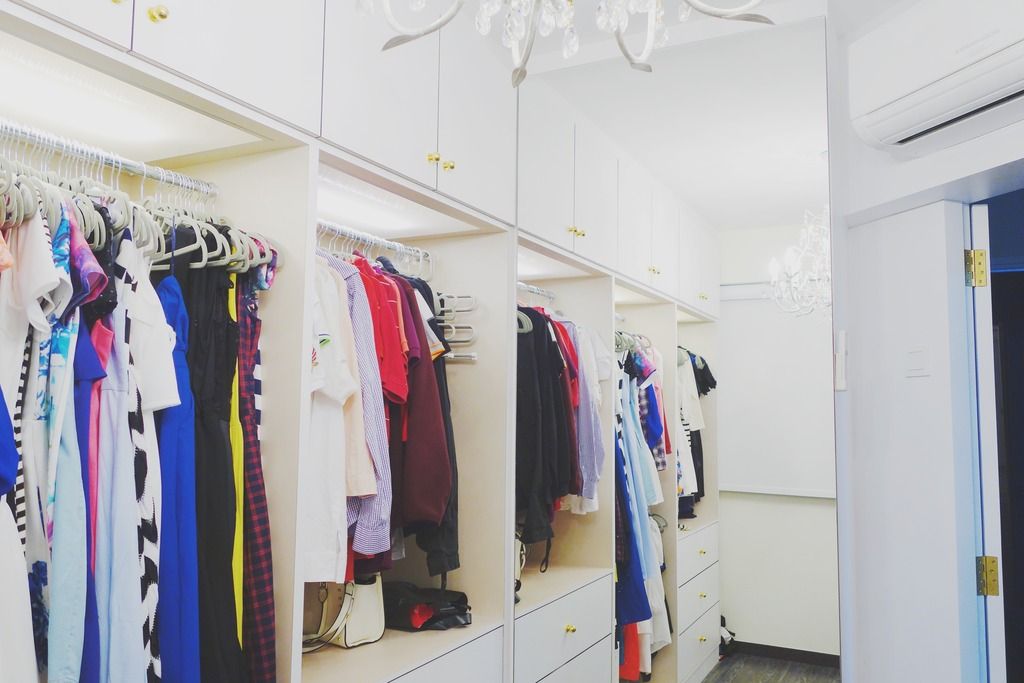 Ivan Yeo, who is the MD from I-Chapt
er can be contacted at 9003 8283 /

ivan.yeo@i-chapter.com.sg directly. We will not be sending any quotations to be fair to him as items pricing differ according to material chosen and dimensions.
Despite some inevitable slight hiccups along the way, he made sure that he delivered what was promised from the start and rectified any items that we pointed out. Communications were done via phone calls, what-aps group chats and discussions at his office. We were pretty pleased with the end results at the end.
That's the end of the house tour and how it transformed from a bare space months back to our own comfort space now. :)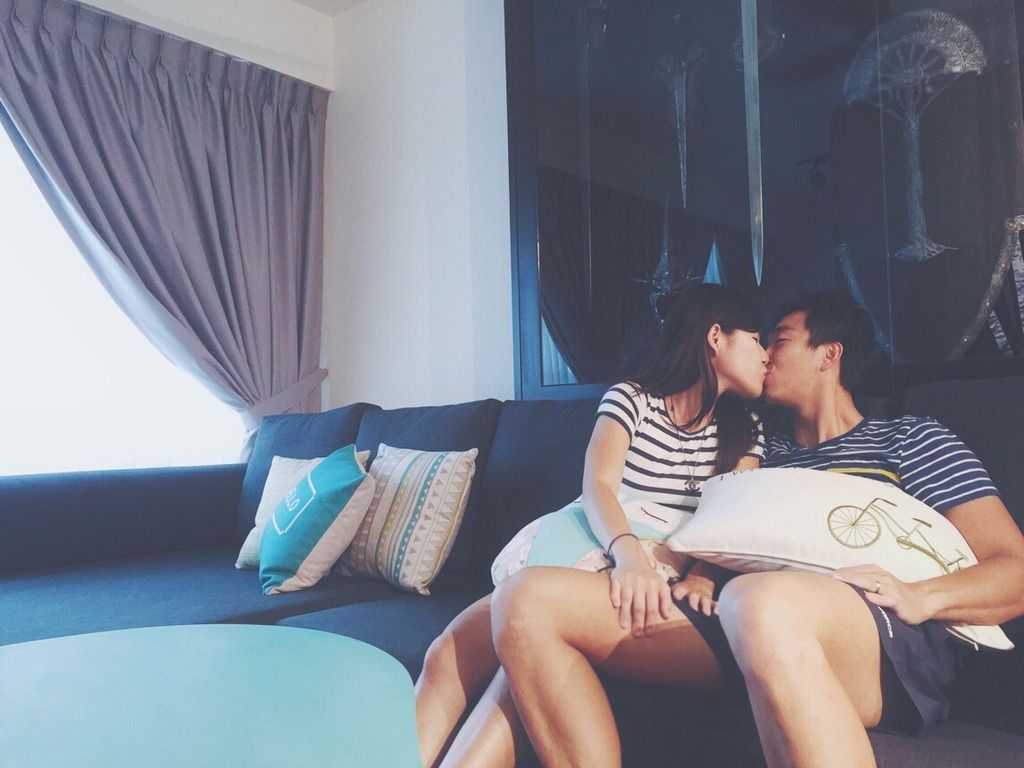 Hope you guys enjoyed the home renovation entries, something different apart from the usual fashion & sports posts! :)
#tcytcrib