My last
skincare post
was close to three years back so here's an update on my current Holy-Grail products!
Most of the products are still the same except for a few that I'm still rotating time to time based on my skin condition that week. The husband can never understand why I needed so many coz he sees me spending at least 20 mins applying. But i don't think it's alot compared to most girls! It started off from just on cleanser in the uni days till the expanding range.
All the items I'm using are pretty standard - one moisturizer, one toner etc. I have a separate basket to store the random samples, multiple bottles or travel size bottles.. But these are still the ones I'm faithful to (for now).
Current Holy-Grail skincare products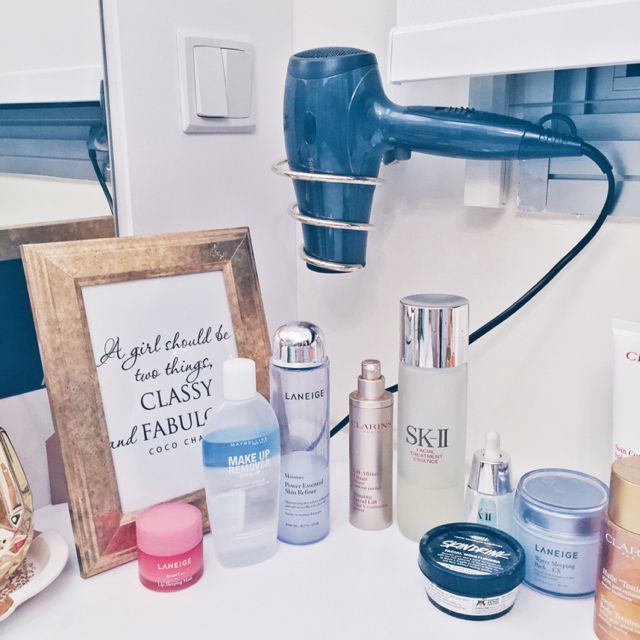 Day
1. Laniege Power Essential Refiner
2. SK-II Facial Treatment Essence
3. Philosophy Hope in a Jar Moisturizer
4. Biore Skinblock
Night
1. Laniege Power Essential Refiner
2. SK-II Facial Treatment Essence
3. SK-II Cellumination Essence (serum)
4. Clarins Shaping Facial Lift (serum)
5. Lush Skin Drink (moisturizer)
6. Laniege Lip sleeping mask
7. Laniege Sleeping mask (3-4x a week)
My HG products are from Laniege & SK-II which I've been using for the last 6 years simply because they work well for my dry skin. Some pple say it's good to stick to just one brand but I mix as the results worked for me personally. I used to get flaky skin on my nose & cheeks as they get dry after cleansing till I switched to a more gentle one.
Pre-natal: Pretty much the same except that I added on the Clarins serum range and body treatment series. Masking more often but haven't been going for facials.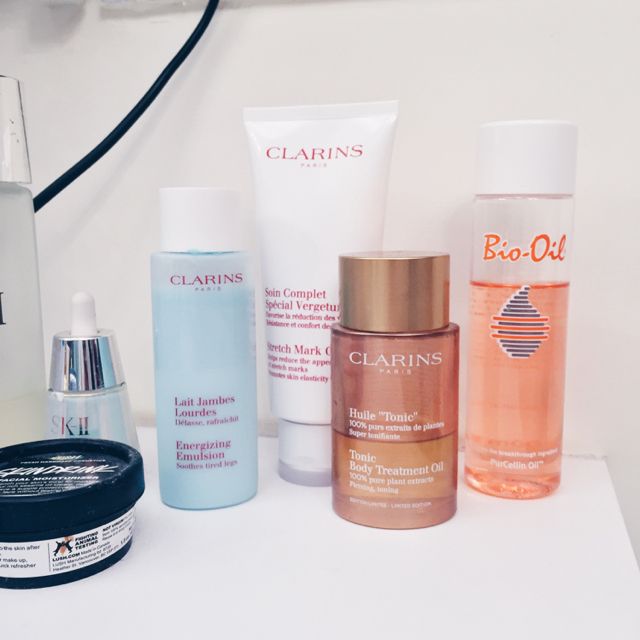 I don't have stretch marks in my second trimester yet but I can feel the skin at the tummy getting more dry as it stretches further each day. Belly button also getting smaller and popping out any moment.
For now, I aternate between the Bio oil and Clarins from day to night since week 11. Both leaves me with no oily feeling so I really like them! For the Energizing Emulsion that is meant for legs, I can't really feel any bit effect yet but hopefully it will be more obvious in months.
These are my fav masks apart from the sheet ones!
I swear by the Queen Helene's Mint Jelup and the Innisfree Clay mask is really good too. Get rid of the impurities in the skin esp after a good exfoliation & cleansing session.
What is your HG product?
---
SK II's #ChangeDestiny World
I have been swearing by SK-II for years coz it works for my skin. You can now try yours before purchasing to see if it works for you as skincare can be rather subjective!
SK-II will be having its #changedestiny World at Ngee Ann City!
Date: 22nd July 2015 to 28th July 2015
Time: 10.00am to 9.30pm
For this roadshow, SK-II will also be launching in Singapore its next generation anti-aging series, the SK-II R.N.A. Power – which includes the R.N.A. Power Cream and Essence, which will replace the existing STEMPOWER Cream and Essence respectively!
This means that the guests can be among the first in Singapore to purchase the SK-II R.N.A. Power before they hit the shelves on 1st August! Do drop by to try the texture and feel the item yourself if you are in town ;)